With only a few days left until Eid al-Fitr (Ramadan Bayram), which marks the end of the holy month of Ramadan, holiday preparations are already under way and favorite Turkish desserts are being made at home to celebrate the joyous occasion and make it extra special. If you are spending Eid al-Fitr in Turkey, be sure to taste some of the appetizing traditional Turkish desserts made to celebrate this special occasion:
Turkish bread pudding
Bread is obviously a main staple at Turkish tables, as can be seen in the long lines that form just outside the bakeries in the evenings in small towns. It doesn't only go well with breakfast or homemade soup, but can satisfy dessert cravings, as it is also used to make Turkish bread pudding (Ekmek Kadayıfı in Turkish), which is usually served with "kaymak," a kind of cream. It can be found nearly everywhere from the best restaurants in town to patisseries and cafes. For easy preparation, supermarkets or bazaars sell dry bread specially packaged for this dessert. The following steps are quite easy. Soak the dry bread in hot water and pour syrup on it. In Turkey, the cities of Afyon and Hatay are home to the most famous and tasty Turkish bread pudding. But keep in mind the dessert has a high calorie count, so it could make you gain weight.
Lokma and Turkish sweet churros
Turkish sweet churros are a deep-fried dough pastry commonly sold on the streets. This crunchy dessert, which is called "halka tatlısı" in Turkish, is dipped in heavy sweet syrup, which is why you might need a cup of water after the first bite.
Similarly, sweet, fried dough balls, known as "lokma" ("bite" in Turkish) has long been a favorite dessert in Turkey, as it decorated the tables of sultans for years. Indeed, there is a Turkish saying, "lokma döktürmek," which means cooking and serving lokma to family members and others when a wish comes true or a baby is born. This tradition is still observed in some Anatolian villages. The Greek version of Turkish lokma is "loukoumades," which is soaked in honey and was supposedly served to Olympic winners in Ancient Greece.
These bite-sized pieces are made of flour, yeast, salt and oil, then fried and soaked with sugary syrup. Both lokma and Turkish sweet churros are very popular in the southeastern provinces of Mardin and Diyarbakır.
Katmer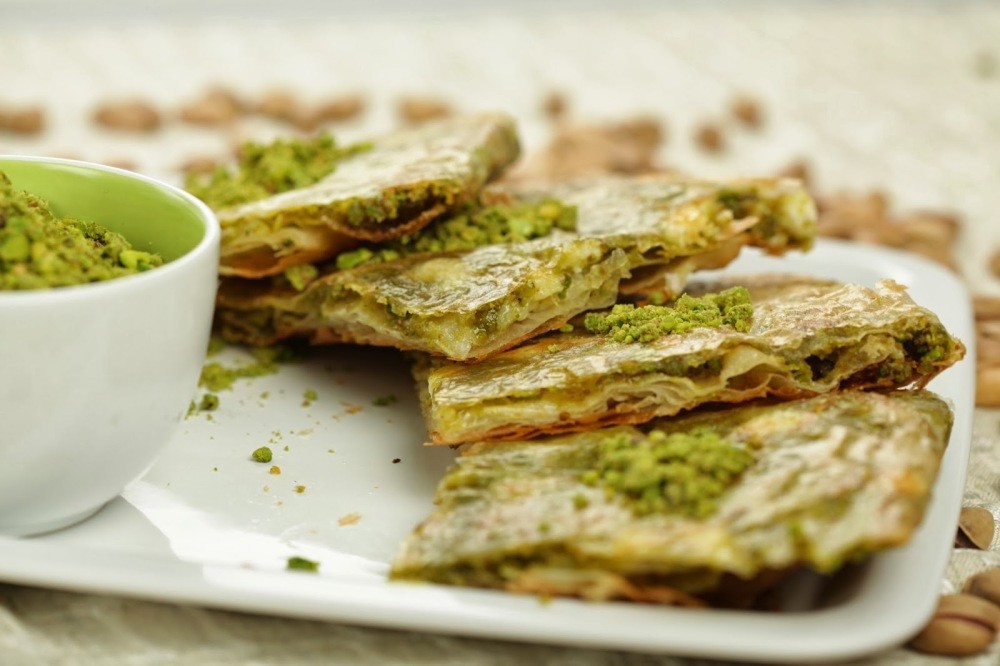 Hailing from Gaziantep, a southeastern city added to UNESCO's Creative Cities' Network in gastronomy last year, "katmer" is another dessert served during eid. A sweet pastry filled with both cream and pistachios, Gaziantep-style "katmer" is the most famous one, but other cities have their own variations, such as filling it with sesame seed paste or serving it with "pekmez" (fruit molasses). In Gaziantep, Katemerci Zekeriya Usta, frequently mentioned as the most popular in the city, is one of the few places to taste the most delicious katmer dessert.
Pumpkin dessert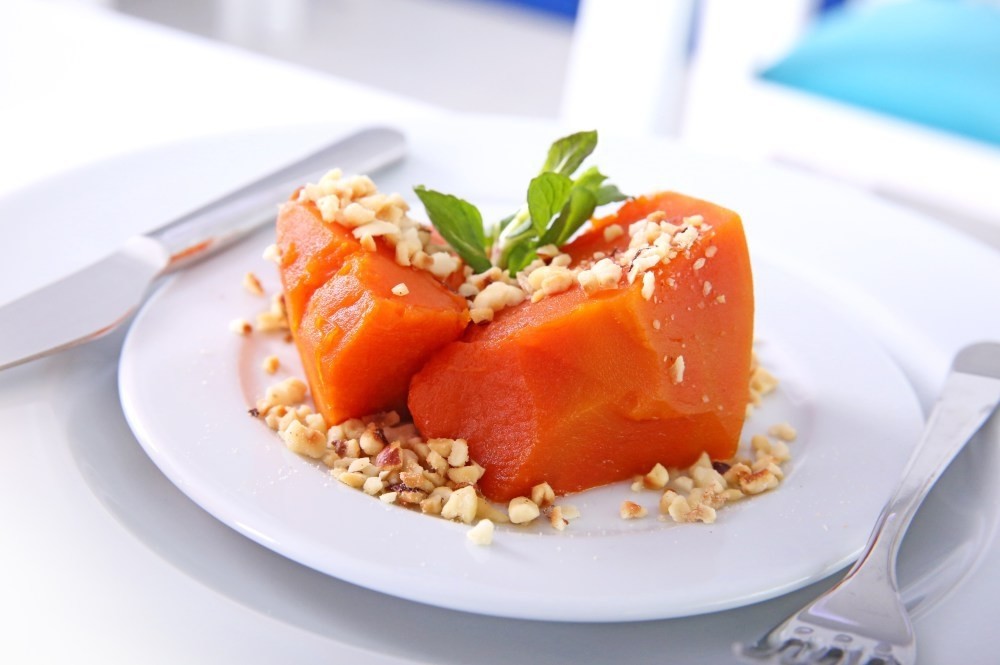 "Kabak tatlısı" or Turkish candied pumpkin dessert is a lighter and healthier choice for Eid without the extra calories. To make it, get a fresh pumpkin and cut it into chunks. After sprinkling it with sugar, wait at least one night until the sugar draws out the water in the pumpkin to make a syrup. Bake the chunks and when they are ready, sprinkle walnuts or top with either cream or ice cream.
Baklava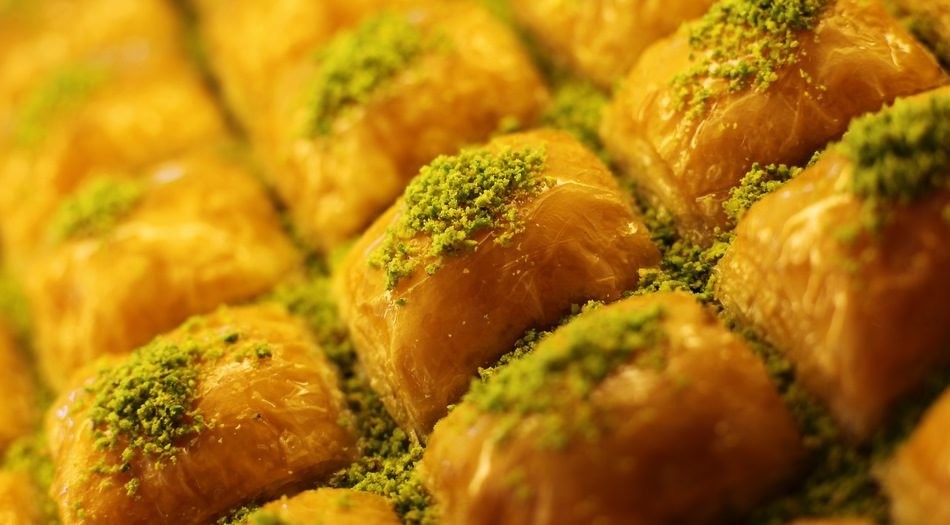 Eid celebrations are not complete without baklava, the all-time favorite dessert among Turkish people. A specialty of Ottoman cuisine culture, baklava has rich ingredients and is not easy to make. It is one of the most beloved desserts in Turkey as well as Middle Eastern and Balkan countries, attracting locals and tourists alike. Described as a dessert made from layers of phyllo pastry, filled with semolina cream and Antep pistachios, baklava can be served with coffee, a cup of refreshing sherbet or ayran. Baklava is also made with a variety of other fillings, not just pistachios, but hazelnuts, walnuts and chocolate as well.
On another note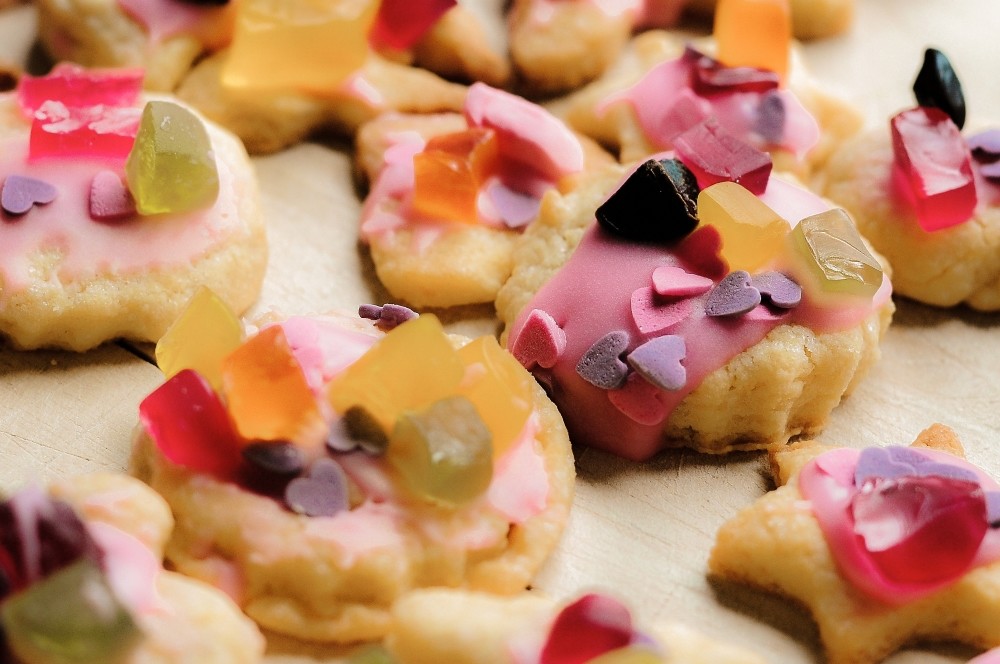 During Eid al-Fitr, it is a common tradition to serve candies to children and visitors, but why not get a little bit more creative this time? As a healthy alternative, dates can replace candies and is a smart way to finish your leftover dates from Ramadan. If you're interested, you can check blogger Holly S. Warah's easy-to-make recipe with pistachios and shredded coconut on her blog, "Arabic Zeal." Cookies for Eid al-Fitr, on the other hand, might be a crunchy addition to your menu. Colorful sugar cookies in different shapes can add another taste to eid celebrations.
Have a happy and festive Eid al-Fitr. Bon appetit!