Istanbul is a city with a story. Every cobblestone you step on, every broken brick that was once a wall and the artistically decorated dome-shaped buildings where prayers are held all give Istanbul that magical feeling you feel in your bones. Edmondo De Amicis said: "Istanbul, a universal beauty where poets, archaeologists, diplomats and merchants, princesses and sailors from the north and the west scream with admiration. The whole world thinks that this city is the most beautiful place on earth." The beauty of Istanbul is evident in the number of artists who choose to illustrate it. An aspiring marbling and micro artist, Abdulvahap Ertekin, 26, is one of them. Originally from Mersin and a resident of Istanbul for the last six years, Ertekin sat down for an exclusive interview with Daily Sabah. He has exceptional skills in applying micro and marbling art on various accessories like necklaces and rings and paint Istanbul's historic landmarks such as the Galata Tower on them.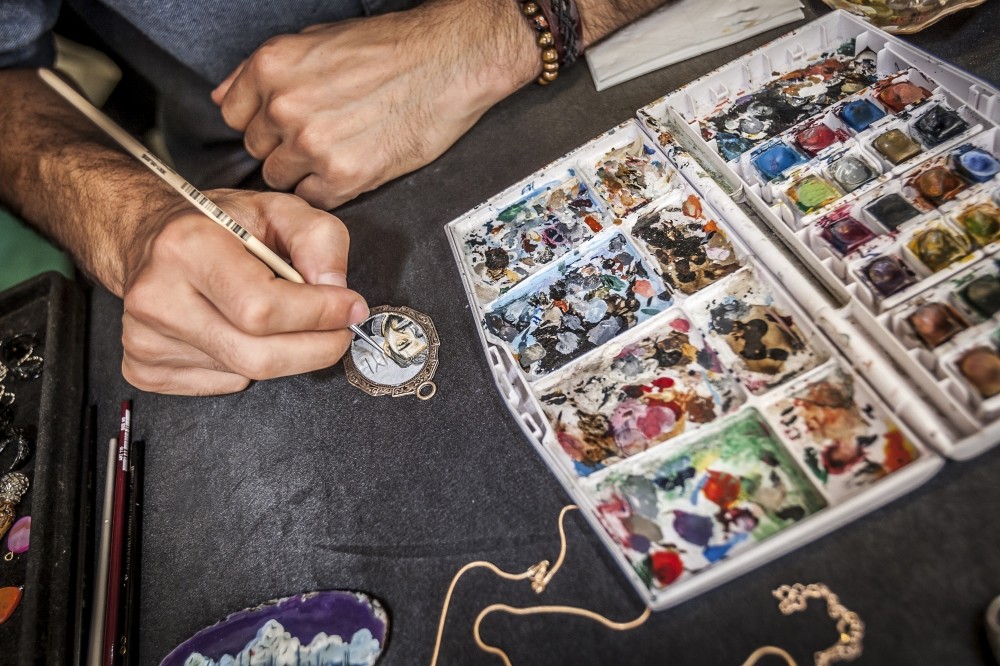 Answering questions regarding what inspires him, Ertekin said: "Art is a form of language. It is unspoken but communicates directly to the heart. Colors aren't just color, color represents intensity and mood, it is a symbol for something else. Lines and curves can show concentration or smoothness and an artist uses a culmination of these to paint you a story. Istanbul is my inspiration." He said that this city magnifies the intensity of emotions ten-fold because an artist's canvas, the place where the artists experience that emotion, is filled with beauty. "Going to Ortaköy to eat kumpir isn't like eating kumpir at home, because in Ortaköy you have the Ortaköy Mosque, you eat your kumpir overlooking the Bosporus, you see the bridge lit up with color. When you climb to the top of the Galata tower you are not just at the top of a high building. You are standing on history and overlooking a city with history. You are creating a story within a story and all the elements that make that story are the best tools you can find. You are in Istanbul and everything about it is magnificent, so you write or paint a magnificent story," Ertekin went on to say. For Ertekin, Galata is the next special place. "It is ironic, but it is where I fell in love. My love and I would climb to the top of the tower and laugh, or sit by its base drinking tea for hours. I found myself etching the tower whenever I was on the phone with her. We have since parted ways. Now, when I paint Galata Tower, I am painting my love story. I am painting the echoes of our laughter and the whispers of our story," he added.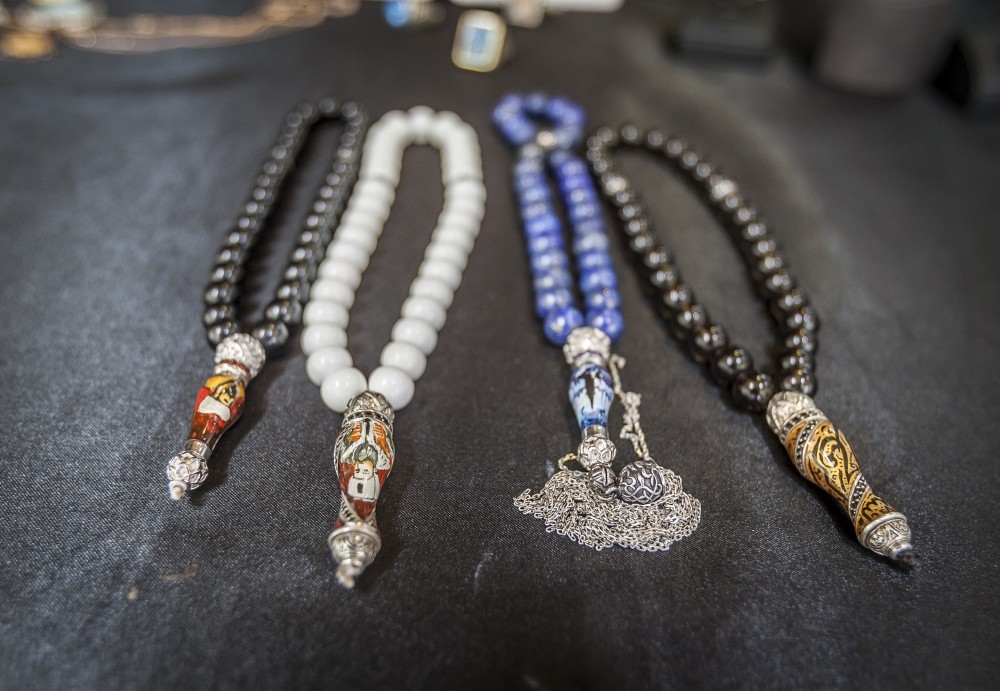 Like all artists, Ertekin has also his own struggles. "My greatest struggle would probably be letting go of my work once it is complete. I paint my stories often on to things you can hold or wear. A tespih [prayer beads], a ring or a necklace or brooch. I paint in miniature, trying to capture as many details as I can fit on my canvas. In it lies my memories, my happiness, my sorrow and my effort. When someone comes to purchase his work he only hopes that they too have a story that relates to his work. "I hope that when they see it, it ignites emotions that take them back to that moment the story was created, because they are taking my story. I am giving the buyer a part of me. Although I can recreate that image, I know it will never be the same. What I felt painting it the first time is authentic, original. What's even harder is putting a price on that work. How do you decide how much that story is worth when it is priceless for you? I find comfort in believing that when someone buys my work, they do so because they too have a story and for that reason they will value it," he said.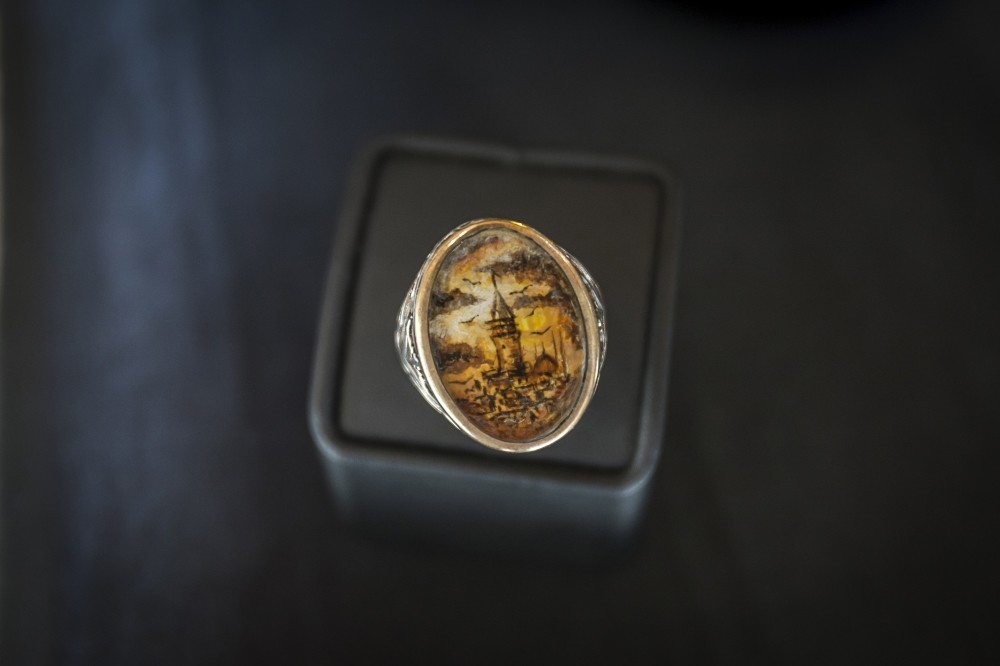 When asked about what art means for him, Ertekin stressed his interest in micro art. "Micro art is basically art on a miniature scale. Although I love marbling, there is something about micro art that is fascinating. The detail that goes into something so miniature is stunning. Micro is about catching as much details as possible on a surface. You can tell a story on a very limited amount of space," he went on to say. He believes that the Ottoman period has an exclusive influence on art. "The Ottoman Empire left the Turks with a rich culture. They were creative, innovative, and intelligent but above all they were connoisseurs. They were passionate fighters, skilled makers, and intelligent innovators and had a keen eye for detail when it came to art. They embellished their art on ceramic, fabric, carpet and paintings. They introduced marbling to the world and have since been identified by it. They were also masters of micro art," he concluded.