Earlier this month, "Pokemon Go" launched, turning everyone into instant Pokemon trainers. In just a few days, "Pokemon Go" topped statistics for Twitter's daily users and Facebook's in-app time. The immense success of the game caused a 70 percent spike in less than a week in the shares of Nintendo, the video game company that owns a 33 percent stake in the Pokemon franchise. The winners in the game's success are not limited to Nintendo, game developer Niantic, and publisher The Pokemon Company. Thanks to the gameplay element that encourages you to take your smartphone and go hunt virtual monsters in crowded real world areas malls, coffee shops and other venues saw a boost in their revenue as well.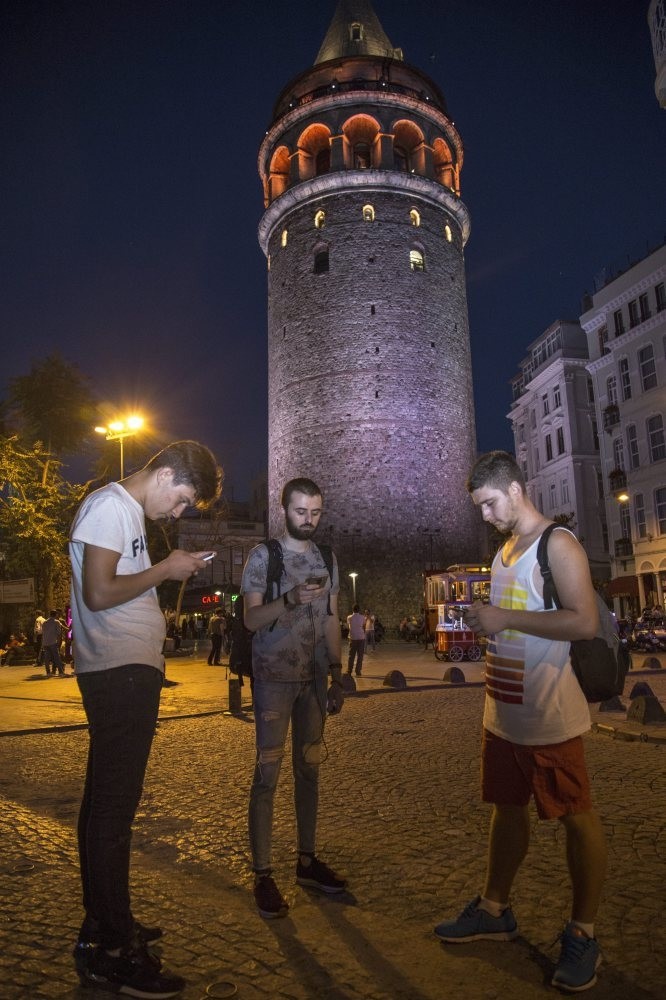 A small group of "Pokemon Go" fans searching for virtual characters around the Galata Tower in Istanbul.
It all started with a video game, 20 years ago
Contrary to popular belief, the Pokemon trend did not started with the anime series. In 1995, Pokemon was created by Satoshi Tajiri as a pair of video games named "Pokemon Red" and "Pokemon Blue" ("Pokemon Green" in Japan), for the handheld gaming console Nintendo Game Boy. It was centered on fictional creatures called Pokemon, short for Pocket Monsters, and set in a world where humans - or Pokemon trainers - compete to catch and train these creatures for Pokemon battles. The concept itself became so popular worldwide that Pokemon spawned a franchise that ranged from video games to animated TV shows, trading card games, comic books and toys.
Turkey has also had its share of "Pokemania." The animated TV series became hugely popular in the country in the early 2000s. For almost a year, the main topic of the evening news was Pokemon and its negative effects on children. Turkish millennials grew up watching Pokemon anime and collecting Pokemon Pogs (known as Taso in Turkey), flat circular cardboard discs which are decorated with Pokemon images. But the Pokefever ended abruptly when the Ministry of Health assembled a "Pokemon Committee" and declared that the franchise was bad for children's mental health. Shortly after that, RTÜK, the Turkish state regulator of radio and television broadcasts, banned the TV series in country. As Nintendo Game Boy was not a very popular gaming device in Turkey, the Pokemon era came to an end in the country.
Once more, Pokemon becomes mainstream
Today, with nearly 30 million mobile gamers, Turkey has a huge gamer community that tops the total population of many European countries. Thanks to ever-growing smartphone sales, mobile gaming is now one of the most popular time-killing methods for young people. This is why "Pokemon Go" became an instant hit, even though it is not officially supported in Turkey. By using workarounds, many users downloaded the game to their iOS or Android smartphones and started playing "Pokemon Go", just like tens of millions of players around the world.
The game utilizes a new technology called augmented reality, AR for short, which captures the real world environment with a phone's camera and adds a layer of virtual objects to the screen. This way you can open the game, raise the camera to look at the corner of your room for example, and see a pocket monster there. By blending virtual objects with real world effort, "Pokemon Go" has disrupted young people's daily routine. Many young players who previously stayed in the house have begun going outside to hunt Pokemon.
"Pokemon Go" uses real world GPS data and a virtual world map built on Google Maps to know where you are. The player character walks the same path as the smartphone user. The difference is, his path is covered with PokeStops and Pokemon gyms. PokeStops drop free items like Poke Balls to catch Pokemon, and gyms are where players battle each other for "prestige." Niantic, the game developer that was founded as an internal startup at Google and then became an independent entity in 2015, cleverly used crowded places like museums, coffee shops, malls and religious facilities like churches and mosques as Pokestops to build an organic real world community.
Players who have swarmed these places to catch virtual monsters socialize with each other in real life while forming teams in the "Pokemon Go" universe. This allows real world businesses, local stores, restaurants, movie theaters, to leverage the "Pokemon Go"-mania to increase profits. The exploration aspect of the game drives massive amounts of foot traffic, and restaurants or other businesses have already started to "lure" "Pokemon Go" players into their way. This is also true for many public establishments who traditionally have failed to reach youth. The local youth center in Tepebaşı, Eskişehir offers free water and tea to players who come to the center to find a Pokemon. Other municipalities publish "Pokemon Go" memes on social media to build a common language with younger residents. And that's one of the main features of the game: "Pokemon Go" allows people to build a common language across every walk of life. Even if "Pokemon Go" is not a popular way to socialize a year from now, the friendship and communication it provided might last longer than the game's fame.