Action film director, actor and stuntman Fatih Uğurlu has doubled for many Oscar-winning artists and he became a sought-after name in the action movie genre. He had dreamed of being an action hero since childhood. He was just 10 years old when he told his father that he wanted to learn martial arts. While his peers were playing football in the streets, Uğurlu carried the magic of action films to the streets; he developed himself by imitating the karate and kung Fu scenes he saw in films. Even though his father objected, he secretly learned martial arts. When he turned 15 he started performing martial arts professionally. He was determined and chose to study at Marmara University's Sport Academy. He had a single goal at university to work in cinema, being a stuntman and progressing to the highest level.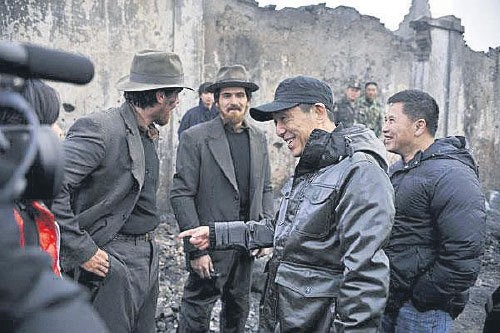 Uğurlu (C), who was Christian Bale's stunt double, on a set with Bale.
At 31, he has crammed in many achievements into his short life. His first step in the sector was stunt work in a TV series in Turkey. After taking part in numerous series including "Kurtlar Vadisi," (Valley of the Wolves) "Öyle Bir Geçer Zaman ki" (Time Goes By) and "Kara Yılan," (Dark Snake) he also worked in movies such as "Ejder Kapanı" (Dragon Trap), "Kurtlar Vadisi Filistin" (Valley of the Wolves Palestine), "Labirent" (Labyrinth) and "Bal" (Honey). He starred in dangerous scenes and did stunt work for famous Turkish actors such as Kenan İmirzalıoğlu in "Ejder Kapanı" and Tolga Çevik in "Sen Kimsin?" (Who are you?) He knew how to substitute for beloved actors in dangerous scenes. Sometimes he was the stuntman for an actor who was on fire and once acted out a scene jumping out of a fifth-floor window.
Uğurlu always dreamed about Hollywood. In order to realize his dream, he saved just enough money to go to America. He trained at the Stunt School in Los Angeles, which is one of the very few stunt schools in the world. There, he met important names in the stunt industry in Hollywood. He also continued his driving training for cars and motorbikes. After a year, he went to Hong Kong to improve his martial art skills and his stunt trainings.
He received training from Sharan Yang, who fought and did stunt work in the old Jackie Chan films. As a result, he worked in various parts of the international film industry. Six years ago, he achieved domino-like success in American, Chinese and Hong Kong cinema. He will no doubt never forget the day he did stunt work for Christian Bale in "Flowers of War." He recalled that day proudly: "When the action director of 'Flowers of War' asked me if I could stunt in the movie, I immediately accepted it. I didn't know Christan Bale was starring in it. When I found out, I was so excited, I could hardly believe it. I looked so much like him that the director Zhang Yimou from time to time got us mixed up. A lot of people in Turkey couldn't believe it but they saw the results of my determination and gave their support. Being Bale's stuntman also paved the way for other films; it brought me prestige." Afterward, he started receiving a lot of offers from abroad. He did stunt work of Scott Adkins, one of the most esteemed actors in the action genre, in a film called "Legendary: Tomb of the Dragon." "My fame shot up when I did stunt work for Adkins, who is an important name in the action movie world. Those around me started asking me how I was chosen," Uğurlu said.
He was also the stunt coordinator for three months during the shooting of "Skyfall," the 23rd James Bond movie, shot partly in Istanbul and Adana. He was "very proud" to be a part of such a major project but the what excited and affected him the most was the one-on-one fight scene in "Last Hope" starring Oscar-winner Russell Crowe. He reminisced about the day he participated in shooting with Russell Crowe as if it was yesterday. "I was really excited when I first saw Oscar-winner Russell Crow on the set of 'Last Hope.' It was a completely exquisite thing to be in the same action scene with him. He asked me which team I supported. Even though I'm not that interested in football, I said, Galatasaray. His words were: 'Ok, in this scene I'm Fenerbahçe and you are Galatasaray. Now you're about to shoot a penalty at me. So hit my stomach like that.' So I punched him quickly. After the shoot, Crowe was holding his stomach so I went to his side and asked him if I hurt him. His reply was, 'Go Galatasaray.' "
Uğurlu's biggest dream is to bring action directing to Turkey. He truly believes that he can shoot an action film in Turkey. "It's just important for other directors to believe that action directing is required in films," he said. In order to achieve this dream, Uğurlu is thinking about establishing a Stuntman Academy in Istanbul in the coming years.
For "Last Hope," Uğurlu is now living in Hong Kong, continuing to work on action directing. He is traveling back and forth between China, Hong Kong, the U.S. and Turkey. But this year he finally achieved his childhood dream. In "Kung Fu Yoga," which will open in 2017, he had a one-on-one action scene with Jackie Chan, in shooting that took place in Peking. He said that he had collaborated with Jackie Chan back in 2014 in "Dragon Blade" but he was in just one fight scene and didn't get the chance to actually play with Chan. "Chan was portraying a professor whose is held up by bad guys. I was one of the bad guys. We had one fight scene but it wasn't with Chan. Jackie Chan was the professor in the movie and I was one of the bad guys. We had a fight scene on a table; it was tough scene," he recalled. He had to tumble over Jackie Chan and he says that if he had made one tiny mistake, Jackie Chan's face would be ruined. He says, "It is extremely enjoyable fighting with him."