On the day of Aug. 17, 1999, an earthquake with a magnitude of 7.9 wiped out most of İzmit in northwestern Turkey and destroyed the surrounding area including the districts of Gölcük, Adapazarı and the Yalova province in 37 seconds. Casualties extending to as far as Istanbul, Bolu, Eskişehir and Bursa. It claimed the lives of 17,127 with many not on record since the bodies were taken to their home cities to be buried there.
After 17 years, the memories of the devastating earthquake are kept alive at an earthquake museum in Sakarya's Adapazarı district. The Sakarya Earthquake Museum has a mural with all the names of those who lost their lives. Some lost family members -, husbands, wives, children - while others lost entire families. On the walls of the museum are photos donated by Anadolu Agency of pictures capturing the destruction, helplessness, pain and fear. There is however one picture that restores hope and is the epitome of the Turkish spirit. It is a picture of children covered in debris and still playing with smiles of their faces among the rubble and destruction.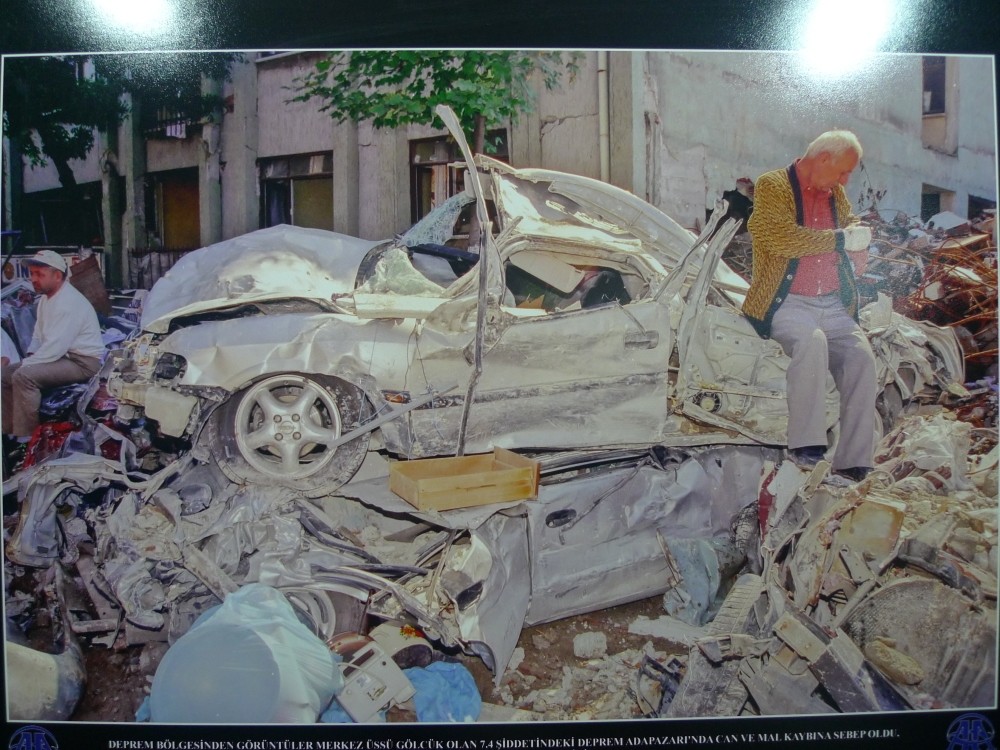 Reports following the earthquake showed that the 120,000 structures that were damaged beyond repair, among them the 30,000 heavily damaged homes, 2,000 collapsed buildings could be the result of poorly engineered structures. Around 300,000 people were left homeless, including 20 viaducts, five tunnels, hospitals and numerous other community buildings. Countries from various corners of the world offered aid. Professional search and rescue teams, medical staff and individuals volunteered their time and skills in an effort to rescue lives and bring the city back to its feet.
During Daily Sabah's visit to the museum, the museum director, Veysel Çalış, said that it is human nature to forget after a certain time. The intention of this museum is to keep the memory of those who lost their lives alive. A rare museum concept, the building's interior architecture was designed like an art gallery and the exterior side was designed as if the building was damaged by an earthquake.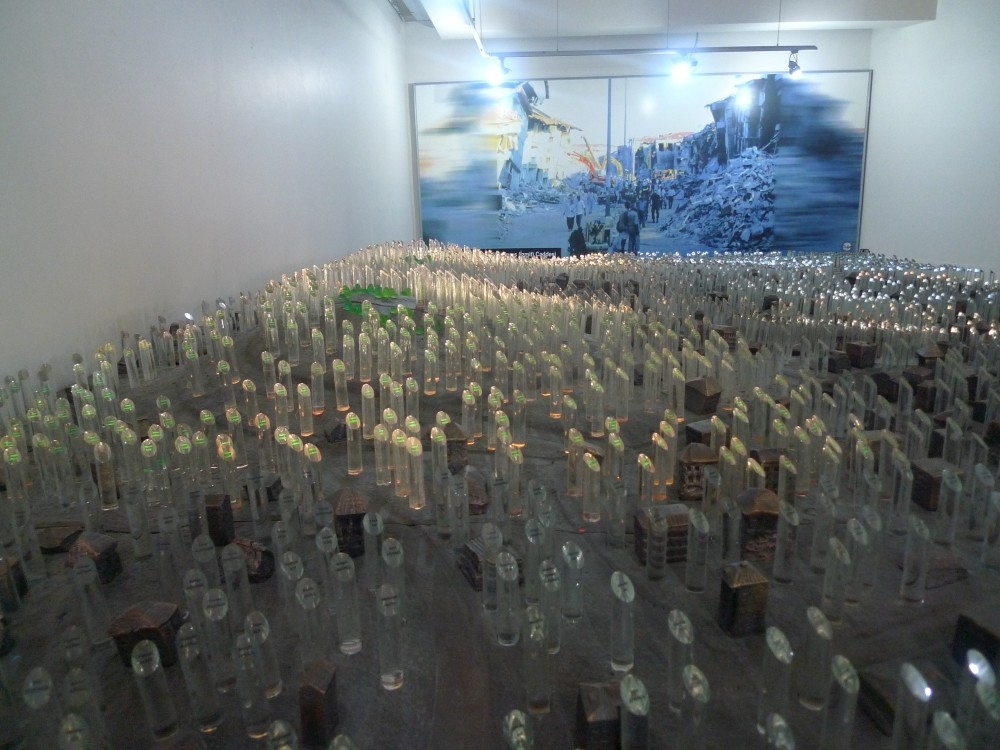 Aside from the exhibition area, the museum has a section for earthquake victims, marking them with small glass monuments.
There is also an earthquake simulator set up in the setting of a lounge room to give you an idea of what to expect in the event of an earthquake. The humble museum is intended to teach people what to do in the event of an earthquake and remind them of their past. Students and visitors are also given a chance to build structures that are earthquake proof. Many lessons have been learned and new measures have been taken to prevent or at least minimize the effect of such a horrific event. New laws have been passed in regards to building structures. They are not permitted to be any higher than 4 stories and the architectural designs are drawn with an earthquake prone environment in mind.
An earthquake is the trembling that occurs on the surface of the earth that is caused by the sudden breaking and movement of tectonic plates on the earth's crust. When two plates slip past one another as a result of tension they cause tremors on the surface of the earth. Earthquakes are measured by a seismometer. Earthquakes can vary from a minor tremor to severe tremors causing sturdy high rises to fall like a house of cards.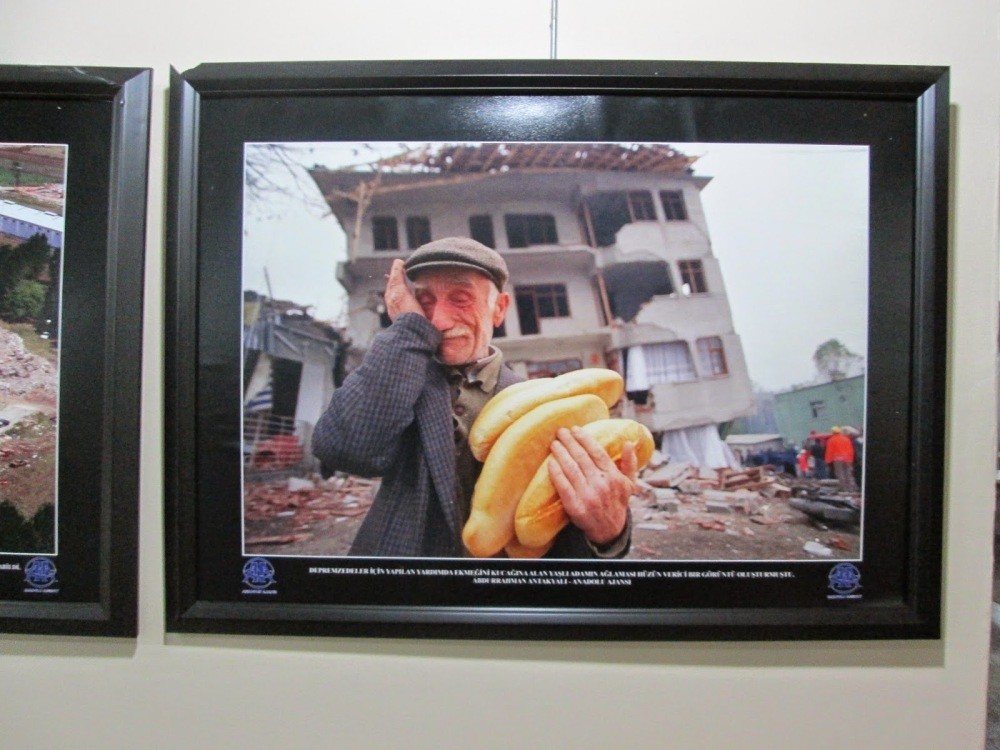 Among the other worst earthquakes was between Kathmandu and Pokhara in Nepal on April 25, 2015 at a magnitude of 7.8. The earthquake claimed the lives at least 5,000 and injured 10,000 and was described as resembling that of 20 nuclear weapons. It destroyed major monuments, towers and world heritage sites. Another happened in Nankai, Japan with a magnitude of 8.6. Occurring in 1498, the earthquake triggered a tsunami that cost the lives of 26,000-31,000 people. The tremor extended to the Boso Peninsula, which caused another tsunami in the Suruga Bay.
The museum director also shared some advice about earthquake safety, as good earthquake preparedness begins before the tremors start. If you live in an earthquake prone area, or have received news of an earthquake coming, prepare to the best of your ability. Vacating the premise before an earthquake hits is always the safest option. It is also crucial to keep bottles of water in close proximity. If in the moment of a tremor you are able to reach out to it, keep it close by. Keeping a whistle on or around you to call for help if anything should happen can also be helpful. During an earthquake, drop down to your hands and knees before the earthquake knocks you down. This position still gives you mobility with stability. Another safety tip is covering your head and neck with both arms. Clasp your hands around your neck and protect it. Crawl under a sturdy table or desk while protecting your head with one hand. If there is no table nearby, crawl to the nearest interior wall or low lying furniture, so that any falling object may be held up by the furniture. And finally, avoid standing under a doorway, as doorways are no stronger than other parts of the house.
The Sakarya Earthquake Museum will remain an important reminder to urge us to think what more should be done to avoid similar disasters in the future.