Among its many achievements, the Ottoman era is also famous for its scent culture. The Ottoman Scent Culture Conference was hold in Topkapı Palace on Oct. 6 by scent specialist Bihter Türkan Ergül, who is known for her specially designed scents and her academic works on the Ottoman archives.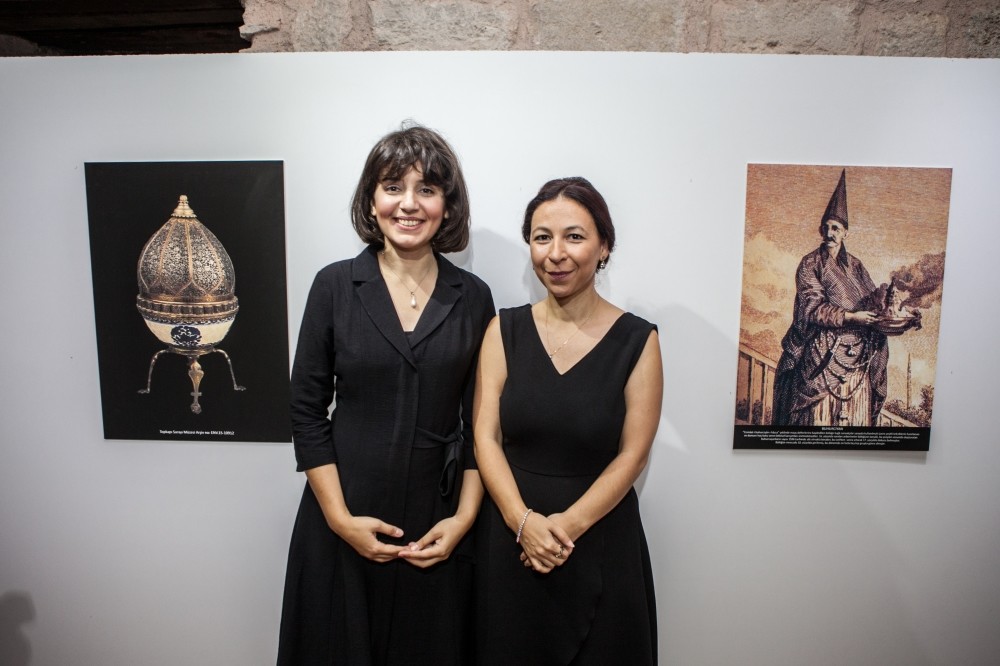 Bihter Türkan Ergül (R)
The conference held with the sponsorship of Nişantaşı University was overseen by an Ottoman dynasty family, including the descendant of Sultan Abdülhamid II, Harun Osmanoğlu, his wife Farizet Osmanoğlu and his daughter Nurhan Osmanoğlu. Medicine historian Ayten Altıntaş also attended the event at the palace's Babüsselam Gate Conference Hall.
During the conference Ergül said the scent culture was important because of the significance that Islam gives on cleanliness. In a well-known and very interesting hadith of the Prophet Mohammed, Islamic geographies, especially the Ottoman Empire, were told to focus on beautiful scents: "
Anyone offered rayhan (basil perfume) should not decline it. It is light in weight and fragrant in scent." Ergül shared her knowledge that she had her research in Ottoman archives to shed light on some of the perfume formulas used by Ottoman sultans.
Eren said the scents were used in daily life for beauty and healing since every scent has a different curative psychological and physical effect. The scents were an important part of state policy because they are the way to give proper message without causing confusion or hurting feelings. Scent was a kind of worship and means of communication. The sultan and even grand vizier wore oud, amber and musk scents. Ambassadors' hands were perfumed with rosewater before they come into the Sultan's presence. The scents were produced in "Halvahane," where special flower water and soaps were also produced. These scents were distributed to royal officers at the palace. The walls and domes of a mosque were washed with rosewater in their first opening in bayrams. Historians can access these recipes in the Ottoman archives. The recipe of "buhur suyu" (a special kind of Ottoman incense water) that is an important part of Ottoman ceremonies is registered in the archives. The exact recipe for "buhur suyu" is in a notebook of Çamaşırcıbaşı Yusuf Agha found in the archives of Topkapı Palace, and dates back to 1708.
Every sultan has a favorite scent
Every Ottoman sultan or Valide sultan has a favorite scent. Fatih Sultan Mehmet favored violet and sandalwood, Sultan Abdulhamid II liked mimosa the most. Sultan Abdulhamid used a perfume compound of oud and rose for the Friday divine service parade in the Ottoman Empire. Yavuz Sultan Selim loved amber and sweet scents, Sultan Suleiman the Magnificent preferred dominant scents like sandalwood. One of the most famous Valide sultans, Hurrem Sultan is known for her love for lime, jasmine, lavender, roses and cloves.
Ergül points out that there was no hierarchy between the palace and people in the usage of scents. Normal citizens were as good as the palace and made a habit of using scents. They bought the scents from attars ("aktar" in modern Turkish language) who sells also natural drugs, folk remedies and flower waters. This is because the scents were not a luxury and a part of Muslim daily life as "Cleanliness is half faith" as said in a hadith. Inersories were common in most of the Ottoman houses. They burnt wood chips like sandalwood, oud, rosewood and cinnamon to spread good smells all over the home. They used "gulabdans" to serve rosewater to their guests. The girls who had reached the age of marriage wore the Judas tree scent. New brides' bodies were rubbed with rose oil and scents like musk put into their hands. For asking for a girl's hand in marriage, there is a secret ceremony made with perfumes. If a sherbet served is with clove that means the host family is inclined to the family who wanted the girl for their son's marriage. Ergül said the hajj way was a very important way to discover new perfumes for the Ottoman Empire. Hajj groups were carrying the best smells to Mecca and bringing new smells to their families.
In Ottoman scent culture, people wore perfumes for every occasion. The perfumes were not only worn, but also consumed. Some scents were added in sherbets and the syrups of desserts. They made candy with scents called "ağız miski" - which means musk of mouth - to make mouths smell good. They drank rosewater to make their skin give off a pleasant odor, because the sweat of Prophet Mohammed is believed to smell like roses and red rose is his symbolic flower. Coffees were laced with amber, pastries with saffron and cookies with cinnamon. They wore, ate and drank perfume.
World Fragnance Day
Since the age of six, Ergül has been interested in scent science for about 32 years. She is among the most prestigious perfume designers and is the founder of her brand Tiyrus and Association of Fragrance Culture and the inventor of "World Fragrance Day," which has been proposed for approval to the U.N. Educational, Scientific and Cultural Organization (UNESCO).

Descendants of Sultan Abdülhamid II pursue the tradition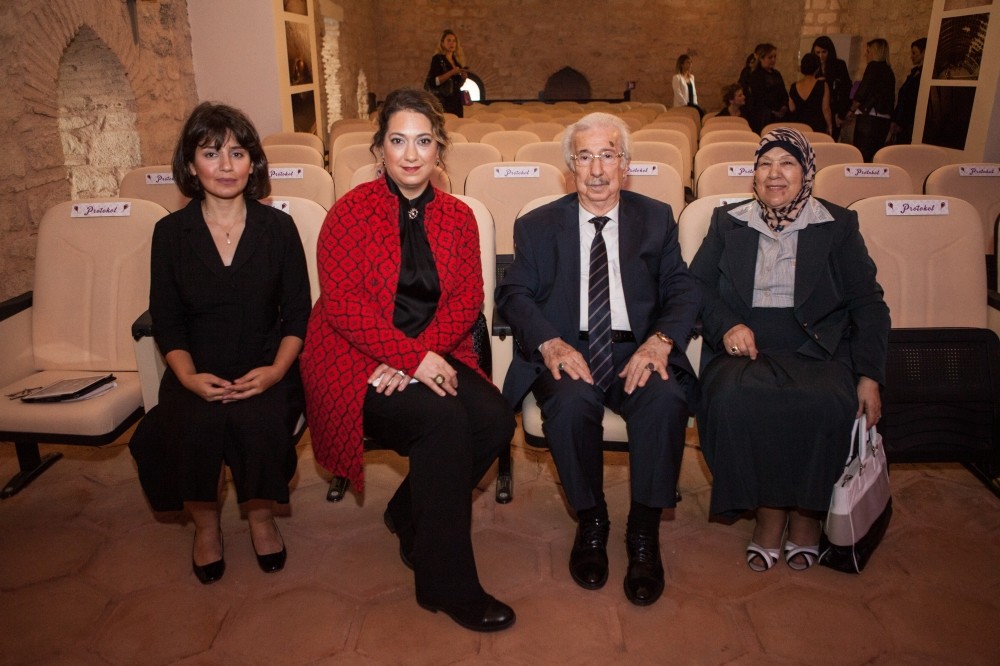 The conference was overseen by the descendant of Sultan Abdülhamid II, Harun Osmanoğlu (C), his wife Farizet Osmanoğlu (R) and his daughter Nurhan Osmanoğlu (L).
A descendant of Sultan Abdülhamid II, Harun Osmanoğlu, in an interview with Daily Sabah said he has always in stock natural scents, He said he favored rose, musk, oud and jasmine and prefers a special scent for "Friday prayer" and several scents for different periods of day. Harun Osmanoğlu's wife Farizet Osmanoğlu told us that their home smelled with his husband favorite perfumes.

The daughter of Harun Osmanoğlu, Nurhan Osmanoğlu said the favorite scents of the sultans affected the period, and also that she preferred perfume in pure form, not the perfumes sold under brands that have synthetic and added materials. She emphasized that beautiful scents are not luxurious like expensive perfumes and should be a part of the daily cleaning routine. Osmanoğlu said she does not like driving cars and prefers public transportation. She further said the impatience and intolerance in mass transit can be gotten rid of by paying attention to personal hygiene and using these kinds of natural scents. She also underlined that people use perfume without knowing their ingredients.
One of the sponsors of the event, Pelit, prepared a special menu from Ottoman archives especially for the dynasty family that was not made since the collapse of the Ottoman Empire. In the menu there were desserts that sultans favored like soap "halva" (helva-i sabuni) that contains almond and honey, "levzine," a kind of halva with almond, cookies with dates and stuffed dates with halva.