The Ottomans established foundations (Waqf) for helping street dogs to find food, birds to drink water on hot days, storks to be treated when they are injured, wolves to be fed with meat or wounded horses to receive treatment. They built birdhouses on the facades of mosques, madrasahs or palaces that had sunlight and no wind, at a height that people couldn't reach. They also placed small plates on graves from which birds could drink water.
Bird love
In the past, more people had a reputation for bird loving. There were many families feeding birds at home. Children were treating them as if they were family. More or less, birds helped people to cure their loneliness. Storks, pigeons, sparrows and swallows used to fearlessly make their nests on rooftops or chimneys of any building. Located in the western city of Bursa, the "Gurabahane-i Laklakan" (The Home for Homeless Storks), which still stands, was built to treat wounded storks centuries ago.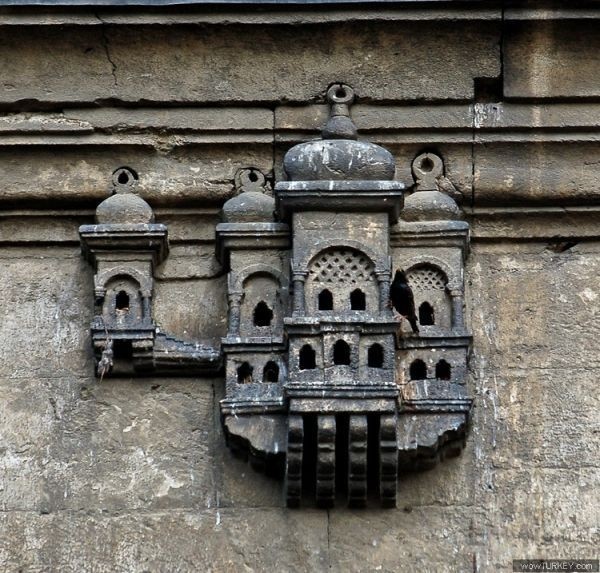 The Ayazma Mosque
On the other side, birds, particularly pigeons, were the regular guests of mosques. Muslims observing prayers at the mosque used to feed these birds and the mosque courtyards were surrounded by birds.
A special element in Ottoman-era mosque architecture, gracious birdhouses have a unique place. These small houses helped to provide birds with shelter and prevented bird droppings from polluting and corroding mosque walls. From a religious perspective, it was believed that if a person builds a bird house, he gains good deeds because the birds find shelter there.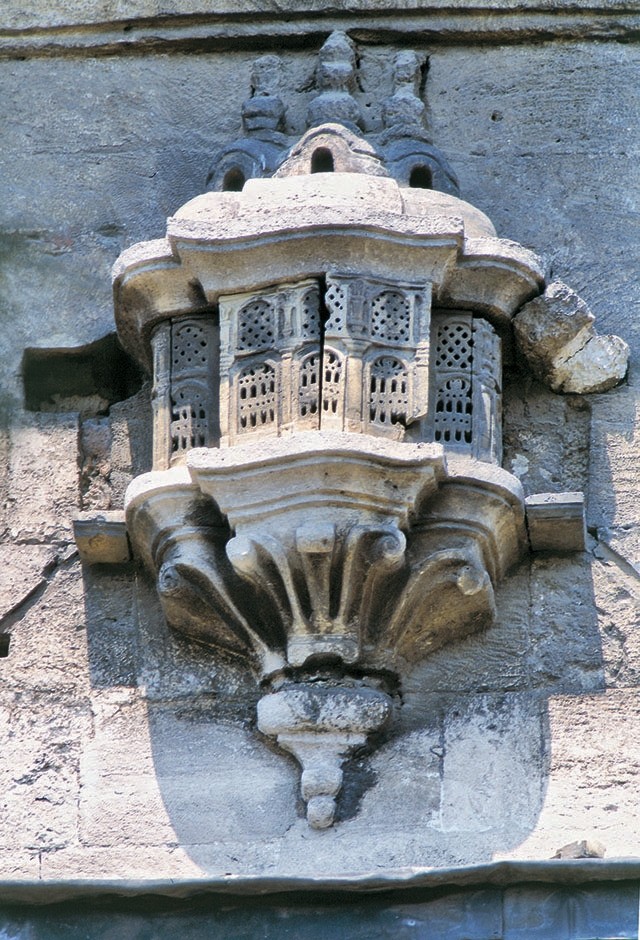 The Selimiye Mosque
The birdhouses were designed to shelter any bird flying freely around such as sparrows, wisecracks, swallows, pigeons and storks. A small nest carved into the walls is actually an architectural masterpiece. Birdhouses also have other names given to them by the public such as "kuş köşkü" (bird pavilions), "güvercinlik" (dovecots) and "serçe saray" (sparrow palace). They can be seen not only at mosques, but also in inns, libraries, madrasahs, schools, aqueducts, fountains and even on walls. By doing so, locals from every age group and social class were infused with love and mercy for animals.
During the Ottoman era, functionality and aesthetics were both important while creating. The birdhouses were built using very elaborate techniques. There were either one-story and one-section houses or multiple-story and multiple-section houses. Among those that were built as multi-story, there were even some birdhouses that were built in the shape of a palace or mosque. There were two steps for building birdhouses. The first one was carving the wall and the second was assembling it to the wall. With elaborate door and window details, the houses were crowned with a roof, dome and vault.
Reminiscent of a palace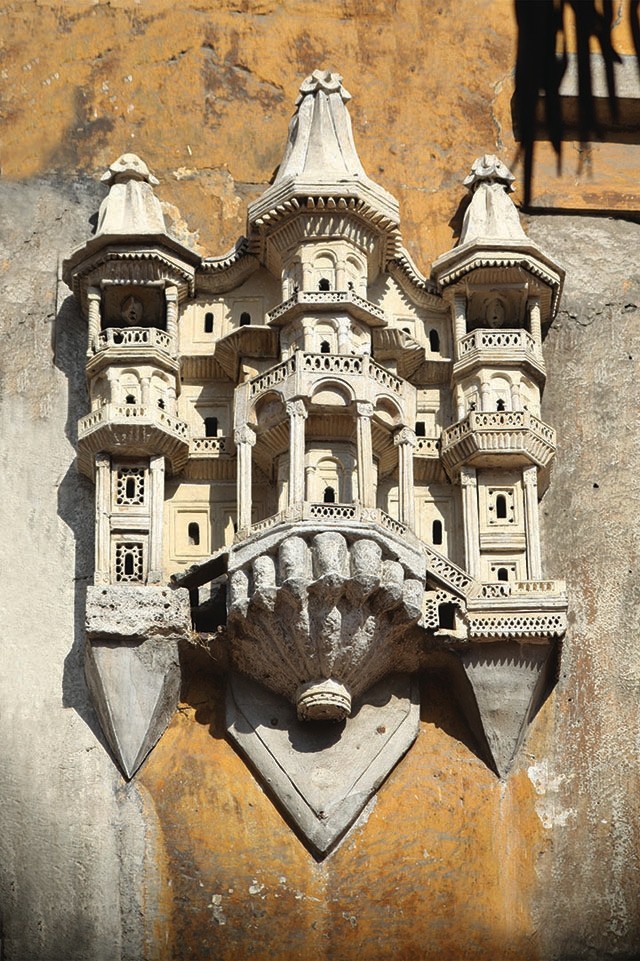 Some birdhouses have managed to survive until today. The oldest birdhouse in Istanbul is located on the Büyükçekmece Bridge. Those which were built in the 17th century, are still seen on the walls of Eminönü Yeni Valide Mosque. Other birdhouses that were built with different techniques at the end of 18th century and are located on three facades of the Üsküdar Yeni Valide Mosque are some of the well-preserved examples of this architectural style. One of them is in the shape of a house and the other two are in the shape of a mosque with two minarets.
However, the birdhouses built in 1760 and located in Ayazma Mosque in Üsküdar set the most brilliant examples of this type. Birdhouses in different styles, such as one-story houses, pavilion's and palace's, sparkle on three facades of the mosque. The plate of Eyüp Mosque, which dates back to 1800, is encrusted with birdhouses. One of the birdhouses in the shape of a two-story pavilion is located on a console. Also, the hemstitched windows of a two-story birdhouse in Üsküdar Selimiye Mosque opened in 1801 are striking. There are also two birdhouses in the mausoleum of Sultan Selim III in Laleli.
It is possible to see birdhouses in other formal or civil architecture examples. The birdhouse on the wall of Seyyid Hasan Pasha Madrasa in Beyazıt, which dates back to 1745, differs from the others with the "Malakari" technique. It was built in the shape of a mosque with two minarets. There is another birdhouse that is in the shape of a pavilion covered with two vaults on the Bereketzade Madrasah.
The birdhouse on Taksim Maksemi, a building that was built in 1732 for the aim of distribution of water in the city is one-story, but has three rooms. Another birdhouse on İbrahim Tennûrî Fountain in Kayseri is one of the remarkable examples of Anatolian birdhouse architecture.
There is a birdhouse on the wall of the library of Fatih Mosque, which was built upon the commission of the Sultan Mahmud I, with two stories and six rooms. Apparently, Ottoman Sultan Mahmud I, who was known for his passion for books and the libraries he built, also loved and had mercy for birds.
The golden age
There is another birdhouse with remarkable brickwork and chambers carved into the wall in Ragıp Pasha Library in Laleli. Another birdhouse from 1800, which is in the shape of a two-story pavilion, is located on a fountain in front of Şah Sultan School in Eyüp, while another one in the inner court of Darphane in Istanbul is in the shape of a magnificent chateau. Most birdhouses that survived until today are from the 18th century. Similarly, all of the works that were done by Sultan Selim III, one of the sultans in the 18th century, included these birdhouses.
The Taş Han in Laleli sets a good example of the application of birdhouses of inn architecture. One-story, multiple-story and multiple-chambered bird houses were built on the limestone that goes along the wall. The Spice Bazaar in Eminönü also has different birdhouses. Shopkeepers put food on these houses, which are located on the bazaar's section facing the Marmara Sea every morning before they open their stores.
There are birdhouses on the walls of houses in Istanbul and Anatolia, too. Some of them were built at the same time as the home itself and some were added to the homes later. Even though there are a limited number of these houses, few can still be seen. Some of the birdhouses on some homes along Bağdat Avenue have also survived until today.