The Queen of England, Elizabeth II, made inroads into paying a diplomatic visit to China for the first time ever in October 1986. Followed by a welcoming ceremony, Queen Elizabeth met then-Chinese President Li Xiannian, Prime Minister Zhao Ziyang as well as many other diplomats with aims to take steps toward the strengthening of bilateral political ties. Do you think this story tells you anything, other than giving mere political preliminary information as yet? Probably not. Would you be surprised, right at this point, if I claimed that the dress the Queen was wearing during a State Banquet on that day was more telling in terms of diplomacy than other political procedures? Probably not.
Designed by Ian Thomas, the personal assistant of the renowned couturier Norman Hartnell, the Queen's evening dress made of pink silk was embellished with China's artistic flower of Tree Peony blossoms. In other words, it was embellished with the symbols of Chinese nationalism and culture. Why would a leader like the Queen Elizabeth II dress up in accordance with her addressee's nationalistic trends? If the need for a direct answer arises here, which it probably will, the point is that politicians use fashion to their advantage particularly for the purpose of structuring political affairs around dress code-based communications. Therefore, this specific example implies that the Queen's Tree Peony-embellished dress was the epitome of Britain's eagerness to not miss any stitches in crafting the first haute couture of U.K.-China relations - and this is what fashion diplomacy is all about.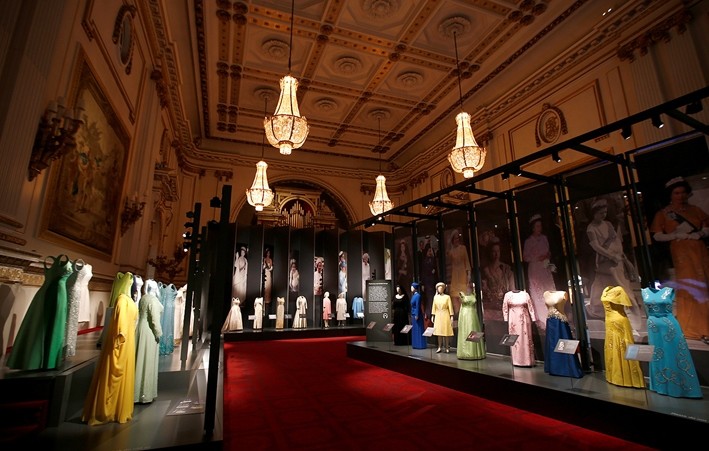 Outfits belonging to Queen Elizabeth II are displayed at Buckingham Palace.
On a bright day a few days back when the clouds and rainy weather had decided to visit a city other than London, I visited the "Fashioning a Reign" exhibition in Buckingham Palace. Queen Elizabeth's 90-year life was on display in a collection of over 150 outfits and accessories worn by the queen from her childhood to the present. It grabbed my attention, just as it did every other visitor. A display of the Queen's stylistic adaptation in accordance with the local cultures of countries she visited: In a visit to Australia in 1970, for instance, she wore a dress and coat in the national color of Australia, yellow. Further, during a visit to the Vatican City where she met Pope John XXIII in 1961, a long dress made of black lace with its bell-shaped skirt and silk mantilla topped by a lace mantilla atop her head symbolized the solemnity of her visit. The Queen showed her respect to the Vatican dress code by wearing black in conventions. Likewise, her visit to Saudi Arabia in 1979 for which she wore a bright royal blue gown with a matching turban-style hat, was a symbol of respect to Saudi women wearing the turban in public.
Would you deem these examples unsuccessful forms of fashion diplomacy? Probably not. But the equation does not end here, since two plus two does not necessarily equal four in the world of diplomacy. To what extent, then, should a leader put on the metaphorical clothes of diplomacy for the sake of mutual political agreements? Would a leader put her country on the back burner by dressing up with the national fabric of the country she visited?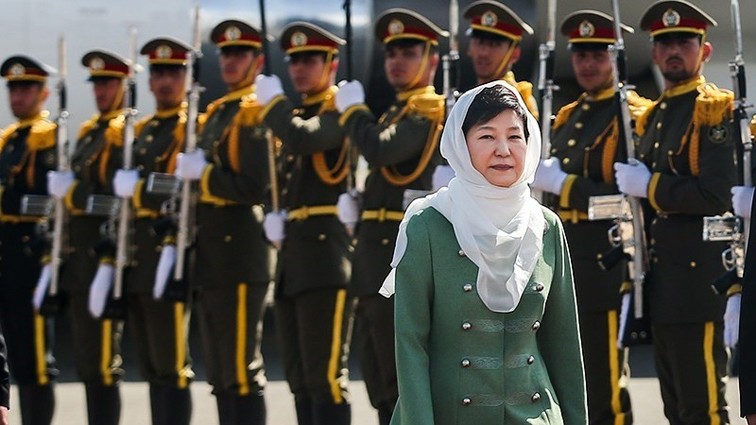 South Korean President Park Geun-hye at Mehrabad Airport, Tehran.
A leader, not as lucky or let us say as experienced as the Queen of England, was exposed to some criticism lately just because of her tactical approach to fashion diplomacy. This leader was South Korea's 11th and current President Park Geun-hye, the first woman to be elected as the country's president. Park Geun-hye tried to play the diplomacy game by the rules in the not too distant past. In an attempt to strengthen - or to put it differently - to revive, South Korea and Iran's bilateral relations that have been in a sort of vegetative state since 1962, the South Korean president visited Iran in May 2016. Aiming to sign billions of dollars of economic and energy deals into effect as well as to discuss North Korea's nuclear disarmament, Park Geun-hye set foot in Tehran wearing a hijab.
The president's adaptation of her dress code in accordance with Iran's domestic law raised questions in South Korea, with one group arguing that her not being an ordinary foreigner releases her from the need to abide by the mandatory dress code.On the other hand, others claimed that Park Geun-hye made the right decision by wearing the hijab so as to show respect and to make something special for their long-awaited diplomatic ties. Other than the fact that both claims can be questioned, it is a non-negligible detail that, following the lifting of international sanctions on Iran, bilateral relations between Korea and Iran, which had plunged to $6.1 billion in 2015, have been expected to increase more than $30 billion in five years, as Iranian leader Hassan Rouhani expressed in a press conference. Whether the economic targets can be achieved or not will become clear only after five years. Nonetheless, one thing for sure is that the South Korean leader's visit to Iran, supported with fashion diplomacy, have started to build closer relationships between the two powers already now.
What about those who do not make any adaptations in terms of fashion diplomacy? An example of technical adaptation done after a visit can show how significant it is for a leader to bear in mind the norms of the country she visits. Catherine Margaret Ashton, currently a British Labor politician, came together with Iran's chief nuclear negotiator Said Jalili in 2011 while serving as the vice president of the European Commission. The shirt she wore at the meeting in Istanbul must have been thought to be too revealing by the Iranian official media back then, as some state-controlled media outlets redesigned it with a much higher neckline. When this example is concerned, can we say that those like Catherine Margaret Ashton are less successful in diplomatic relations than the leaders of fashion diplomacy? Probably not. But still, this does not change the fact that fashion diplomacy has become a prerequisite for the leaders of the global era. What matters most then is to adjust the diplomatic dress pattern into every single political body without being pricked by the needle of exaggeration.