As with any other metropolis in the world, Istanbul suffers from traffic congestion during rush hour when commuters make the mad rush to home or work via metrobuses, the subway or their own vehicles. Though the city is home to several forms of public transportation, including buses, metrobuses, tramways, funiculars, commuter rails, ferry boats, motor vehicles and sea buses, Istanbul's public transit system still struggles to keep up with demand as nearly 13 million people in the city commute to and from work on a daily basis. Though the city has tried to cope with this problem by building more bridges and rapid transit bus routes (buses with their own lane on the highway) there is still way to solve the problem of thousands of passengers who crowd stations all around the city. According to the TomTom Annual Traffic Index, Istanbul was rated the most congested city in the year 2015.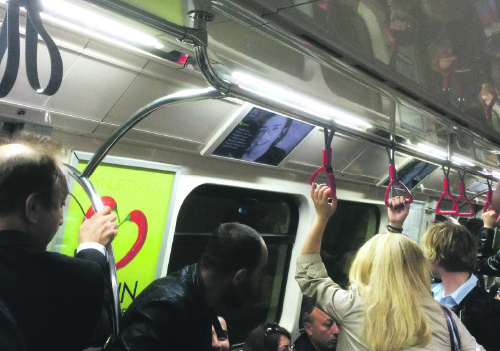 In metros and metrobuses, screens which show funny videos entertain citizens making long commutes.
A city with 24 / 7 traffic
Istanbul's infamous traffic problem affects the routine of daily life to a great extent. An average route consisting of a 30-minute drive will take more than 100 minutes during rush hour and even between rush hour all routes take 55 percent more time in general. With this kind of delay expected every day, making it on time anywhere is nearly impossible. Duygu Gündoğan, a student at Istanbul University, describes her daily commute: "When I need to be somewhere at a specific time, my biggest concern is always public transportation, as I live reasonably far from the city center. Sometimes buses don't come on time and I wish there was a functioning system to let me know of the delays. Especially during rush hour it's nearly impossible to get into the buses due to the crowds. If you are like me, working and going to class on a daily basis, the commute is sometimes more tiring than the work itself. I usually pick a book to read and deal with the traffic this way."
A game of musical chairs
One of the biggest games of musical chairs is played on the rapid transit bus, which is called the metrobus, every day. As the three-to-five wagon buses pull up to the curb at designated stations, citizens rush into the vehicles in order to find spots for journeys that take up to one-and-a-half hours. The metrobus line, over 40 kilometers long with more than 30 stations, opens its doors to roughly 715,000 passengers daily. At full sitting and standing capacity, the metrobus carries out its journey and safely delivers commuters to their jobs every day. This form of transport is preferred by commuters as it travels on a separate lane dedicated for the metrobus alone. As it whizzes past traffic jams and rubberneckers, passengers are able to get to their destinations faster and easier than other forms of transportation.
The İETT's (Istanbul Electric Tram and Tunnel Company) services have approached the problems surrounding passenger commute times by offering simple yet effective solutions. The underground subway system has reduced the waiting time between trains to seven minutes, as digital screens showing the number of minutes until the next train help passengers keep track of time. Once aboard the metros and metrobuses, screens which show funny videos of animals and children entertain citizens making long commutes. These screens sometimes give important news updates and interesting information on Istanbul and affairs concerning Turkey. It can be noted that these screens have somewhat lessened the effect of the length of time spent in traffic while commuting around the city. One daily commuter who travels by subway said: "It's nice to be able to watch something while commuting from school to work. It makes the underground commute less suffocating. I find myself laughing at some of the videos shown and it even gives me something to talk about with the person next to me."
Parking problem
A big portion of daily traffic is made up of İETT public transportation, the remaining half of it is made up of personal cars and taxis. Being stuck in traffic, which we can all relate to, is one of the most hopeless feelings. As drivers endure this feeling on a daily basis, the stress doesn't end once they have reached their destination. With more than 18,000 taxis in use, and 19 million cars with 30,000 more being added every month, parking is one of the biggest problems drivers are faced with. Serdar Şen, who makes a cross city commute every day, explains the problem in this way: "I find it nearly impossible to avoid jams while driving to certain parts of the city because of the dense traffic. I believe that this is due to the fact that public transportation doesn't extend to every part of the city. The fact that there are not enough parking spaces is one of the major problems I face on a daily basis, not to mention the high cost of parking lots. I would suggest creating more carpool lanes and insuring mandatory audits of these lanes happen will aid in relieving some of Istanbul's traffic."
Fair prices
Although traffic conditions are not ideal in Istanbul, the prices for transportation are much cheaper in comparison to European cities. The price of an average fare is TL 2.30 for full fare, TL 1.15 for students and TL 1.65 for teachers and social workers. With prices so low, most citizens are able to make public transportation a part of their daily lives. For those who commute more than once a day back and forth, cheaper options are available. A monthly subscription for full fare is TL 185 and the student fare is TL 80. Monthly subscription users can use their Istanbul cards up to 200 times, making it a preferred option among students and daily commuters.