Passion and creativity are the two key features that speak for any Michelin-star chef, blending flavors and using the best ingredients to prepare high standard dishes. Beginning from their early years, a Michelin star is what many chefs aspire to attain.
Born and raised in Germany, chef Serkan Güzelçoban, 31, is one of the three Turkish Michelin-star chefs who enjoy this title. Güzelçoban's family is from the Aegean city of Denizli and his father is the leading name that encouraged him to pursue this profession, admired by many. Güzelçoban says every kitchen in the world has a special place in his heart and he wanted to have a career that would help him grow and improve by drawing inspiration from both the past and the present.
After a period of self-exploration, Güzelçoban decided to focus on "fusion kitchen," which means harmonizing elements from diverse cuisines. However, he gives special importance to Anatolian cuisine, which has a permanent place in his palate.
Prior to his attendance in Gastromasa, a major event that will be bringing together the world's most famous chefs in Istanbul on Dec. 10th, Güzelçoban shared his secrets for his success in the kitchen in an interview with Daily Sabah.
For Güzelçoban, food is the ultimate career choice as it is something that does not require him to leave his culture and life behind, but rather allows him to celebrate every aspect of it. As a skilled chef, he can combine tarhana, a Turkish-style sourdough soup, with seafood or rabbit meat. He can use vine leaves or lakerda to create new recipes you will not have the chance to taste anywhere else.
His journey into the world of food started with the encouragement and life lessons given by his father. One day his father brought him to a restaurant owned by his Greek friend, Dimi. Unexpectedly, his father told Dimi that his son can work there and Dimi asked him to go to the kitchen and wash the dishes.
He was surprised when he found himself in the kitchen. As his father did not have the financial means to give him pocket money, Güzelçoban had to earn it himself. "Nothing is free in life and you must learn how to earn your own money. I had to claw my way out of the difficulties that I faced to come to these days. You don't know the difficulty of life because you were raised in abundance. So, you have to gain what you want from life through sweat and tears," his father told Güzelçoban, changing the way he would view life forever.
Following this major turning point, Güzelçoban started to work every day between 8:00 a.m. and 10:00 p.m. He did not want to get a university education. He worked as a trainee at Dimi's restaurant for a year and later he was accepted by a restaurant, although he faced rejection a couple of times before being accepted. "I often asked myself why there were no Michelin-star Turkish chefs. Displeased with the common view that Turks know nothing other than kebab, I promised myself to show the world the vast variety in our cuisine. And I developed myself until I made it to these days."
Güzelçoban's favorite motto is to have faith in yourself and in what you make. No matter what other people say realize what you want. For Güzelçoban, professional ethic is respect, cleanliness, neatness and being a good teacher.
Being a Michelin-star chef is difficult, but maintaining this title is even more difficult. "Everybody has a different idea about holding a Michelin star. Because it is very had to keep it. But in my opinion success comes through continued self-improvement, reading, continuing to try, searching and learning. There are so many details that need to be known, such as knowing at what oven degree the octopus starts to lose flavor or why the soufflé suddenly cracked. So we can be never perfect. The moment we start to think we are perfect, we begin to lose our touch," he adds.
Güzelçoban says that the Michelin star is like the Oscars of the industry. But there is a long and arduous journey before one can attain it: "If you try to jump from the first step to seventh step, you will fall. Making a demo fish is not important, the important thing is to use a new technique. It is easy to prepare a beautiful dish but no time is enough to fully and carefully explore a dish. You have to question yourself over and over again. If you focus on how you can process your ingredients, the rest is
easy. Training is very important and must be completed as that is how you will learn to make broth or know the exact degree and time required to prepare meat. It is all about learning an art craft like a chef," he said.
The Michelin-star chef initially opened a restaurant called "Handicap" in a hotel in Künzelsau, Germany. Unlike other restaurants, some of the staff at Handicap have either physical or mental disabilities. Three of the seven staff in Güzelçoban's kitchen as well two waiters have disabilities.
The hotel housing the restaurant and owned by the aristocrat German Würth family, also has disabled staff working. Güzelçoban's hybrid specials have had a significant role in the restaurant's great success. However, he left Handicap and opened a new restaurant named "Bistronomie" in Öhringen in December. He will be opening another namesake branch of Bistronomie in 2017 also in Öhringen. Like Handicap, there will be staff with disabilities working at Bistronomie as well. Güzelçoban received professional support to help with the adaptation of disabled staff.
He says he started to specialize in the international cuisines style, but he recognized that this style was not what he was looking for. "After some time, I noticed that this style had nothing to do with my DNA. And I started to analyze where I came from, where I was raised and how I became me. From then on, all of my childhood memories came to me, and I started to recall my mother's eggplant dish with ground meat, my aunt's tarhana soup among many other mouthwatering Turkish dishes. And then I decided that I wanted to present the Turkish kitchen in Germany in the 'high-end' class."
One of Güzelçoban's favorite specials is "Des Sultans Freude," originally known as "Hünkar Beğendi" in Turkish, lamb stew served on an eggplant puree. Güzelçoban prefers to prepare this traditional dish using local German blue cheese. The semolina dessert with dates and saffron, tarhana and lakerda are also among his favorite meals. Stressing that people generally know little about the Turkish kitchen and unaware of this tasty culture, Güzelçoban decided to find a fusion to reflect his Turkish and German sides. "The customers must make sense out of this combination and wonder about the origin of the menu. So I started to fuse local ingredients with traditional Turkish dishes. The feedback from customers was so positive that they started to recommend the meals to their friends," he said. He now has a wide range of customers including various artisans, journalists, managers and ministers and people of every age.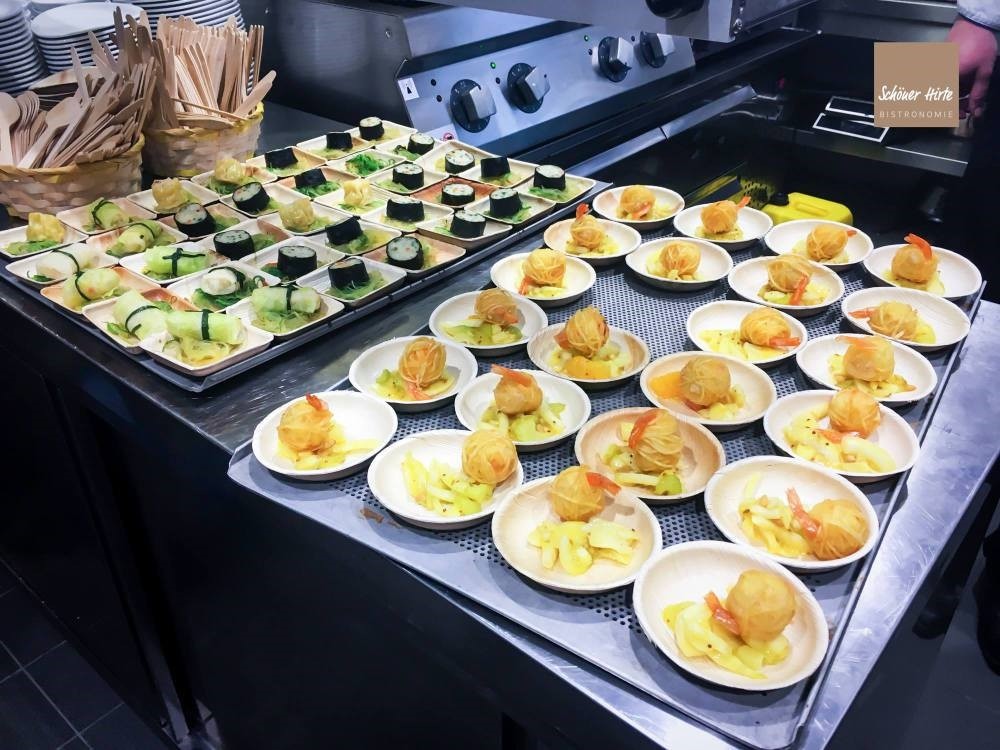 The skilled chef follows in the footsteps of his mother. He shared one of his hilarious memories with her:
"One day I asked my mother how to make tarhana soup. My aunt makes tarhana in Karahisar, Denizli. My mother wondered if I would cook tarhana for Germans and she thought that they the customers would not like it and hence never return to the restaurant. I told her that I would cook such a delicious tarhana soup with rabbit meat and that they [the Germans] would not be able to forget the taste. Not everybody agreed with me but I believed that I would succeed. A couple months later, I became the second Turkish chef to achieve the Michelin star and we gained the star as the first restaurant having staff with disabilities. This is a big achievement that does me proud," he said.
Güzelçoban still brings some ingredients like vine leaves, pomegranate syrup and tarhana from Turkey. He misses his mother's dishes like the stuffed eggplant, stuffed vine leaves and lahmacun. He continues to take special tips from his mother. "My mother says that half of the Michelin star belongs to her."
For him, there are still many things to do and he dreams to make true. He dreams of turning an old waterside mansion facing the Bosporus into one of the best restaurants in the world.
Güzelçoban will be giving a speech at the 2nd International Gastromasa Gastronomy Conference taking place at CVK PARK Bosphorus Hotel on how he reinterprets his mother's recipes and customizes Anatolian dishes to delight the European palate.