Miniature-food cooking has been the online craze lately. There is something amusing and addictive about watching full-size hands trying to sculpt mini foods into their original shapes. Originally, the practice of making these tiny foods started in Japan due to the cultural obsession with "kawaii" or "cuteness." Thanks to the Internet and hundreds of "how to" videos posted since then, the tiny food pastime has spread all over the world.
What is miniature food?
Miniature food is real food cooked and prepared with tiny kitchen utensils. Spoons, knives, pots, pans, refrigerators and stoves all nearly one-tenth the size of their originals make up what are called "tiny kitchens" so that chefs can create "tiny food." This pleasant, though time consuming, activity seems like the perfect hobby with fans and chefs dedicating patience and effort to create masterpiece delicacies in unusually small kitchens.
How it started
As with all things cute, small and adorable, the trend for cooking miniature foods started in Japan. The cultural enthusiasm for cute and delicate things, which is referred to as "kawaii," is where the tiny-food fever emerged. Before the trend of edible-miniature food was popular, Japanese culture had been producing inedible miniature plastic food since the beginning of the 20th century. All it took to re-establish the trend was a guy with an idea to put a new spin on an old tradition.
YouTube channels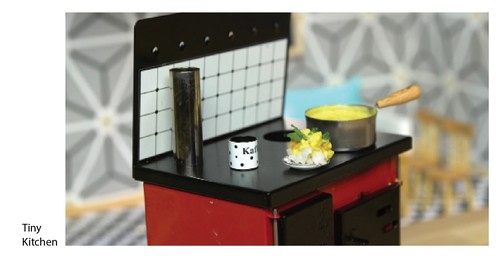 The tiny food industry took off in 2014 when a YouTube channel named "Miniature Space" uploaded its first video making drinkable coffee in a pot smaller than a thumb. Since then, the anonymous owner of the channel has uploaded 160 videos, raking in over 1 million subscribers to his channel. The channel offers do-it-yourself videos for a variety of mini-foods, including cheeseburgers, sushi, coffee, cakes and other desserts. The success and popularity of "Miniature Space" has become an international inspiration for many others to create tiny kitchens of their own and to take the first step towards becoming a tiny kitchen chef. One of the followers of the mini-food trend is a California-based company named "Tastemade" that created a channel on YouTube ironically named "Tiny Kitchen." The American company offers more varieties of American cuisines with a different twist compared to the Japanese channel. The attention given to the new hobby has not been limited just to YouTube. Instagram and Twitter also have a fair share of tiny-food videos circulating online. With more and more interest growing every day for these dedicated chefs, who knows what will be next.
How to make tiny kitchen supplies
If you have seen the videos online and want to create a tiny kitchen of your own, you will probably need a few supplies. The best part about creating a tiny kitchen is that you do not actually need to buy anything. Thanks to the popularity of the tiny food videos on YouTube, there has been an equal amount of popularity in "how to create tiny utensils" videos. Simple everyday objects around the house can be used to make tiny kitchen utensils. Popsicle sticks to make cutting boards, cans to make pots and pans, clay to make plates and cups, paper clips to make whisks and tongs are just a few items you can create without having to purchase extra supplies. A YouTube channel named "SugarCharmShop" uploads videos showing you how to make supplies for your miniature kitchen, from delightful potato peelers to adorable spaghetti strainers all the size of your pinky nail. Bigger items necessary for your kitchen, like ovens and refrigerators, can be made using clay or different types of metals. Most of the tiny kitchen stoves and ovens work with tea light candles, a cheap and effective alternative to electricity. For other supplies you can search online to find exactly what you need. Thelittledollhousecompany.com offers a huge range of details to spice up your kitchen, from tables to cabinets, all giving your lovely new hobby a touch of personality.
Mini food art
The only downsides to the minuscule food videos are that they are not filling, and they do not have a long lifespan. The meticulous precision and delicate preparations of your tiny cheeseburger or cheesecake are gobbled down in one bite and gone forever. The solution to this problem is in mini polymer clay copies of edible food. Artists all around the world have dedicated their time and effort to creating exact replicas of the food in their refrigerators on a minuscule scale. All that is necessary for this hobby is polymer clay, acrylic paint and an imagination. Shay Aaron and Kim Burke are miniature food enthusiasts devoted to creating delicious looking foodstuff. Pies, pizzas, burgers, eggs and vegetables, all the size of a penny, and so real looking that you want to cook with them. Yet none of their art pieces are made from actual food, making you even more curious as to how they can look so yummy.