We love our ferries here in Istanbul. Who doesn't order a cup of Turkish tea and sigh at the view once in a while or snap selfies with a loved one with the setting sun over the Sultanahmet Mosque in the background? A crucial part of this experience is the musicians who busk on the boat. They add color and joy to our commutes - a little something extra as we get from place to place, transforming a shared public space into a lounge.
You may have noticed that within the past few months, little signs have popped up on the lower salons of almost all Şehir Hatları ferry lines, "Live music may be heard here." For years, performing on the boats (and some streets like İstiklal) was either not allowed or regulated to certain times, and musicians had to work around the security.
Now, Şehir Hatları, is working with musicians to set up a system giving approved groups permission to play and collect money from passengers. I interviewed several boat musicians to talk about their unusual careers, and how the recent changes to the system have affected them.
Hakan Kaya
Hakan Kaya invited me to watch him and his friend, Hitomi Ona, play a few sets on the Kadıköy-Karaköy ferry line. Kaya plays Cajon, a sort of wooden drum box which the player sits on top of. Hakan set out a purple sequined fedora as a receptacle. Ona took out her accordion and briefly shouted hello to her captive audience, and the pair launched into a polka.
Kaya is a true bohemian, a free-wheeling mischief maker who turned away a stable career as a pharmacist for a different kind of life.
"If you work for a pharmacy you get 15 days of vacation," he told me, twisting the tips of his mustache. "What can you even do with 15 days of vacation?"
But at the same time, he's community minded, Kaya was primarily responsible for putting together the syndicate of musicians and working with Şehir Hatları to gain legal permissions for the musicians to play.
"I started playing eight years ago," he said. "The problems started about six months after that. The security would see you coming onto the boats with your instruments and we had to turn around and walk right back off the quay."
After about two years of playing, he said, enough musicians had appeared on the scene that they began to squabble with each other about who got to play prime time.
"What's the capacity of this salon? 300 people? You play for an hour, [across the Bosporus] and back, that's called a tour. At rush hour, you've played for 600 people. Some concert halls don't hold 600," he said, smiling.
First, the musicians put together a self-organized union, delineating who got the Beşiktaş ferry for what hours, because the Beşiktaş line was and still is the best for tips. But even that couldn't settle all the disputes. Musicians used to have arguments with the security, with captains and with each other. Hakan started collecting signatures and worked with Professor Tunç Baydar of Istanbul Technical University, a prominent musician. They made a deal with Şehir Hatları to keep security off their backs and gain official recognition.
"Under the new system, everyone earns much more equally. It's much better," Kaya said.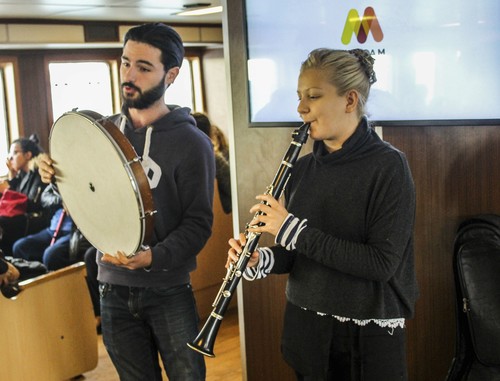 Hitomi Ona
Hitomi Ona used to teach kindergarten back home in Japan, but on her first trip abroad to Thailand and other parts of Southeast Asia, she saw people busking on the street. "And I thought, maybe I could do that too!" she said.
She started traveling and bounced around Asia for a few months, playing for tips on the street. She came to Turkey about three years ago and didn't expect to stay for long.
"But it was so easy to earn money," she said. "There were lots of foreign musicians on Istiklal. Now it's different and a little harder."
Ona played accordion on the street for a few months, which is where she met Hakan. They became friends and eventually roommates, which is how she was introduced to work on the boats. Though she's moved out now they still team up to busk on the ferries from time to time.
Ona plays gypsy tunes and traditional Turkish songs and Japanese jazz with equal fluency. It's clear she loves her adopted profession when she gleefully announces her program in Turkish to the audience of commuters. She's 28 years old now, and is a little worried about her future, and considers moving abroad again. "I never thought about what I'd do next. Maybe I'm worried," she laughed.
Ozan Tura
Ozan Tura has a beard like a wizard and a front man's laugh. He knows how to work a crowd.
"One time playing on the boats, a guy got uncomfortable and shouted at us right in the middle of a song. 'My head's going to explode, stop playing!' We just played louder. He got madder and yelled at us louder, we started playing louder too. He made so much noise that the other passengers started to shush him and applaud us. It made me so proud. What a weird and fun day," he said.
Tura plays clarinet for a band called "DalganaBak," a wild bunch who play a mix of Balkan tunes and their own songs. Music is his calling. "I always wanted to be a musician, ever since I was a kid," he said. "I started on the guitar in first grade and made up my mind to go to the conservatory."
He later figured out he had a clarinet player's build, so he switched instruments after high school in Mersin and loved it. He studied at the Istanbul State Conservatory and started playing on the streets then.
"But I always used to run into my friends who played on the boats, and one day I just joined them," he said. "So I played on the boats in winter and on the streets in summer."
He is not sure if he prefers the new rules with Şehir Hatları. The musicians get to ride for free, the hours are better, and the security does not allow anyone else who hasn't auditioned and doesn't have the permission. It means better music for the passengers and a more normal work schedule for the buskers. But it also takes some control out of the musician's hands and concentrates it with Şehir Hatları.
He plays less on the boats these days, mostly booking gigs with his band, and he plays clarinet for a children's theater, but he still likes to entertain boat passengers whenever he's got some spare time.
Burak Unerman
Burak "Bubu" Unerman is normally a percussionist, but he was riding solo today, and so he brought his santur.
"It's an Iranian instrument," he explained. "It's a little like a piano."
It's like a sideways harp, a long wooden trapezoid with dozens of strings in pairs stretched across the top. It sits in the player's lap, and is played with two chopsticks with knobs at the top, bounced on top of the strings. The music sounds tinny and ethereal, a waterfall of notes, like it's echoing into the ferry from another universe.
Bubu doesn't show his age, he's in his forties but has a youthful vitality. He's been a professional musician for 20 years, but he started playing on the street and on the ferries both for practical and artistic reasons. "The bar scene was terrible," he said. "These dumb kids would come in and play three or four hours of music. They weren't musicians, it was terrible, and they did it mostly for the image. The bar owners didn't really care about quality, they were just happy there was music, and would pay them 50 liras. For four hours of work!" he said.
"I like playing on the ferries. It's more free," he said. "There's no stage, there's no barrier between you and your audience. Whatever you're feeling, you can directly share it with the people."
And under the new system, he has a reserved room and a reserved time on the Beşiktaş ferry line. Only professional musicians are allowed to play on the boats now, which means nobody squabbles over what room they're allocated, or who they have to share with.
I asked if he had any crazy stories from the boat, and he related one time he was playing black sea music with his band.
"An old dede [elderly man] came up and started dancing the horon. At the end of the song, everyone clapped and cheered. He went around with his own hat, collecting money for us. Who would say no to an 80-year-old dede? 'Give, give money,' he said, and everyone in the salon pulled out their wallets. But then you know what? We watched him go towards the back door, set the hat down, and stuff all the money into his own pockets." He laughed. "Who would stop an 80-year-old dede?"
It's a fun job, and it might have the world's greatest view, but it is still work. Everyone I talked to said that the passengers have been a little gloomy in recent months - so if you see any of these musicians or any others on the boat, let them know how much they brighten the city up. Smile, applaud, let them know how much you appreciate them, and support your local musicians with the Turkish liras in your pocket.