It may take just five minutes or a few hours, but upon arrival in Turkey it is impossible to resist the unique and relaxing call of Turkish tea for long. This tradition is so permeated in Turkish culture that its absence leaves a conversation with friends or breakfast feeling incomplete. Contrary to the afternoon tea culture of the U.K., tea accompanies Turkish meals and gatherings at all times of day, from the morning to the dark hours of the night. It is quite common to come across both young and old sitting in outdoor tea gardens feverishly chatting or playing backgammon. Likewise, Turkish women love serving freshly brewed tea with pastries to their guests at home.
In such a tea-dependent country, one can easily find a place to enjoy afternoon tea accompanied by the finest traditional Turkish delicacies. If you just want to spend the afternoon with friends or to treat your mum this weekend, Istanbul is the perfect spot for afternoon-tea connoisseurs thanks to its array of plush restaurants, chic tea houses and boutique hotels. We have done all the footwork for you by scouring the city for the best places to drink a pleasant cup of tea while enjoying traditional food.
Try a sumptuous afternoon tea
Istanbul's high-end hotels specialize in delivering an afternoon tea service in a very classy manner. In the heart of Beyoğlu, Patisserie de Pera, elegantly designed in an Art Nouveau style, serves gourmet tea with a wide variety of treats including: Handmade chocolates, homemade macarons, muffins, cupcakes, almond cookies and raspberry cake, just to name a few. A freshly brewed Turkish tea is TL 12 ($3.25) and a cookie plate is TL 19.
A vibrant space to meet over a drink, to enjoy afternoon tea or to explore its menu of delicacies, Raffles Zorlu is another option during an Istanbul visit. Live entertainment brings an additional relaxing touch to the scene at the hotel's tea lounge "Lavinia." Their high-tea menu is available from 3 p.m. to 6 p.m. and serves traditional Turkish pastries, like "talaş böreği" (braised lamb wrapped in puff pastry). The sweet buffet menu offers a selection of tea or coffee for TL 70.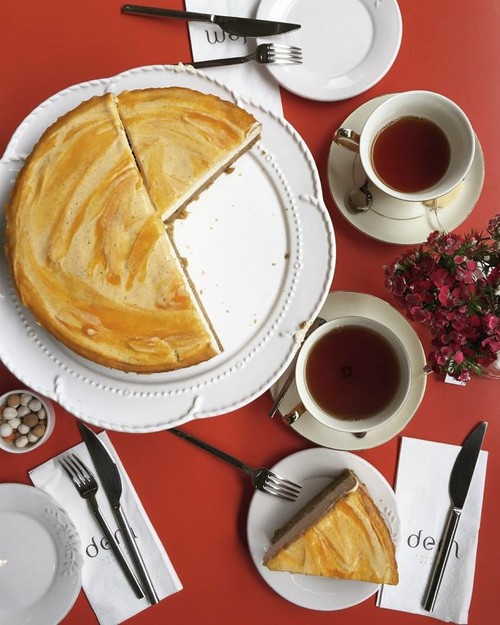 To have your afternoon tea in sumptuous surroundings, the Swissotel on the Bosporus serves afternoon tea in style, making it a perfect venue for chatting with friends or business associates. The menu offers Turkish sweets, finger sandwiches and exquisite Swiss pastries. A wide selection of perfectly brewed loose-leaf teas is available. However, the drinks menu is nicely rounded out with specially designed juices if you are in the mood for something cold. The tea lounge is open on the weekend and costs TL 75 per person.
Find a cozy tea house
Just a short stroll from Şişhane metro station will bring you to the sign of the small tea house in Galata where guests can pick from over 30 kinds of teas from around the world. Cha'ya Tea House is an adorable place to have afternoon tea with friends. The cafe's carrot cake and cookies are a must try. Cha'ya also has another branch in Moda on the city's Anatolian side.
How about trying some artisanal teas this afternoon? In the busy Maslak quarter, Melez Tea Lab serves tea packed with antioxidants and vitamins that will tantalize your taste buds. To turn afternoon tea into a Zen moment, the tea house challenges traditional tea culture by introducing a modern touch. The space also offers regular tea workshops.
Located in a comfortable meeting point in Karaköy, Dem offers the chance to bolster your tea obsession. The menu has 60 tea varieties, including white, green, oolong, black, smoked, pu-erh and red teas as well as herbal infusions and homemade iced teas, all of which are served in a manner that honors the culture they come from. Dem also serves signature snacks, desserts and has an extended breakfast menu.
A true afternoon-tea connoisseur knows what flavors and aromas their palate prefers and Istanbul's specialty tea shops with their wide variety of teas and pleasant atmospheres promise to make you feel at home. A master in the art of quality tea for Londoners, the Whittard of Chelsea's Istanbul branch at Akasya Mall on the city's Anatolian side is a more tranquil place for your afternoon tea if you prefer a quiet atmosphere. For a lighter choice, the brand's "Vanilla Sundae," an aromatic black tea with a vanilla bean aroma, is highly recommended.