The long ago ancestors of the people who conquered this land we live in draw their traditions, their language, their oldest customs from central Asia. The Turks share heritage with the Kazakhs, the Mongols, the Uzbeks, and all the other nomadic horse tribes of the steppe. This includes their food. But where the Turkish people had the benefit of the Mediterranean and Black Sea and significant dynastic time to develop a palatial cuisine, the people of the steppe remained committed to their simple fare. Did you know the Turks only have a few native words for food? Meat, milk and apples are about it. (The capital of Kazakhstan, Almaty, comes from the word for apple - "elma"). Everything else comes from Persian, French, Arabic and Italian. Perhaps that's one of the things that makes Turkey itself such an entrancing mix. But what if Turkey had kept its culinary roots? We can get an idea from the cuisines of other Turkic nations. I visited three restaurants across Istanbul to sample the varieties of Central Asian food available to us in this great city.
Fiççi House
First I visited a cafe in Kadıköy near Söğütlüçeşme, the end of the Istanbul's metrobus line. Fiççi house is run by a Turkmen family, and I spoke with Dilaram Kutluay. She gives me an overview of what to expect from Central Asian cuisine.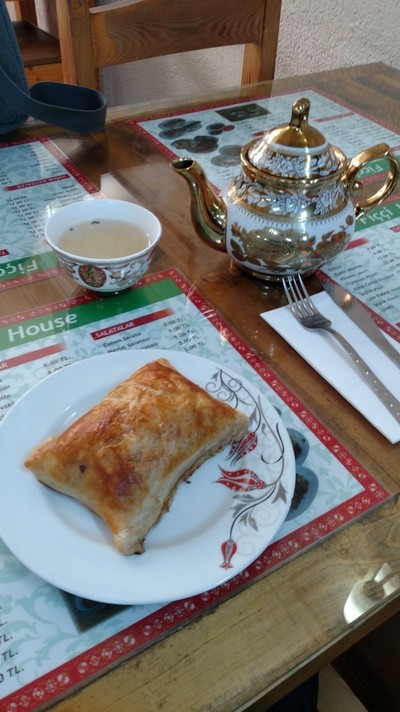 Samsa is a flaky and hot Uzbek pastry that goes well with green tea.
"There's mantı, there's lagman, there's pilav. It varies from place to place but it's more or less the same, and has the same origins," Dilaram says. Fiççi, the namesake of the restaurant, is a meat pot pie. Their menu features a few kinds of dumplings, including fist-sized manti and Russian-influenced Pilimeni.
"Turkish people sometimes think it's all mantı, but this is a dish from the Soviet times," Dilaram tells me of the Pilimeni. "The filling is different, the presentation is different." I ask about special Turkmen dishes, and Dilaram describes the Dograma, an enormous platter of chopped meat in stew served at weddings. "But I haven't been to a lot of traditional weddings," she said, laughing, "you should go find one and try the Doğrama!"
They serve me a gold pot of green tea and a huge pastry full of salty, juicy meat. The pastry, an Uzbek Samsa, is flaky and hot. Dilaram instructs me to dribble on a bit of the flavored vinegar, a bit of cultural inheritance from Russia. I devour the samsa in about a minute.
Dilaram adores Istanbul and has chosen to build her family and restaurant business here.
"Every year I leave and I promise myself I'm not coming back, but I just keep coming back to Istanbul. Water flows into Istanbul, but it doesn't flow back out. I spend one year and time moves so quick! I get married, I have kids, we open a few restaurants..." she says, gesturing behind her. "The community here is great. If you come in here on Friday and Saturday mornings it's packed." Fiççi House offers a variety of inexpensive meat pastries, kebabs, and Russian cakes.
Address: Rasimpaşa Mahallesi, Kadıköy.
Uighur Restaurant
Akyol is a Uighur restaurant situated in Aksaray. The Uighur people, if you don't know, are from the northwest corner of what's now China, and clearly their cuisine's been under Chinese influence for a long time. Uighur cuisine has adopted some of China's spices and techniques, and it offers a departure from the standard Central Asian staples of dumplings and rice and noodles.
Akyol is split into two halves, the upstairs and the downstairs. Upstairs they offer a Turkic twist on Chinese food - noodle dishes with stewed meats and strong sauces. But I've come for the downstairs half. The hot pot.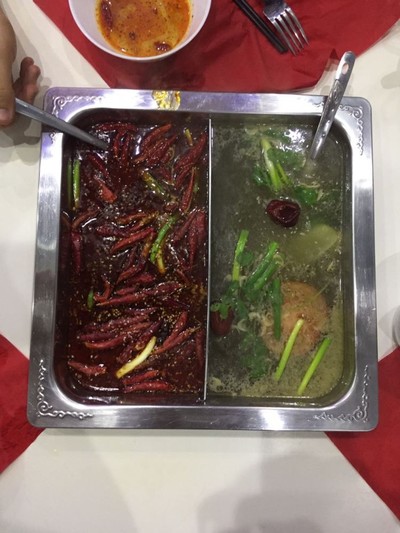 A hot pot native to Uighur cuisine.
Hot pot restaurants are an experiment in marathon eating. Every table has a hot plate built into the center of the table. (And above every table at Akyol hang bowler-hat-shaped lampshades, which aren't crucial for the taste, but do add a lot to the atmosphere.) A huge vat of soup sits on top of it throughout the meal, and you get a paper order form. Circle or check off all the things you'd like, noodles or meats or vegetables or fish or dumplings, and the items are rushed from the kitchen to your tableside. Then you dump everything into the soup to cook. Then, you mix the cooked ingredients, the soup, tahini, vinegar, garlic, and chilis into your own personal bowl, and slurp the resultant mess into your face as fast as possible.
We ordered the half spicy/half normal soup combo, and get a bifurcated soup vat. We circle a dozen things nearly at random on the order form, and we're sweating from the steam by the time the food comes. The people behind us ordered squid and shrimp, we went for the tamer spiced beef and lamb and a bevy of vegetables. Food marches in an endless procession from tableside stand to soup to bowl to mouth.
By the time we're done, we can't move. Our tongues are numb from the spice.
Get a few friends together and you'll each pay in between TL 30 ($8) and TL 50 for a meal that could knock an ox unconscious.
Address: İskenderpaşa Mahallesi, Fatih