Büşra Karayıl, 14, a student at Esenler Şehit Türkmen Tekin Girls Anatolian Imam-Hatip High School, is a complete literature enthusiast. She is a courageous, sociable and conscious young girl. What makes her different from her peers is the fact that she published a book, "Esma'nın Günlüğü" (Esma's Diary), at the age of 14. Her story is about an illiterate mother and her daughter who reacts to this situation. When Büşra learned that her mother Şükran was not allowed to go to school because of her gender, she reacted, saying, "What kind of rubbish is that? This will not happen to me. I will go to school." When Büşra started elementary school, school bells rang for Mrs. Karayıl as well. Illiterate Mrs. Karayıl learned how to read and write with her daughter.
Büşra's first encounter with literature was also during elementary school. Paper and pen have always been her only friends. She used to write short stories, dreaming about the future. One of her teachers' suggestion to write a diary in elementary school encouraged her to write even more. In middle school, on the other hand, even though her parents wanted her to go to a normal secondary school, Büşra wanted to go to an imam-hatip school which offers religious education along with the regular curriculum. She read about the Feb. 28, 1997 military coup, a period she had not experienced. She listened to previous statements and researched on the internet, and at the age of 11, she eventually decided to go to an imam-hatip secondary school. "I took this step to show that what was done on Feb. 28 did not go to waste. My literary ability also emerged in Esenler Tacirler Eğitim Vakfı İmam-Hatip Secondary School," Büşra said.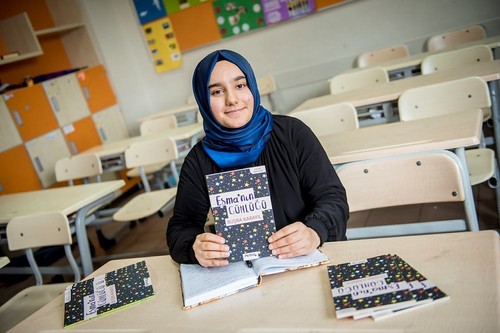 Büşra Karayıl (L) poses with her book "Esma's Diary" at her school. She has been writing stories and novellas since elementary school.
When the storybooks for children were not enough, she turned to novels at a very young age and studied world and Turkish classics. As she read them, she dreamed about writing novels. Her teachers always encouraged her. However, some of her friends did not believe that she could write a book. "You can't!" they said. The turning point of her life came when her science teacher Gamze Duman advised her to follow her dreams and she started writing all night long against all those who told her that she could not do it.
After the book was complete, challenges began for Büşra. She went to publishing houses. Finally, she took the story file and knocked on Esenler Municipality's door and made the authorities read the book. Esenler Mayor M. Tevfik Göksu and his team assisted Büşra and arranged a meeting with publishing house P Book. The result was satisfying: Büşra's children's book "Esma's Diary" was published.
"I still cannot believe I have written a book. But a philosopher said, 'The greatest pleasure in life is doing what people say you cannot do.' That's what happened to me," Esma said, noting that the character Esma in the book refers to the patience of Esma Biltacı, who was a martyr in Egypt. "Esma is not defeated in the face of patience and difficulties. She has only one friend: Her diary. She always writes. The book contains bits and pieces of my life as well."
Büşra's wish is for "Esma's Diary" to continue as a series. She wants to contribute to her country as a teenager by writing books. "I want to take a stance just like Nuri Pakdil, Adil Erdem Beyazit, Cahit Zarifoğlu and many others who drew the line and took a stance during dark days by writing. Writing is taking a stance. I want to give hope to my peers about the future," Büşra concluded.