When they stepped off from the train, Washila Muhammad and Gamat Allie were excited to trace their roots all the way from South Africa to Anatolia. Muhammad, who has never been to Turkey before, knew that all the things that make him who he is today would be lying on the ancient Anatolian lands. After more than 150 years, the great-grandchildren of Sayyid Ebubekir al Emcedi, shortly known as Ebubekir Efendi, a religious scholar who traveled to South Africa during the Ottoman Empire, landed in Turkey to find and honor their family heritage.

Muhammad and his wife Gamat Allie were the first to arrive in Turkey and will soon be followed by Muhammad's siblings in their search for the long-lost legacy of their great-grandfather. The great-grandchildren of Ebubekir Efendi, who was assigned to solve conflicts among Muslims living in South Africa during the reign of Sultan Abdülaziz and to teach them Islamic sciences, live in Cape Town and came to Turkey today with hopes of seeing the land where their grandfathers lived even though many years have passed.

Washila Muhammad, one of the grandchildren of Ebubekir Efendi who traveled from Erzurum to Africa and died here in Cape Town after serving in the region for about 17 years, and his wife Gamat Allie shared their excitement with Anadolu Agency (AA) at the Ankara Train Station before heading towards their ancestor's home town of Erzurum.

Noting that this was the family's first visit to Turkey, Muhammad said, "We are happy to be in Turkey and especially happy to go to Erzurum. However, I have very mixed feelings. My great-grandfather Ebubekir Efendi came to Cape Town from Erzurum about 160 years ago to teach the Islamic religion and never returned. He taught and educated many people in South Africa. He left behind a great legacy."

Muhammad, who experienced soulful moments and sometimes could not hold back his tears while expressing the traces left by Ebubekir Efendi in South Africa, emphasized that they preferred to go to Erzurum from Ankara, especially by the Eastern Express Train, and that they are very excited. "I chose to go to Erzurum - especially by train - because I want to see the country and the people and observe their cultural traditions. The people of this country are the people of my great grandfather. I wanted to feel this emotion. I hope it will be a pleasant journey," Muhammed said.

Highlighting that he has mixed feelings about going to Erzurum, Muhammed said, "I am very happy but at the same time I am very sad because Erzurum is Ebubekir Efendi's home lands. We had heard a lot about Erzurum before, we grew up hearing stories of Erzurum and Turkey."

Muhammad expressed his happiness that the people of Erzurum still remember the Ottoman scholar Ebubekir Efendi, saying: "My sister who lives in South Africa, my sister's husband, my cousin, my wife and I will meet in Erzurum. We are very excited to visit the lands where my great-grandfather Ebubekir Efendi lived before coming to Cape Town."

Muhammed also mentioned that he and his wife will arrive by train and other relatives who reside in South Africa will come to Erzurum from Istanbul by plane and stay there for three days, also adding that they will meet with Erzurum Metropolitan Mayor Mehmet Sekmen. Noting that they will go to Istanbul after leaving Erzurum, Muhammad said, "We will stay eight days in Istanbul. I know this short trip is not enough for visiting Istanbul. We will hopefully come together with the whole family, including children and grandchildren, next year."

Muhammad also thanked Halim Gençoğlu, an expert on Ottoman-African relations who went to Cape Town a few years ago and did extensive studies on Ebubekir Efendi. "He worked with great passion and unearthed many things we did not know about my great grandfather before. We are grateful for the wonderful things he did. He continues to carry out very valuable studies in South Africa and is making great efforts to open the Ebubekir Efendi museum," Muhammed said. "We expect the support of the Turkish people and the government so that Halim Gençoğlu can open this museum in Cape Town. Therefore, we can pass on accurate information to South Africa, the Turkish people and the future generations."

Allie also noted that when the people of Cape Town see one of the grandchildren of Ebubekir Efendi on the street even today, they call out "Efendi" on the spot, stressing that he is immediately recognized as an Ottoman grandchild.

Pointing out that Ebubekir Efendi was recognized more and more in both Turkey and South Africa day by day, Muhammad said that many Turks visiting Cape Town are no longer leaving the city without visiting the Abu Bakr Effendi's grave.
Ebubekir Efendi: Ottoman heritage in South Africa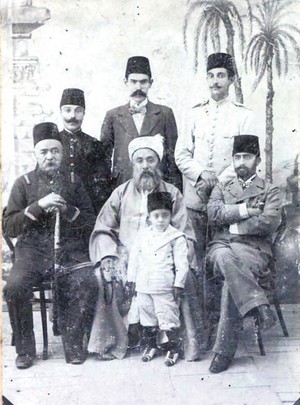 The Cape of Good Hope was placed under British rule in 1805, however, Muslims from India and Malaysia living in South Africa were in conflict due to the crucial differences in their Islamic practices. To put an end to the conflicts, the British envoy in Cape Town asked the British Queen Victoria to send an Islamic scholar to Cape Town. Seeing the Ottomans as the leader of the Muslims at that time, Queen Victoria wrote a letter to then-Ottoman Sultan Abdülaziz and asked him to send a scholar to Cape Town.
The sultan assigned Ebubekir Efendi for this important task. Abu Bakr traveled to Cape Town via France and the U.K. in three-and-a-half months. He arrived in Cape Town in 1863 and served in South Africa for about 17 years. Ebubekir Efendi, who struggled to spread an accurate understanding of Islam among Muslims for many years, died in Cape Town on Aug. 29, 1880, leaving behind many mosques and schools as well as cultural heritage.