One afternoon last month, a group of five friends and I gathered in an apartment in Beyoğlu to unearth a lost obelisk. It's not every day you get to descend into the depths of historical Istanbul to recover an object lost in time, and it's also not every day you get to explore an ancient Egyptian tomb. None of us were particularly concerned about how the ancient Egyptians had managed to build a tomb full of traps and puzzles in a Beyoğlu basement apartment, nor were we concerned that hundreds of other people had found it already.
Our handler, Boris, gave us all bright red Mario overalls and told us three things, that we'd probably only have 90 minutes of air in the tomb, how to open the door, and lastly he wished us good luck. Here, tragically, is where I have to stop describing what happened, or I'd spoil the surprises of Crazy Enigma's game named "Egyptian Sun." What I can say is that the next 90 minutes felt like crashing around an Indian
Jones movie, crawling, scratching our heads, deciphering "ancient" clues.
It was an immersive game, part of a larger trend that appeared in Istanbul a few years ago – the escape room game.
Escape room games are an unusual afternoon's entertainment. You and a team, some games require between two and six people, while others go up to 12, are trapped in a room and must solve a barrage of puzzles to find the key and escape, all against a fixed time limit. There's no real danger, we weren't actually about to run out of air within 90 minutes, and in case we truly got stuck, the game master watched over us on CCTV cameras the whole time.
Escape room games were invented in Japan about 10 years ago, and only spread to Europe within the past three years. In the early 2000s, the internet offered a profusion of online puzzle games also called "escape room games," where players would have to point and click around a virtual room to find a key. This idea collided with the concept of a fairground haunted house to create an immersive puzzle game experience.
Boris Buchner, when I interviewed him about the "Egyptian Sun," told me that his team had gone to 40 escape room games in Istanbul for research.
"Forty?" I asked. "How many escape games are there here?"
"There were more than 200, actually," he said. "But many of them have closed down after the economy went bad. About two thirds of them are haunted houses with a side of puzzles."
This was news to me, there is no official register of escape room games, though a few websites offer semi-organized lists, and the cities with the highest numbers (all in China) count their escape rooms in the 50s. I'd clearly fallen down a deep, deep hole. Escape rooms, it seemed, are as numerous and varied as any other kind of game.
"We wanted to base ours on a gem of history," Boris said, "and then we designed the game."
I asked why the game feels so immersive when you play it. That's due to careful testing, Boris explained.
"Our team, after we designed it, ran through three months of playtests.
We try to engage all five senses. We have variations in sight, sound, and
touch; I really wanted to have a puzzle with scent but it didn't work. We had these three narrow bottles filled with some smelly objects and players had to put them in an order according to their scent, but nobody figured out you had to smell them. I put a nose hieroglyph on the wall, but still nobody got it."
"Had to cut the puzzle," he said, as he shook his head and laughed.
Boris explained that he didn't want to display a timer or a "fastest escapes" board, because he believed it would take you out of the game.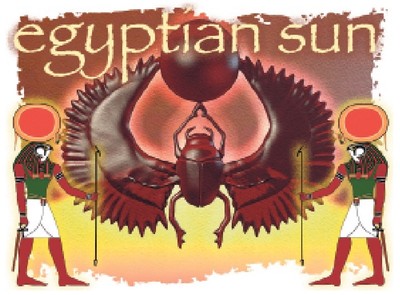 "Egyptian Sun" offers its gamers an Indiana Jones-style adventure for 90 minutes.
The Egyptian concept was his wife Aysel's idea. She explained that she loved running the games because, since she's watching the players on CCTV the whole time, she gets to peek at everyone's psychology as it's revealed by the game.
"You get men in with their girlfriends, and how they play the game exposes the dynamics of their relationships," she said. "She finds something, he ignores her. Or a father's playing with his child, the father ignores the kid when he finds something, etc. It's great character analysis."
Boris explained that he and his wife wanted to make a game where everyone felt welcome, and everyone felt like they'd achieved something at the end.
"There are four kinds of players: explorers, competitors, achievers, and socializers. Each is looking for a different experience in their game, and any good puzzle room has to take into account all four types," he said.
I'm definitely an explorer; I scrambled around finding pieces and clues while my much-smarter friends figured out how they fit together.
The saddest part of doing an escape room though, I discovered, is that once it's done, it's done; you've solved the puzzles and can't do it over. (Or I suppose you could, if you're like me and don't know how your team did the nitty-gritty work of solving puzzles.) It creates a frantic addiction to get locked in another puzzle-filled room.
So, I again gathered my team and visited another company, MazeUp in the Marmara Forum Shopping Mall in the Bakırköy district. They feature two escape rooms, and two sets of puzzles with different themes. One is an Ottoman-themed, "The Spoonmaker's Diamond," and the other is a steampunk-like one, "The Lost Watchmaker." We opted for the Ottoman theme and spent the hour trapped in what felt like a pasha's apartment, searching for clues, finding secret doors. The story was that we'd broken in and had to find an enormous diamond before the pasha came back with his guards to "execute us."
It was a shorter game, with far more codes and locks and numbers, but it was more challenging than the "Egyptian Sun." We managed to solve all the puzzles and charge out with time to spare, and I felt a little sad again when it was over. I enjoyed the sense of peeling back the clues to reveal things that had been in the room the whole time, and immersing myself in a strange Ottoman apartment.
I'm eager to go back and try their second game. But I still like being Indiana Jones.
You can find a list of Istanbul escape room games on "Yeni Görev," Tripadvisor, or regular old Google. Most places recommend making reservations in advance and you'll pay about TL 50 ($14) per person.
Crazy Enigma's "Egyptian Sun" can be found at http://egyptian-sun.com/ and MazeUp at http://www.mazeup.com.tr/.