Palestinian fashion designer Natalie Tahhan has been hard at work in her Jerusalem studio, using computers and printed fabric to replace the tedious tasks of manual cross-stitching and embroidering.

Inspired by traditional Palestinian patterns, Tahhan digitally designs patterns, printing them on satin and silk before piecing the garments together.

Her modern take on the traditional designs has attracted a keen following both locally and abroad, particularly in the Gulf, where she sells her clothes on the web.

"I wanted to do something new, modern and never before seen in the market," the 27-year-old said, as she measured out fabric in the studio of her family home in Ras al-Amud, East Jerusalem.

For centuries, Palestinians have painstakingly sewn long black dresses and adorned them with red embroidery, seen in designs still worn today in rural areas, in marriages and other celebrations.

Traditionally, the designs vary from region to region and tend to make a statement about the wearer.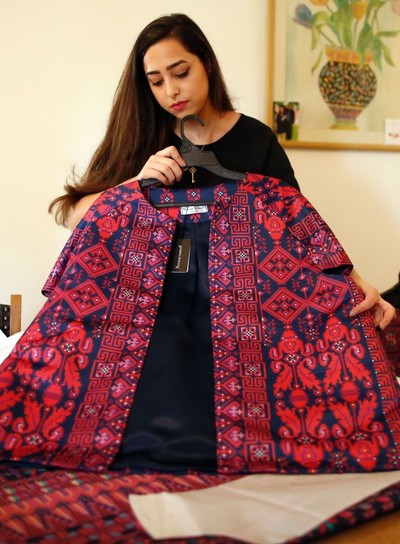 Tahhan displays some of her creations at her studio in Ras al-Amud, Jerusalem.

"We can tell where the woman who wears it is from, and if she is married or single," Tahhan said.

Several young Arab designers have sought to modernize traditional wear and to introduce the dresses of their ancestors, an increasingly rare sight today, to a new generation.

Tahhan studied in Doha and at the London College of Fashion, an accomplishment few in Jerusalem have achieved. She believes she is the only one to have abandoned traditional embroidery for her new method.

Due to the fact that the Palestinian territories lack the equipment, her fabrics are printed in Dubai, which are then delivered to Jerusalem via Qatar and Jordan to circumvent the lack of direct shipments from the Gulf countries to Israel and the Palestinian territories.

Maha Saca, the director of the Palestine Heritage Centre in the occupied West Bank city of Bethlehem, says she supports the effort being made to breathe new life into traditional designs

"Adding Palestinian motifs to modern wear is very important. It means we can wear a modern dress with Palestinian embroidery on it," she said. Established in 1991, the center boasts a large collection of traditional Palestinian dresses.

"Embroidery is part of our identity and the proof of our existence in every Palestinian city and village," said Saca, adding, "It shows the beauty and richness of our Palestinian heritage."

In fact, she is lobbying for traditional embroidery to be incorporated into Palestinian school uniforms. Saca said top-end handmade dresses can cost between $1,500 and $2,000 because of the long labor hours involved and the materials' cost.

She stressed the need to preserve hand embroidering techniques, but accepts that clothes are being produced in new and more modern ways. "We support it 100 percent," she affirmed.

Tahhan's first collection, consisting of five white and violet satin capes with shimmering geometric patterns, sold out in less than three months at $550 a piece. Most of the sales were to Gulf clients who bought the items online.

One of Tahhan's signatures is a cape inspired by designs from the West Bank city of Hebron, which has been occupied by Israel for 50 years. The open-shoulder garment bears a succession of blue and pink squares over black fabric.

Tahhan's light fabrics work well in the Gulf market, where heavy black felt or thick cotton can become unbearable under the scorching sun. Her latest collection is called "Prints of Palestine."

Tahhan's location in Jerusalem, a city holy to Muslims, Christians and Jews, is also a plus for sales "despite the obstacles and difficulties" imposed by Israel's occupation, she said.

Israel seized the West Bank and east Jerusalem in 1967. It later annexed East Jerusalem in a move never recognized by the international community.

Palestinians see the eastern sector as the capital of their future state, while Israelis consider the entire city of Jerusalem their unified capital.

"I wanted to do something as a girl from Jerusalem," said Tahhan, while her distinctive long black hair fell over her shoulders, adding, "Why not create fashion here? People love the idea of owning something made in Jerusalem, especially Palestinians abroad." She explained, "When they buy something they feel they are taking a small piece of the city with them."