Ice cream is one of many things that are associated with summer. When ice creams find their way to the groceries and super markets, you know that summer is around the corner. It is always the best summer treat for not only children but adults as well.

Ice cream's origins are known to go back as far as the Mesopotamian civilizations, although there is no reference to a specific date. Historic memoirs claim that Alexander the Great enjoyed snow and ice flavored with honey and nectar. During the Roman Empire, Nero Claudius Caesar frequently sent runners into the mountains for snow, which was then flavored with fruits and juices. The flavored snow was enjoyed by people around the world for many centuries. The recipe for the ice cream as we know it today, however, is believed to have surfaced around the 16th century. Although up until that time ice cream was around, it was always a food for the privileged. It wasn't until 1660 that ice cream was made available to the general public. The Sicilian Procopio introduced a recipe blending milk, cream, butter and eggs in Paris.

With the introduction to the general public, ice cream and its recipe began to take shape according to the cuisine and culture of countries. In time, the simple snow and flavor recipe evolved into something that you eat for refreshment. Turkish people usually stick to regular flavors for their ice cream. Chocolate and vanilla are the most consumed flavors, along with strawberry, lemon and more. Ice cream in Turkey is usually milk-based. Although regular ice cream (which is soft and milky) is mostly preferred in Turkey, Turkish people invented their own kind of ice cream. "Maraş dondurması" is a unique and thick ice cream recipe that originated in the Kahramanmaraş province of Turkey. Maraş ice cream is as stretchy as mozzarella cheese. It is made with salep, a wild orchid root that gives it a chewy, stretchy texture. And because it is illegal to export salep, it's only available in Turkey. Maraş ice cream is usually served by a man in traditional clothes, which draws quite a lot of attention especially in touristic areas.

Germans are definitely the nation which has the weirdest ice cream tradition. Their traditional ice cream "spaghettieis" looks like a plate of spaghetti with tomato sauce!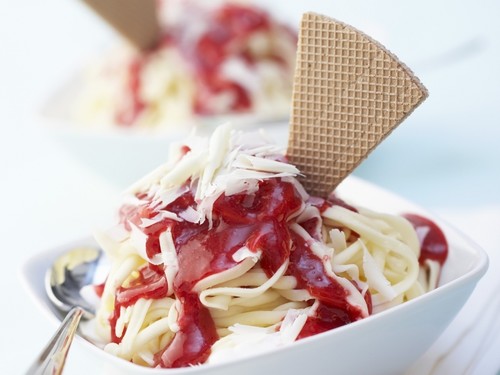 If you order some ice cream in Germany and the waiter brings this strange dessert to your table, place remain calm; although it looks like pasta, spaghettieis is vanilla ice cream drawn through a pastamaker and then topped with a strawberry topping. This odd but playful ice cream was created by an Italian in Germany in the 1960s and has been on the menus of German restaurants ever since.

On a hot summer day in Iran, there is nothing more refreshing than a cup of faloodeh.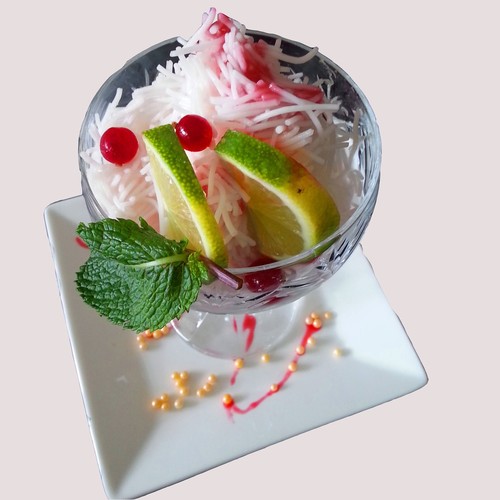 Faloodeh (also spelled faludeh) is traditionally favored with rosewater. At the time of serving freshly squeezed lime or lemon juice or light fruit syrup is added for more flavor. Made of thin vermicelli noodles frozen with corn starch, rose water and lime juice, faloodeh offers a unique blend of citrus and floral tastes.

Thai people sure know their way of eating ice cream. Thai Rolled Ice Cream might be the most creative and easy way to eat this delicious dessert. Traditional Thai ice cream is actually little rolls of ice cream, about the size of a roll of quarters. Instead of being churned, this ice cream is flash-frozen to order on a frozen metal disc and then scraped off into delectable ice cream scrolls. This ice cream got so popular that it has taken over the U.S. and Canada as well.

You might think it odd that people living in places covered in snow throughout the year feel the need to eat ice cream. In fact, why not? If you care for an Eskimo ice cream, you can taste Alaska's akutaq. This sweet delight is made of animal fat from seals, moose, or caribou mixed with berries and bits of meat.

Israel's interpretation of traditional ice cream is quite familiar to Turkish people. Israelis favored ice cream with halwa, which is a sweet candy-like treat made from sesame seeds mashed into a sugar-and-honey paste. In Turkey and Greece, as well as across the Balkans, the Indian subcontinent, eastern Europe and North Africa, the term halwa covers a wide range of sweets. Halwa goes beautifully with ice-cream. If you have a sweet tooth, you should not pass up the chance to taste this unlikely ice cream.