If you have never experienced Ramadan in Istanbul, this year you must take your time to visit Istanbul. During the holy month of Ramadan, which is welcomed enthusiastically in the Islamic world, Istanbul offers a festival-like month to the fasters. Muslim Istanbulites think about this month as both of worship and event time. Especially in the districts where the big, historical mosques are located, visitors are offered non-stop Ramadan activities starting with iftar, the fast-breaking meal in the evening, and lasting until sahur, the pre-dawn meal before fasting starts. Istanbul offers such a long list of spots for Ramadan activities that you may visit more than one between iftar and sahur.
The mosques, which have an important place on Istanbul's unique landscape, are decorated with "mahya" an illuminated message placed between two minarets during the holy month. Each mahya is different with encouraging messages about Islam. The illumination of the mahya turns the night view into a festival.
To experience Ramadan in Istanbul to its fullest, I set out on a quest to visit the symbolic districts of Istanbul, which have made a name for their spiritual activities in this holy month. And the first stop was Eyüp.
Why Eyüp?
Eyüp Sultan Mosque is one of the oldest and most significant mosques of Istanbul, and where the tomb of Abu Ayyub al-Ansari, an important Islamic figure in terms of Istanbul's history, is located. For this reason, during Ramadan, thousands of people pay a visit to Eyüp. This tomb, which awakens spiritual feelings, is open to visit 24 hours a day throughout Ramadan.
Eyüp, which is located on the Golden Horn coast, on historical peninsula of Istanbul, is offering colorful exhibitions during Ramadan. From the beginning to the end of the holy month, people worship and spend all night here. Eyüp visitors prefer picnic as a way of having iftar while relaxing with their families and worshipping on the one hand.
Activities
The traditional Ottoman stage performances of "orta oyunu" are one of the essentials for a nostalgic Ramadan. In addition to orta oyunu, traditional Karagöz shadow puppetry performances and workshops Eyüp offer numerous activities to visitors until sahur. Traditional handcraft workshops, Sufi music performances and storytelling sessions, puppet shows and workshops and more are among the many opportunities Eyüp Municipality offers to visitors. These kinds of events are the focus of attention for adults who want to take a trip down to the historic atmosphere and for children who want to have a joyful time. There are tiny markets and stands where you can shop for small gifts, almost anywhere in the district.
Feshane
Feshane, a congress and fair center also located on the coast of the Golden Horn, is a popular place for children and young people with the amusement park serving during Ramadan. Inside the center there is a big bazaar where you can find your needs or buy some interesting clothing and souvenirs. You can have a sip of tea in the tea garden on the Feshane accompanied by the fascinating view of the Golden Horn in the evening of an exhaustive day. There are traditional candy sticks called "macun", cotton candy and boiled corn sold onsite to preserve the old traditions.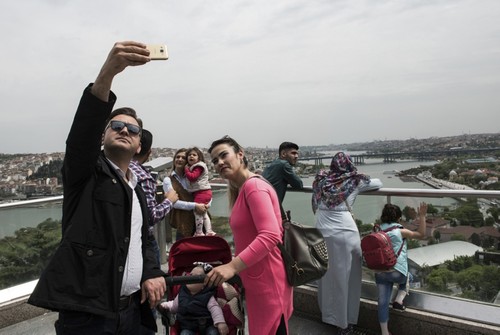 Pierre Loti Hill
Pierre Loti Hill is undoubtedly the place where you can observe Istanbul's various parts and the famous panorama of the Golden Horn the best. The name of the hill comes from a real Istanbul lover, French writer Pierre Loti – also known as, Julien Viaud. This place has been a frequently visited spot both by local and foreign tourists since the 19th century. Of course, if you do not go there and drink a cup of coffee while gazing at the view, you will regret it. Moreover, you can travel to Pierre Loti with a pleasant view using the ropeway line between Eyüp and Pierre Loti Hill.
Sultan boats
You can make a small Golden Horn tour with the reigns of thousands of years in the calm waters of the Golden Horn. Sultan boats await their guests on a small budget to revive the sightseeing of the Ottoman sultans. The view from Pierre Loti Hill allows you to visit every corner of the Golden Horn. The Sultan boats are slightly different from the classical boat forms. The slender and elongated body, with its high and magnificent form of head and stern area and golden leafy adornment, offers visitors a different experience.
Ramadan, which is referred as the Sultan of the 11th months, is a high dose of spiritual feelings, but it also allows Istanbulites to experience their history, along with festivals and traditional activities and tastes.