Lecturer and sports genetics expert of the Department of Medical Biology and Genetics at Marmara University Korkut Ulucan has created the genome map of 10,000 successful athletes and provided the details of the National Sports Genome project designed to reveal the successful sportsmen of the future.
The project began five years ago and it was so successful that the team, led by Ulucan, saw the International Sports Genome project become a registered brand. The main target of the project is to gain doping-free sporting successes and to offer training models depending on the genome map of individuals. Providing information on the process behind the project's implementation, Ulucan said: "The clubs and federations that support us analyze samples of saliva and blood collected as part of our research. We examine the unique genetic parameters of individuals and learn their specific needs in terms of exercise, as well as check preexisting conditions regarding possible illness and are able to measure their endurance levels. I hope that this discovery will become a national policy."
When asked which branches of sports will be affected by the developments, Ulucan said that the genetic parameters of the project are still being discovered, while asserting that they have already created the genetic profiles of 1,000 athletes predominantly in football but also of those who compete in basketball, swimming, volleyball, wind surfing, cycling, tennis and mono-pallet swimming, all of which make up 25 percent of national athletes.
The remaining test subjects, according to Ulucan, include professionals and infrastructure sportsmen as well as members of leading football clubs. Ulucan and his team are also considering expanding the scope of their research to include wrestling and fighting.
Ulucan has already carried out genetic mapping for a number of famous football players in Turkey: "We have a former player from Galatasary who allowed us to generate his genome map when he was still in the system. Now we have generated the map of the Beşiktaş players. We have also examined how they should exercise and their sports psychology. These athletes are the future of tomorrow's teams and we are working to develop infrastructure that will allow entire teams to undergo genome mapping. Tomorrow's Gökhan Gönül, Sosa and Brazilian Givanildo Vieira de Souza (known as "the Hulk" among football lovers) are coming," said Ulucan. He also added that he considers Emre Belözoğlu as one of the best footballers of Turkey, asserting that if he can conduct genome mapping on players like Belözoğlu, he can offer a similar exercise model to children who can train effectively to become successful athletes as well. "It's all up to the trainee and their families," added Ulucan.
Yet, he also pointed out that when it comes to genome and DNA mapping, sportsmen and women could be a little intimidated as they may worry that they could lose the support of their teams. Instead, Ulucan says they tell them that they are analyzing how they can raise generations to be as successful as these sportsmen.
"We hope that we will be able to create super Olympic individuals in the future. DNA research is already ongoing; soon science may be able to alter the genetic makeup of individuals. After determining which genes contribute to athletic talent, we can use this information to create more Olympic sportsmen; scientific researchers are already exploring this," he said.
The data that have been collected to date indicate that there are certain differences in great athletes compared to the world populace percentage-wise; yet, there are more sprinter sportsmen and women in the genome map when compared to the literature. Ulucan said that there are more sprinters; those who are on the verge of making a breakthrough and that the short-distance and endurance gene are more leading. "For example; Turks perform well in short-distance running and swimming. Wind surfers and mono-pallet swimmers have more strength and endurance genes. We have also come across anxiety problems in sportsmen, which we did not expect," said Ulucan.

Characteristics of successful athletes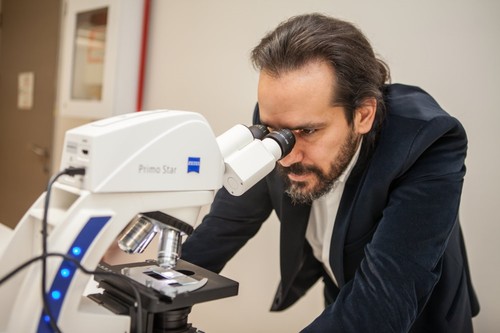 Associate Proffessor Korkut Ulucan in the lab.

- Footballers: sprinter-focused, highly devoted individuals with higher anxiety levels compared to the average person
- Basketball players: explosive power in terms of strength, slightly elevated anxiety levels
- Cyclists: higher levels of Vitamin D reported in the bloodstream, higher metabolism, prone to increased endurance levels
- Mono-pallet swimmers: high endurance levels with optimal tendencies for increased endurance levels
- Tennis players: slightly higher rate of lactose intolerance among players compared to general population, more prone to gluten sensitivity
- Wind surfers: higher endurance parameters compared to average population