Ramadan, which is often referred to as "the sultan of the 11 months," has almost come to an end. The last day of fasting known as "arefe," or the eve of Eid al-Fitr, the Ramadan holiday, begins tomorrow. The day marks the end of Ramadan, one of the two holiest holidays for Muslims, and ushers in the sweetest holiday of them all.
Just as every religion has its festivals, Islam has two of its own every year. The first, the Ramadan holiday, or Şeker Bayramı in Turkish, is observed during the three days after the holy month of Ramadan. The name "Şeker (Candy) Bayramı" originates from the tradition of children going door to door collecting candy, and sometimes a little money, from their neighbors. The second Islamic festival Eid al-Adha, known as Kurban Bayramı in Turkish, is when Muslims sacrifice an animal. Eid al-Adha begins 70 days after the Ramadan holiday and lasts for four days.
As we welcome the first Islamic holiday of 2017, it is important be prepared. Luckily, that is what "arefe" days are for, preparation for the follow days' festivities. Apart from other eves, Ramadan's "arefe" also marks the end of fasting. To prepare for this sweet holiday, people often rush from one place to another for last minute shopping, so if you see people rushing around, don't be alarmed. To get Daily Sabah readers the insider's scoop, we have compiled an Istanbulite's typical "arefe" day.
Shopping for a good cause
Ramadan Holiday is almost here and shopping is a must. Tradition dictates that people wear new clothes, offer each other gifts and host guests in their homes during the three-day festivities. The most crowded place in Istanbul on an "arefe" day is the Eminönü district, Istanbul's centuries-old center of trade. There is no doubt that you will see Istanbulites flocking to the area for shopping tomorrow.
Istanbul's famous Spice Bazaar is also located in Eminönü. Heaps of spices, delicatessen foods and snacks shine on the shelves offering one last temptation for Muslims during their last day of fasting.
There is a good reason Ramadan Holiday is called the "candy holiday," and the most important "arefe" shopping is for sweets. Whether you are in a market place or strolling along a random street in this beautiful city, during this time of year Istanbul looks like a giant candy shop with a wide variety of candies on display waiting to be offered to children who go door to door to celebrate the holiday.
In Turkey, wearing new clothes on Islamic holidays has become a tradition and arefes are the best time to get good bargains on new clothes. If you are shopping on a budget, Eminönü is the place to be. Beautiful attire for people of all ages can be found there. However, if you feel like splurging, make your way to Nişantaşı or to the fancy shopping malls scattered all over the city.
Maybe nostalgia is what you're after. In that case, take a bus to Beyazıt to visit the Grand Bazaar, the oldest "shopping mall" in the world. The bazaar is believed to have been built during the reign of the Ottoman Sultan Mehmed the Conqueror in 1460. As the oldest and the biggest bazaar, there are 4,000 shops where you can find almost anything, from priceless handmade carpets to jewelry and the finest examples of traditional Turkish art. Unfortunately, considering the Grand Bazaar welcomes more than 90,000 tourists every year, you might find the shops too crowded, especially during "arefe" shopping tomorrow.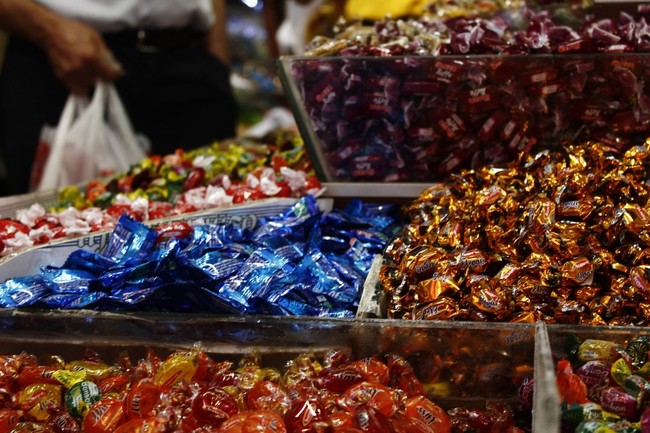 Paying respects
"Arefe" day and the first day of the Ramadan holiday is a time of remembrance. During these days, people visit cemeteries to pray for the souls of their deceased loved ones. Moreover, people also visit the tombs of the martyrs who lost their lives defending Turkey and the Turkish people.
More recently, some have preferred to take advantage of their three-day holiday for a vacation instead of staying home with family. For those planning out-of-town getaways, visits to elders are made on "arefe" day to kiss hands in respect and to exchange traditional Ramadan Holiday greetings.
Pre-holiday chaos at home
However, if you are going to spend the three days in Istanbul hosting guests, get your combat suit on because it is time for a "holiday cleaning." "Ramadan cleaning" is a ritual in Turkey. In short, mums love it and daughters hate it. The floors are mopped with the best smelling soap, curtains are washed and the windows are cleaned until they sparkle. Once the cleaning is done, it is time to prepare the "ikram": The food, beverage and snacks that will be offered to the guests. Now, it is time to put the candies, snacks and desserts bought from the spice and grand bazaars on display. At last, the only task left is to iron your new clothes and to get a good night sleep before the first day of the Ramadan holiday.
Eid Mubarak to all Muslims around world!