Serving customers with a staff of 10 people with Down syndrome in Istanbul's Üsküdar district, "Tebessüm Kahvesi" (Smile Coffee) attracts attention thanks to its personnel and cheerful service, making customers smile just like its name.
Founded in the garden of Burhan Felek Mansion under the context of the project initiated by Üsküdar Municipality, Tebessüm Kahvesi is run by a total of 10 personnel with Down syndrome between the ages of 18 and 35.
After a 2.5-month training session on hygiene, service and behavior, the disadvantaged young people serve customers at Tebessüm Kahvesi with a friendly and sympathetic attitude unique to them.
Working in two shifts for six hours in five-person groups between the hours 8 a.m. and 8 p.m., the team is now the focus of customer's interest.
The personnel with Down syndrome working under the pioneer ship of the project officer, Şermin Çoban, professionally serve as baristas and waiters. Beverages and dishes are presented to customers by the hands of the young people with Down syndrome.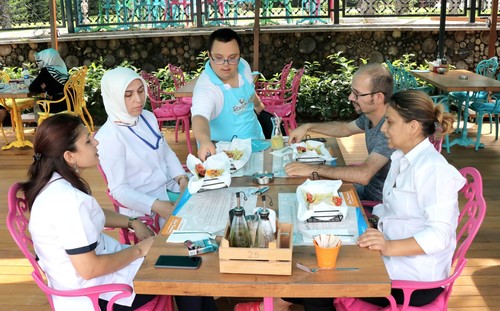 Üsküdar Municipality Social Support Services deputy manager, Mustafa Yıldız, spoke to Anadolu Agency (AA) and said Tebessüm Kahvesi was developed with the aim of producing long-term projects leaving an impact on disadvantaged groups."We wanted to bring people together with the disadvantaged groups and break down the chain of prejudices. Here people saw that, people with Down syndrome are actually keener on hygiene than they are thought to be. There are even the ones who are obsessed with hygiene. They do their work with great meticulousness and serve as a real professional field man," said Yıldız and added that they also show great interest on the integration of such people's families into social life.
Marking that Tebessüm Kahvesi also functions as a school, Yılmaz said, "Our aim was to be able to prepare every one of our personnel for their future professional life. Hence, thanks to the process they completed here, they can be employed by the important companies or in different sectors in Turkey. We realized the first examples here, at Tebessüm Kahvesi. One of our ex-personnel now works at one of the renowned restaurants by the Bosporus. We also hope that they can found their own business within time."
Stating that everyone from ages 7 to 70 can have a peaceful time at Tebessüm Kahvesi, Yılmaz said, "It is one of the most decent spots at the center of Istanbul. It is also one of the most qualified places with its menu and pricing policy. Our personnel are highly precise in customer satisfaction. I argue that the project represents its name. I cannot imagine anyone who visited Tebessüm Kahvesi and didn't feel at peace."
Yılmaz said that customers are very satisfied with the coffee and their loyal customers love to visit the cafe where cute, sympathetic and cheerful personnel serve.
Marking that the project contributes to the personal development of people with Down syndrome, Yılmaz added, "In the first days of our facility, we used to give transportation service for our personnel, however, now most of them use public transport or come to work on foot although there are a few of them still using our service. Most of them are now capable of meeting the daily needs of their home, which is really important and precious for us. Here we are discussing people with Down syndrome on serious levels. By initiating our project, we didn't think of organizing a team consisting of people with Down syndrome on mild levels just to found an extraordinary facility. We hired people with quite a serious syndrome and mentally disadvantaged ones. Now, we work with a group consisting of people who have completed their social integration and improved their sociocultural formation."
Stressing that the facility is a nonprofit organization, Mustafa Yılmaz added, "Tebessüm Kahvesi was never intended to function as a profit-oriented organization, however, it is really nice to witness that we have progressed more than expected thanks to the public interest and the performance of our friends. What's important for us is the integration of our friends into social life and functioning as a model for Turkey. Tebessüm Kahvesi is a pioneer project both for the region and for Turkey."
One of our friends with Down syndrome, Zuhal Başbülbül expressed her pleasure about working at the cafe and said she has a good relationship with customers. Başbülbül also mentioned her plans of buying a house with her earnings.
"There's no place for the ones who don't smile here," said Arlin Gültane.
Emrah Kuru, on the other hand, pointed out that they welcome customers smiling and serve them with respect and tolerance.
Stating that she intended to visit the cafe after coming across it on the internet, Nazmiye Özaslan said, "I came across Tebessüm Kahvesi on the internet. It really attracted me, however I didn't have a chance to visit. One day I realized that it was on my way to the hospital. I came here with my aunt and we both really loved the cafe. The sympathetic and concerned attitude of the personnel really pleased us. They are so cute, you feel as if they are a friend of yours. Sometimes, when you ask for a cup of tea, the response is 'You must be kidding!' They are so cute. I recommend the cafe to my friends. Everyone visiting here really loves the cafe. Tebessüm Kahvesi really relieves me."