An Aug. 25 the Myanmar army and Buddhist gangs began the systemic killings of the country's Rohingya Muslim population, which is estimated to be over 1 million, and today the atrocities being committed against them rage on. Myanmar soldiers are raping Muslim women and burning children and young people alive. Many of those who have attempted to flee either starve to death at the border or are shot and killed by soldiers yielding heavy guns. On the other hand, the number of those who successfully made it out of the bloodbath, taking refuge in Bangladesh, has exceeded 300,000.
In Myanmar's Arakan region, the oppression and violence endured by Rohingya Muslims has gone on for years. Two young men from Arakan, Asgar H. and Osman K., managed to flee Myanmar, coming to Turkey to attend university. They escaped persecution and brutality endured by Rohingya Muslims in Myanmar, where they are denied civil rights and even the right to live. The young men spoke to Daily Sabah about the massacre in Arakan.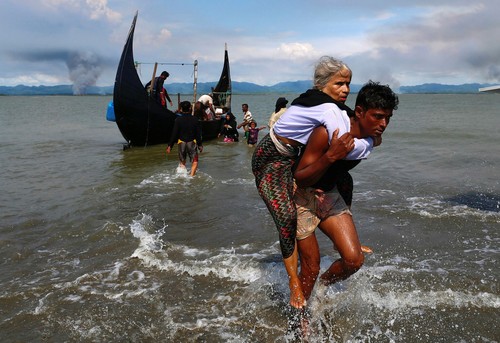 An old Rohingya refugee woman is carried after crossing the Bangladesh-Myanmar border by boat through the Bay of Bengal, Sept. 15.
"Life in the Arakan villages is terrible. Muslims do not have the right to attend school. Mosques and the use of the adhan [call to prayer] are forbidden. We are denied access to healthcare facilities. We cannot even travel from one village to another without first getting permission. Muslims do not have the right to engage in trade. We are deprived of civil rights in Myanmar," the 25-year-old Asgar said.
Asgar said that he did not want to leave Myanmar but was forced to do so in 2012 when the Myanmar government entirely shut down all the schools and theological schools in Arakan. The young man said that he was forced to go to Bangladesh to receive a proper education. A few years after leaving his hometown, Asgar moved to Turkey, while his family, meanwhile, still lives in Arakan. Since the recent attacks on Muslims began with brute force in Arakan, Asgar has been unable to reach his family.
"A few days after Aug. 25, when the Myanmar army started to attack Muslims there, I was able to make contact with my family. My mother said, 'I live with fear,' while she was crying. My father, on the other hand, said, 'They burned down the surrounding villages. God knows, when it's our turn. Pray for us. We will see each other again if we can survive. Here is nothing but the doomsday.'"
Asgar's family wants to cross the Bangladesh border but they fear that the Myanmar army and Buddhist gangs will kill them if they try to escape.
"They are at the risk of being burned alive if there is not any immediate intervention. I heard that some of my relatives were slaughtered in a remote village. What is happening in Arakan is nothing but a massacre," he said.
Asgar's parents and siblings managed to flee their village before Myanmar forces burnt it to the ground. His siblings saved their lives by escaping to another region with their children. According to the accounts of his relatives, Myanmar forces either torture those who were trying to escape or kill them on sight.
"The Myanmar government says, 'Either Muslims living in Arakan will leave the area or we will kill all them.' They want to make the area free of Muslims as Arakan is full of natural resources and energy sources. What's being done to Arakan Muslims is nothing but ethnic cleansing and a massacre. A military intervention is a must. There has to be a power standing against the Myanmar army and Buddhist gangs. Otherwise, this slaughter and massacre will not come to an end until all the Muslims in the region have been slaughtered," Asgar said
Similarly, 23-year-old Osman K., a student who came to Turkey to study, left his parents and siblings behind in Arakan. According to his relatives, those who managed to survive by fleeing to Bangladesh are now starving to death.
"The Rohingya people in Bangladesh either live in outdoor, makeshift camps or take shelter under nylon tents," Osman said.
His uncles and the rest of his family are also in Arakan still, but Osman said that he lost contact with them after the massacre began on Aug. 25.
"I only managed to contact my mother who is in Bangladesh. She said that the village where my uncles live was targeted. The Myanmar army and Buddhist gangs burned the village down. Some of our relatives managed to escape when the soldiers raided the village. As they couldn't act as a group, everyone followed a different path. Hence, no one knows who is alive or who is dead now. My mother said all of this in tears. This is so hard that, I cannot find any words to describe this grief," he said.
Osman and his parents lost contact with his uncles and they hope that his uncles managed to escape from their village and are hiding in the forest or trying to go across Bangladesh border.
It is hard for people in Arakan to communicate with the outside world but this is not the result of the recent attacks. The Myanmar government has denied permission for a communication network in the region for years. Muslims do not have mobile phones or internet access.
"The Myanmar government is carrying out a total ethnic cleansing. As Arakan Muslims take shelter in Bangladesh just to survive, Buddhists manage to make the area free of Muslims this way. We are desperate. The last time I spoke with my mother, she told me, 'After this last massacre, maybe we will become extinct entirely. Maybe it will be just our names which will live,'" said Osman.
We asked Osman whether he had information on the refugee camps in Bangladesh and his answer was not very relieving.
"Those who managed to cross the Bangladesh border are facing a water shortage. There's no electricity. Everywhere is muddy and dirty. People make tents out of nylon for shelter as the weather is rainy. Diseases are on the rise due to unsanitary living conditions. Upon seeing the camps where the Syrian refugees live in Turkey, I understood that the camps in Bangladesh are not suitable for living."