Mehmet Yapar cycles day and night on his red bike. For him, cycling is a way to hold on to life and get his mind off all else due to financial problems in his professional life. Having created an Instagram account with the user name @kirmizibisikletim (my red bike) two years ago, he started to share the photographs he took at the places he visited on his red bike and attached messages full of hope beneath the photos. This way, he overcame depression as his heart felt relief through helping others. Working at a consultancy firm in Istanbul, Yapar is married and a father of two. He calls his red bike "my better half."
Friends with all his 130,000 followers
After buying a 1960s model bike, Yapar first photographed his red bike with the Maiden's Tower in the background and hence the story of @kirmizibisikletim started. He cycled all around Istanbul and even visited distant cities on his red bike. Although hard to believe, he cycled a total of 700 kilometers.
"I cycled to almost every single spot in Turkey on my red bike. I got on a hot air balloon in Cappadocia with it and climbed to the top of Valide Han (a popular historic spot in Istanbul flooded by photography lovers) to take a photo of it. This is how I hold on to life with my red bike, which I'd like to call my passion. I had really special moments with it. It may be just a piece of metal for others, yet, for me it is alive and as precious as any living creature. It is my fellow. I do not cycle to go sightseeing and take photos only. I am able to touch many lives with my
red bike. I cycle in pursuit of my dreams and help needy people," said Yapar. Gaining 103,000 followers in a short time, Yapar refers to them as friends, saying, "I have a lorry load of friends on my account." He was also able to contact numerous artist and bureaucrats thanks to his Instagram account, including photographer Ara Güler, actor Şener Şen, comedian Cem Yılmaz and actor Erkan Can, who each also had a red bike during their childhood. Yapar was even hosted by some of these celebrities and recalled the good old days with them. On the International Day of Persons with Disabilities, a friend of his staying at the KRM Rehabilitation Center in Üsküdar called Yapar and requested help for a person in need. From that moment, Yapar's story with his red bike changed course. After sharing this person's story along with a list of his needs, Yapar managed to raise TL 13,000 ($3,718) in one day.
"When I helped him get a wheelchair, dining table along with fulfilling his other requests within a day, I was jumping with joy. From then on, I decided to help people in need every month," said Yapar.
After helping five families, he came across a social media post mentioning the needs of a village school in southeastern Şanlıurfa province and Yapar rolled up his sleeves to help. He started to announce the needs of schools on social media and received help from around the world, from Germany to the U.S. Then, teachers from Kocaeli, Konya, Kars and Ankara started to send their schools' lists of needs to him and Yapar personally delivered the aid packages to the schools.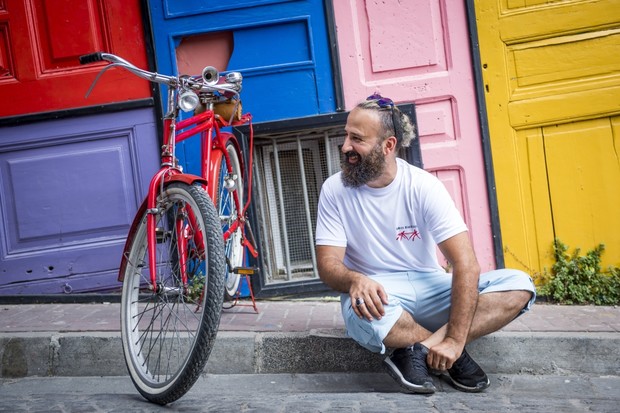 Seeking sponsors for village schools
He helped provide so many needs of numerous village schools that required repairs, paint work and stationery. Delivering jackets, shoes and toys to village children, Yapar also plants a tree in the name of every student at the schools he visits. "I cycle not for the maintenance of the schools alone but also for nature. I plant trees in the yard of every school I visit. Prophet Muhammad advised: "If the Resurrection were established upon one of you while he has in his hand a sapling, then let him plant it." The students at the village schools I visited have a tree now. I want to make children fall in love with nature and provide more and more trees to nature," said Yapar. His new aim is to reach out to 15 more village schools around Anatolia. The village schools in Ordu, Mardin, Kars, Kahramanmaraş, Ağrı, Erzurum, Batman, Aydın, Siirt, Bitlis, Adıyaman, Çanakkale, Muş and Van are on his list on the condition that he can find sponsors. Commenting on cycling for village schools and his tree-planting project, Yapar said: "I first want children to write down their dreams. I will cycle to village schools on my red bike, renovate them, deliver the needs of the children and plant trees. A bicycle is every child's biggest dream! I want to donate a red bike to every school."
The biggest dream of Yapar, who wants to visit all corners of Turkey, is to turn his project into a TV program.
Businessman Ağaoğlu wanted the buy out the bike
There are those who want to buy the bike from Yapar. One day, in a heavy traffic jam at Istanbul's Bebek Coast, business tycoon Ali Ağaoğlu saw the red bike and wanted to buy it. Yapar, however, said, "I wouldn't sell it even if you gave me TL 100,000!" and they laughed together.