Having brought home countless national and world championships in the last six years, Gülistan Korkmaz is a young arm wrestler from Turkey's southeastern province of Kilis. Korkmaz is proud of her career in which she has collected three world and five European championships in addition to numerous titles in Turkey.
The junior at Bursa's Uludağ University Faculty of Sport Sciences spoke to Anadolu Agency (AA) about her third championship in the women's 50 kilogram (110 pounds) division at the World Armwrestling Championship held in Budapest, Hungary.
Born in Kilis in 1997 to the daughter of a retired worker and a housewife, Gülistan Korkmaz incidentally started arm wrestling when she was in high school.
In her high school math class in 2011, some of her fellow classmates were arm wrestlers and she later learned that the teacher of her math class was also an arm wrestling trainer.
"Within time, special tables for arm wrestling were brought to the center. Athletes were doing exercises on them. The activity attracted my attention. The athletes must have realized my attention because they invited me saying, 'Come on, and join us!' and I diligently accepted the invitation and attended the exercises. After a while, they said my arms were quite suitable for the branch and told the trainer about my situation. The trainer tested me and consented. That's how I started arm wrestling," said Korkmaz.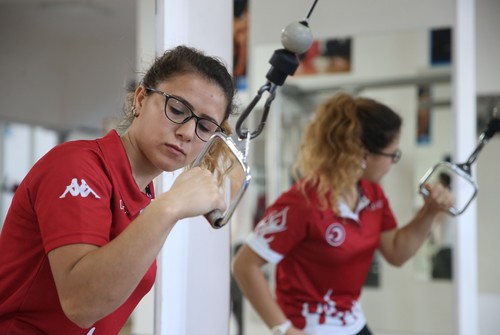 Korkmaz's first encounter with arm wrestling was in 2011, when she was a high school student.
She said in Kilis, people find it strange that she spends her time practicing arm wrestling and it was difficult for her to overcome such a settled perception.
Noting that she came in first at the Turkey Championship the first time she attended, Korkmaz said, "In the years following, I participated in the European and World Championships. Until now, I've won three world and five European championships."
Explaining that she promised to be a successful athlete when she began arm wrestling, Korkmaz added, "The day I started arm wrestling, I believed I could succeed. I didn't dream about a world championship. I just wanted to be a successful athlete and did my best for that. I believed, exercised and succeeded. When I got in the top three and got on the podium, I held the Turkish flag and sang the national anthem and I made my country proud. People are proud of my achievements. This makes me really happy; to be successful is a very rewarding experience. If you commit yourself to something, you must try to do your best. You can succeed if you work hard and embrace your success."
After her success, two of her four siblings also took up arm wrestling.
Korkmaz said when she first started arm wrestling, she was not only found odd by her peers, but also by her family.
"My father asked 'why arm wrestling?' when I first started, but now he boasts 'I have a world champion daughter' proudly. I'm so proud that I also dream about having children, who will have the same success and make the Turkish flag fly in the international arena in the future," she said.
Expressing her frustration in the lack of support on the sport in Turkey, Korkmaz said, "Arm wrestling is an amateur sport in Turkey for now. It is not as popular as football, volleyball and basketball. They are 10 times more popular than arm wrestling and we are disappointed by the lack of support. We've worked hard, been successful and deserve recognition. When we are successful, we should be recognized and celebrated. We have to stand behind the athletes competing for the Turkish national team."
The head and the trainer of GFC Görükle Sports Club where Korkmaz trains, Kadir Gırdoğlu also expressed how proud they were to train for a world champion. Implying that the biggest factor behind her is her hard work, he said, "She exercises a lot and gets the return for her hard work by ranking at the top at the championships. Before the championships, she would lose approximately 9-10 kilograms. It is rare to lose 10 kilograms and be successful. Ambition, belief, determination, following a regular diet and working for a specific target bring success. I believe that Gülistan will achieve even more phenomenal success."