Team captain Sehernur Yangaz, a mechanical engineering student at Istanbul University, said she feels like she's with her family at every practice.
"I really like being here," the 21-year-old said, talking about how she feels being a member of the team. "Even if I had the worst day of my life, I know when I come out onto the pitch everything would change."
"I have never felt this kind of feeling or passion for anything. One can go through different experiences in football like injustice or inequality, but one thing is for sure that the good aspects of this sport and more specifically of this club, such as unity and being a teammate, are all worth it," she added.
Fatih Vatanspor was established by the Fatih Vatan High School in 2006. The team got promoted to the Women's Premier League after winning three titles in the last three years and it declared an open season in October 2017.
The chairman of the club, Suat Özcan, said in an interview to Daily Sabah, "The family-like atmosphere we have in this club is the reason behind its success. We go to the games together with our board members. We share our problems, troubles or happiness with each other all the time."
For Özcan, all the players in the team are like his children. When they called to him on Father's Day last year, he was the happiest man on earth.
"If they get the compassion they need from the club, from us, then we are doing the right thing and we are in the right place," he said. "I can make time for my family whenever I want, but these girls are my second family. I will be there for them whenever they need me. It is the same for the whole club, not just me. I know this from the bottom of my heart. This is why we have succeeded and we will continue to do so."
One team clamped together for success
The club has players between the ages of 12 and 30, all coming from different social backgrounds. Each of the girls has a variety of reasons for taking up football.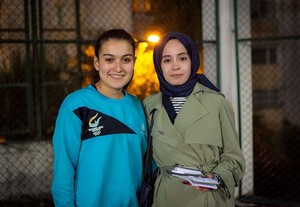 Filiz Tuna, a student at Istanbul University who plays as a midfielder on the team, told her story of how she fell in love with the sport.
"I used to play football with the boys in my neighborhood from an early age. So, I can say that it is my childhood passion. While my friends were playing with Barbie dolls or something like that I was chasing a football," Tuna said. "I even have a scar on my forehead that always reminds me of the accidents I had while playing football as a child."
"This club and its members are like a second family to me. During the two hours of training I forget about everything, it relaxes me. I have been playing for this club for seven years now. I know that we can achieve everything if we play together as a team," she added.
But Tuna is one of many members of the club who share a passion for football. The 24-year-old striker, Nazlıcan Parlak, who is also an Istanbul University student, said, "I am a huge fan of the Galatasaray men's football team. As a child who experienced the joy of Galatasaray's 1999-2000 UEFA Cup title win, I have a huge passion for football."
"I did karate and played basketball before, but football and Fatih Vatanspor have a special place in my heart. I have been a part of this team for three years and it is already like a home to me. I have never felt like this at any other club. I have seen the best days of the team and I truly believe that we will win many more titles in the future," Parlak said.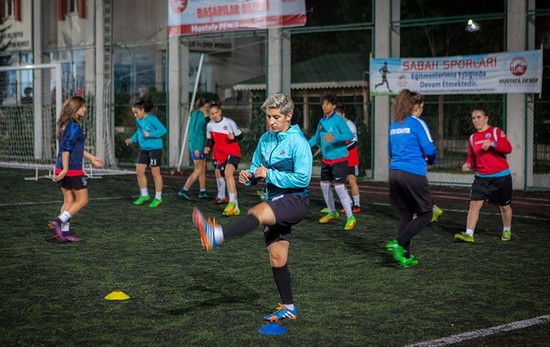 Personality development through sport
Fatih Vatanspor provides a convenient environment for women who want to succeed in a male-dominated sport while focusing on its players' social lives outside the field. It also aims to function as a social responsibility project, the club chairman said.
"Sports achievement is important for me, of course. But the social life, future and education of our team members' are also of utmost importance. If we can help them solve real-life and overcome struggles, that would be an achievement in its own right. All of our girls have different worldviews and they all live under different circumstances, however, here, these are not important. These girls are the foundation of our future. They learn about the life day by day and they undergo a personality development through sport. We are trying to help them in every aspect of their lives from personal problems to education. We even try to help them find a job or a place in a training course if they approach us with such problems," Özcan said.
Brushing off common misconceptions that being a football player might hamper studies, he said, "We do not agree with the idea. In fact, we believe in the contrary. Most of our players see their training as something that helps them organize their schedule and daily lives."
"One of the girl's parents came to me and said they did not want their daughter to be a footballer because they thought she was not studying properly. I told the girl if she did not complete her studies, I would not let her join the team. Now, she is part of the team and she is doing very well at school. Fatih Vatanspor is a huge passion for me. I cannot explain it in words," he added.
Football as a way to progress
Even though they all share different impulses and have different career plans, one common idea shared by the members of Fatih Vatanspor is that playing football has not been an obstacle for any of them, quite the contrary. For them, football has become nothing short of a respite, especially with the support of their families.
"Sometimes, I get different reactions about what I do, but the only thing that is important to me is what my family and the people I love think. I have their full support and that is more than enough. My father has never skipped a game since I started playing. I used to run to my grandmother whenever I scored a goal," said Parlak.
"I am studying to become a mechanical engineer and it is not an easy. But, when they ask me if I struggle or not my answer is always the same. I am very happy I picked up football and in what I study. I am a senior student now and after graduation, I will most probably get a job related to my department, but I will never quit football and my team because they are not obstacles," she said.
"Even though we have budget issues in the Women's League, we keep on playing because it is our passion. But, since it is not just a hobby for us, I think it would be better if we received more support," she added.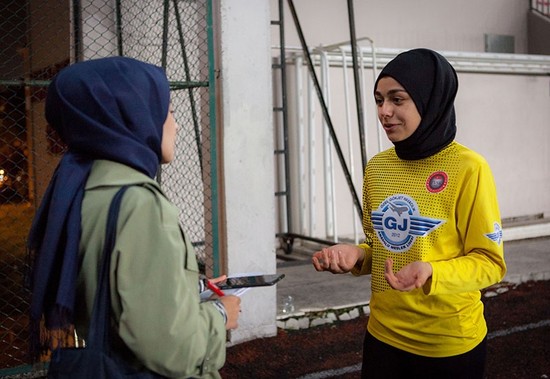 Zehra Sude, a high school student and goalkeeper of the team, had similar ideas.
"I started playing football when I was in the seventh grade. In future, I want to become a police officer but I will never quit football. It is an inseparable part of me," Sude said.

Fatih Vatanspor
Fatih Vatanspor, founded by Ali Haydar Şahin, a teacher from Fatih Vatan High School and the coach of the team, also participates in sports like basketball and athletics.
The club has six female members on its board of directors and six national team players in their women's team. The women's football team claimed its first victory in the Women's League of Turkey in 2009-2010 season. Their Women's A-Team is going to face the national team at the end of this month.
Fatih Vatanspor's success is unprecedented, given the fact that women's football is not very popular in Turkey yet. The club managers, as well as the players, are doing everything to continue their success, but there is one obstacle that they need to overcome first, money.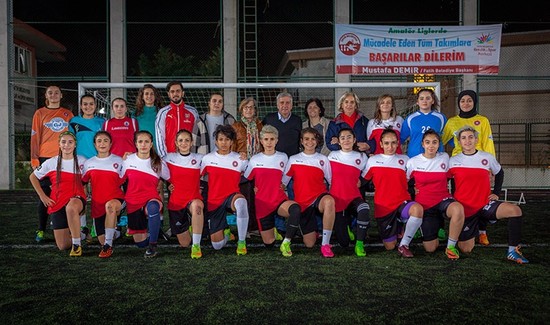 Board members of Fatih Vatanspor pose with their players before the training

According to club members, the small amount they receive from the Women's League is not enough for the development of the club. Because Fatih Vatanspor is a local team, they do not get as much support as the municipality teams and no one has come forward to sponsor the team.
The club chairman expounded on the financial situation, saying, "The municipality provides us transport for the away matches and we received some prize money after we became champions. But apart from that, we cover our own expenses, mostly from our own pockets and with the help of our friends and neighbors. It's not just for the club, but these girls deserve more support so they can have a brighter future."