Karçiçeği Bilingual Nursery School is part of the Irfan group of schools. Owned by İlim Yayma Vakif, the history of the school dates back over 20 years but it was not up until last year that it really underwent a transformation.
Recently relocated to Şerifali, Ümraniye, the school is housed in a four-story building. The entire building is dedicated to the school and has a warm and inviting atmosphere, drawing the children in. There are different classrooms, including a Montessori room, an art room, a forest-themed classroom, a Lego room and a soft play area. The garden has small gazebos, slides and other playground equipment.
This boutique school currently educates 60 students. The four main teachers and assistant teachers make sure that students at the preschool get all the attention they need.
What makes the preschool different is that it is a bilingual school. After the age of 4, children are taught by professional nursery school teachers in English. Their day is split into 25 hours of English, with 10 hours of Turkish and five hours that include swimming, gymnastics, art, music and values education.
The bright and light decor pleases both parents and children. Unlike the majority of Turkish schools, students at Karçiçeği Bilingual Nursery School are taught in a variety of rooms. Each room is decorated differently, inspiring the children to be creative and to think outside the box.
Nestled among high-rise buildings, the outside of Karçiçeği Bilingual Nursery School adds cheer and energy to the slick modern neighborhood. The brightly colored ship and children's faces make it clear that this is a place a child can have fun and explore the world.
But there is more than just a fun and inviting to decor. To find out what makes the preschool different, we talked to a number of different people.
When asked one parent why they send their child to Karçiçeği Bilingual Nursery School, we got this response: "For me the most important things that Karçiçeği Bilingual Nursery School offers my child are values education and a warm atmosphere. All the people in the school are welcoming, and they treat all the children with kindness and affection. The school's administration is focused on solving problems and is very quick to deal with any issue that comes up. These things make it possible for me to entrust the most precious person for me, my daughter, to them. I can leave here without thinking twice. Indeed, my daughter is not only happy here, she is learning so much."
When Özlem Şar, the lead teacher, was asked what makes her preschool different, she answered that the children who go to Karçiçeği Bilingual Nursery School are very happy. The physical environment in this school is better than most other schools in the region, with even the smallest details designed with preschool children in mind.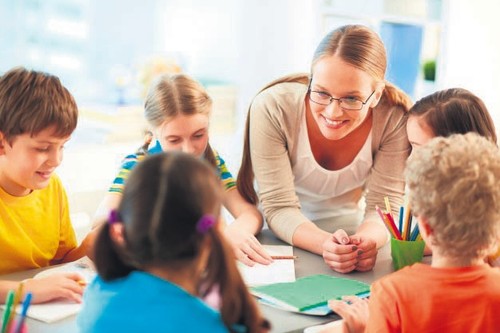 High-qualified bilingual teachers help students learn English while using everyday life skills in the nursery school.
Karçiçeği Bilingual Nursery School instigates a system of education that departs from the norm in Turkey. Children are taught different lessons in different classrooms. Because the children spend the day in different rooms, with different decor, this stimulates the children's interests.
In addition to this multiple classroom approach, the bilingual aspect of the school is very important, as it really changes how the children learn. Rather than getting purely academic exposure to language, the children learn English in connection with everyday life skills, thus providing an important stimulus for their lingual development.
Fatmanur Çalışkan is one of the bilingual teachers at the school. A qualified preschool teacher, she provides the children with normal preschool education – but in English. All bilingual teachers here are qualified preschool teachers. When asked in what way Karçiçeği Bilingual Nursery School is different from the normal nursery school, she told us that the bilingual program helps the children. Certain words are repeated over and over again, as they are in a normal daily setting. Do you want water, I am thirsty, I am hungry, enjoy your meal and it is play time are all phrases that the children pick up very quickly.
Because of this, children start to learn English at a very young age and in a very natural way. This age group is able to learn a new language very quickly.
When the language is taught through games and daily activities and by giving concrete examples, children can learn English very quickly and correctly. Along with providing material, this method is a productive way to learn English.
Fatmanur comments that adults have difficulty learning English or indeed any new language. The reason, she says, is because as adults we have a fear of languages and are convinced that we will not be able to learn before we even start.
Children have no such prejudice. They learn best when they are having fun. If they enjoy the learning process, this prejudice will not develop. The results are a love of speaking English and being more open to learning.
There are some disadvantages of course to bilingual education. If the concept is something that is new to the child, or if it is something that will be strange to them, they will have difficulty learning it in the target language. Here the bilingual aspect of the preschool comes to the fore. During the Turkish part of the program, the children are introduced to new concepts. Once the new concepts have been learned, the children are introduced to them.
Although the bilingual teachers try to use English, at the beginning of the year some students are starting school for the first time. It takes children a little while to get used to this new environment. In times of crisis, especially during the orientation weeks, the teachers find that they have to use Turkish.
It is for this reason that Karçiçeği Bilingual Nursery School does not use native speakers; indeed, native speakers are not the best solution in a situation like this. The children need to feel that switching between languages is natural, and the children need to feel that they will be understood.
Zeynep Kübra Süer, the principal, also had a great deal to say. She explained that her preschool is different from normal preschools because the children are not kept in one room; they go from room to room. Every day they visit every room. Each room is decorated differently and has a different purpose. There is the forest room, where the children do music and theater. There is the Lego room, where the children do puzzles, play with Legos and toys made for learning. This allows their imaginations to grow. "The children are taught in an active way," Principal Süer said.
The teachers also use Kagan Cooperative Learning methods, ensuring that the children are mentally and physically active most of their day.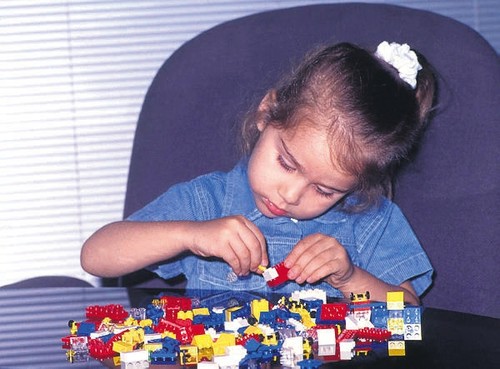 Karçiçeği Bilingual Nursery School has different lessons in different classrooms like the Lego room, where children do puzzles, play with Lego, and toys made for learning.
Süer spoke about their plans to establish a first grade class next year. The first graders will also not be confined to just one classroom. They will also have different lessons will be held in different classrooms. They will continue to have bilingual education – but a little less. They will have 10 hours of English class a week, where the language will be taught based on the subjects they are learning with their classroom teacher in Turkish. They will explore mathematics, social sciences and science through English. In addition, physical education, music and art will be given in English. The approach of teaching English through real life experiences will continue.
Teachers organize a monthly activity that takes the students outside. Last month, the children wrote and drew letters to their mothers. They then took the letters to the post office and sent them to their mothers. There are plans to add more technological based activities next year, giving the children an opportunity to experience a full cycle – past and future.
In addition to full time school, there is a toddler group. Children come to the school three days a week for two hours. The children have a short day that includes playing in a ball pit and an "adventure" park, doing art work, and developing motor skills. They have drama lessons and listen to stories.
Perhaps the most striking thing about this school is the values that the teachers, parents and students hold. The best example of this was the Help Mardin project. The preschool children – some only 3 years old – learned to give to those who were less fortunate. They brought things from home – clothing, shoes, school bags, books and pencils. They drew pictures to send to children in Mardin. The parents had a charity drive and raised money. Then some members of Karçiçeği Bilingual Nursery School took these gifts to Mardin. With the money they bought new chairs and tables for a preschool in Mardin, as well as tables and chairs. The teachers gave the students in Mardin the gifts that their friends in Istanbul had sent them.
The children in Mardin were very happy and they shared this happiness with the children in Istanbul. Young children in two different cities learned the importance of sharing with this project.
But perhaps the most important voice has yet to be heard. One young student told us that she is happy at school. She feels good when she is there. She likes the daytime feeling of the school – it is easy to understand what she means by this. The school is bright and light – it feels like daytime, even when outside is dark and gloomy. She likes learning prayers and enjoys doing academic lessons. But most of all, this student loves the ball pool and her teacher, Fatmanur.
She goes home and tells her parents about the day's surprises. This student told us how they have a day full of surprises.
Isn't that what learning is really all about? Surprises? School must be able to keep the wonder and questioning alive. Many schools fail their students and end up simply boring them, but Karçiçeği Bilingual Nursery School has succeeded in nurturing curiosity and a love of learning. Many flowers will bloom here.