Thinking of places to go that will make everyone in the family happy can be daunting. And, limited time off for mom and dad means wherever you decide to go, it needs to be close; after all, no one wants to be in a car for hours with fidgety kids.
So, if you want to plan a fun day out for the youngsters (and parents too), here are some toddler-tested ideas for your next day off.
Let's go to the Zoo!
Impress your kids this weekend with a surprise trip to the zoo! When they hear the lions roar and see the monkeys making silly faces, they will be more then impressed with your choice and will probably reward you with those little hugs we love so much.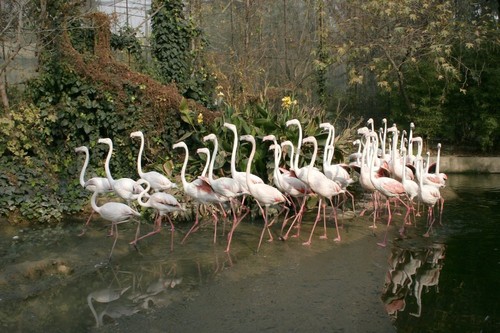 Flamingos in Darıca Zoo
Located in the Darıca district of Kocaeli province, the Faruk Yalçın Zoo and Botanical Park is just a 40-minute drive from Istanbul, which is not too bad if you want to leave the busy city behind for a quick family getaway. In operation for over 23 years, the zoo houses over 285 animals, and its botanical gardens contain over 600 plant species. The layout allows you to easily see all the animals, and wide paths allow you to maneuver a stroller comfortably. Not only is it a great place for kids to run and explore, with lots of information available on the animals and plants, it is also a great educational experience for your family. Children can learn what their favorite animals eat by observing live feedings and discover where animals come from by the clearly marked signs located outside the animal enclosures.
At first sight this zoo is not where you would expect. It is located on a main street, surrounded by apartment buildings and located in an industrial town. But once you enter the complex, you will forget about what is on the outside. The great thing about this zoo is that it is not too big and can be seen in about two hours, which may be the maximum amount of time you want to spend if you are taking a restless toddler, and a perfect amount of time for tired parents. On the other hand, it is full of fun things to do for the whole family if you want to spend the entire day.
The zoo also holds different workshops for children in primary school and high school. Teaching children art, planting and even how to manage the zoo, there is surely an activity your kids will like.
Giraffes, zebras, rhinos, lions, massive turtles, exotic birds and, of course, monkeys are just some of the main attractions that will make your little ones smile. Several enclosures allow you to get up close and personal with some of the animals, but remember: Don't feed the monkeys! There is also a large aquarium where you can explore different kinds of fish and a reptile house where they can stare with amazement at the size of the gigantic alligators and colorful snakes.
Near the end of the walk you will come across a large playground for the kids to take a break from walking, and a small cafeteria. The go-kart track and small rides and games will entertain the kids while parents take a coffee break.
Make sure to arrive a little early, as there is usually a bit of a lineup to get in. You can check their website farukyalcinzoo.com for more details and special feeding times for some of your favorite animals. Tickets can be purchased at the zoo, and family passes are also available. Children up to 36 months old are free of charge, while student tickets cost TL 30 and adults TL 40. Operating hours are from 8:30 a.m. to 4:30 p.m. The facility is open year round.
Take a stroll by the sea
After everyone explores the zoo, head down to the water for some fresh sea air, lunch and endless space for your kids to burn off more energy. Located a short drive from Faruk Yalçın Zoo, Şehit Cevher Dudayev Parkı is a park that stretches, for what seems like miles, along the edge of the Marmara Sea. The wide boardwalk is lined with palm trees as far as the eye can see and plenty of grassy areas, allowing your kids to run free or take a seat and enjoy the view.
There are several restaurants and cafes to grab a quick bite to eat after a busy day of sightseeing or an ice cream for your walk by the sea. Of course, there are several playgrounds for your little ones to enjoy, and fun statues to sit on to take some photos.
This park is definitely worth visiting, and its beautiful backdrop makes for great family photos to remember your fun weekend out. The green grass and fresh air will ensure your little ones have a nice long sleep when they get home, so you can have time to browse through all of your great photos.