Manal is one of about 35 Syrians being treated at the Ramtha hospital in northern Jordan. She is lying in bed with a hospital drip in her hand, sharing a room with five other Jordanian and Syrian patients.
Manal traveled here from the Syrian city of Daraa on Wednesday in the hope of being treated for acute gallbladder inflammation. Too tired to speak, she moves her head slowly when asked how she is feeling.
"Even the field hospitals [in Daraa] were hit. Doctors there are only bandaging wounds," her cousin Fadwa Qteifat says.
It took them more than four hours to make the journey here along the 12-kilometer road from Daraa al-Balad, the city's old town. Security at the border approved their entry, but did not allow Manal to bring her one-month-old baby.
Government forces, backed by Russia, started a massive ground and air offensive last month on opposition -held areas in Daraa.
The shelling can be heard in Ramtha. Many residents say they wake up in fear every night hearing the sounds of explosions, while others say their windows have shattered.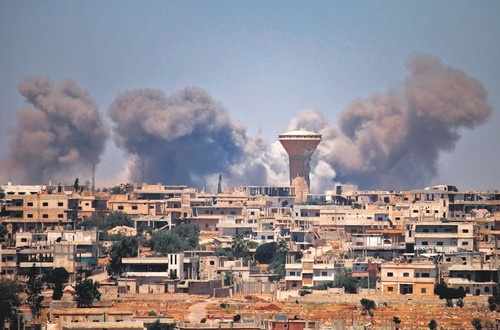 Smoke rises above opposition-held areas of the city of Daraa during reported airstrikes by Syrian regime forces on July 5, 2018.
"A doctor in Daraa said she can go to a hospital in Damascus, but it is impossible, there are no roads we can take to go there," Qteifat says.
Manal needs an operation, but the doctors at the Ramtha hospital are not able to perform it themselves. Instead, they are treating the inflammation caused by her gallstones and will then decide whether to send her back to Syria or transfer her to another hospital for the operation.
"It will be a big problem if she does not undergo the operation. What would we do if she relapses? If they are concerned we would [try to] stay in Jordan, intelligence officers could accompany us to another hospital. It is impossible for us to stay here, anyway, since we cannot leave her one-month-old baby back home," Qteifat says.
Jordan closed its border to Syrian refugees in 2016. As battles move closer to the border, Amman remains adamant that it will not take more than the 1.3 million Syrian refugees who are currently in the kingdom.
Another Syrian woman, who prefers not to be named, came to Ramtha hospital after she was displaced close to the border with Jordan. She is worried about having to go back to camp in open spaces across the border, as she cannot go back to her hometown al-Hrak, in eastern Daraa.
"Al-Hrak was completely destroyed. Houses were burnt down or destroyed by the strikes. Now, many people are left in the open air," she says.
More than 320,000 Syrians have been displaced since mid-June in what the United Nations and other aid organizations have described as "the largest wave of displacement" since the conflict began.
Tens of thousands now gather near the Syrian-Jordanian border, while others have gone to the southwestern borders with the Israeli-occupied Golan Heights.
In the village of Beer Ajam, a dozen green white and green tents are lined up among tall trees, against a clear blue sky. They are easily visible from the border with Israel, about 100 meters away.
"In the past few weeks we have seen a lot of people here who need humanitarian help," says Tomer Koler, a medical officer for the Israeli army, standing on a hill overlooking the border region.
So far, about 15,000 displaced Syrians have fled to the border with Israel.
At the beginning of July, Israel brought 300 tents, 13 tons of food, 15 tons of baby food, medicines and 30 tons of clothing and shoes across the border into Syria, according to the army.
"It's hard to stand there and do nothing," Koler says of the relief effort.
The army has been regularly bringing food, medicine, electric generators and fuel to the communities in the border area where about 50,000 people are living. But the Israeli border remains closed to civilians fleeing the conflict.
Back at the Ramtha hospital in Jordan, bags of food, milk, sheets and blankets are waiting to be taken to the border. They have been brought by social workers led by Amjad Thiyabat, from a local non-government organization in Ramtha called Tiba.
Thiyabat and two volunteers have come to visit Syrians at the hospital, distributing mostly food and water bottles.
He says several of the Syrians who come here require limb amputation. Some pregnant women have also come.
"And after delivery, or after they are treated, they will be sent back to the Syrian territories," Thiyabat says.