After seven hours of a tiring journey through dangerous mountain roads, negotiating hairpin bends, past half-a-dozen iron gates - erected in the middle of the road and guarded by Indian army bunkers, where visitors must prove their identities and register themselves before they are allowed to move on - we crossed a rusted iron bridge, laid in hurry over the Kishan Ganga River (Neelum River), to reach the town of Dawar in Gurez Valley, north of Srinagar in the disputed Kashmir region along the Line of Control (LoC).
The LoC is a de facto border between India and Pakistan drawn in 1947 when Indian forces landed in Kashmir.
Under the starlit sky, the first sight of the town, which is one of the most populous in Gurez Valley, was both mesmerizing and heartbreaking.
An abode of the ethnic Dard Shina community, who lived by the Kishan Ganga River guarded by the high Himalayas for centuries, Gurez, until a few years back, was a virgin valley encapsulated in time and almost entirely unaffected by the changes of the outside world.
But the arrival of the first earthmover in late 2007 brought by the National Hydroelectric Power Corporation (NHPC), who completed a controversial run-of-the-river dam over Kishan Ganga River to generate 330 megawatts (MW) of electricity for India's national electricity grid, the entire landscape began to change quickly.
Traveling to the heart of the city
As we entered Dawar's main market, which was a small 500-meter lane lined with shops and restaurants mostly made of hand-sawed large wooden planks that offered basic amenities, we felt as if we had traveled back in time.
These wooden shops and the houses surrounding them offer an idea of how life has survived in this beautiful but harsh land, where temperatures plummet to minus 25 degrees Celsius in the winter. For six months, from November to May, Gurez is virtually on its own, buried under 20 feet of snow; making it calm and beautiful, but dangerous for its people.
We were staying at the Kashmir government-run Circuit House, a mortar-and-brick single-story structure built on a raised platform on the banks of the Kishan Ganga River.
This place is among the few decent accommodations available for visitors who brave dangerous the terrain or are used to massive military presence. Interestingly, the road to Circuit House can be reached only by snaking through an unending string of garrisons; their outer boundary guarded by rolls of concertina wire, piled one over another to make a wall. To keep visitors from looking inside the "concertina wall," a thin covering of green cloth has been hung high using iron polls. The idea was simple: We can see you, but you cannot see us.
What followed the first earthmover into Gurez Valley changed the centuries-old lifestyle of the Dard Shina community, who still feel more connected to their ancestors in Gilgit-Baltistan (now part of Pakistan) than their friends and relatives in Kashmir.
However, within years, the visitors who came with the earthmovers quickly outnumbered the small population of 35,000 souls that made up Gurez Valley.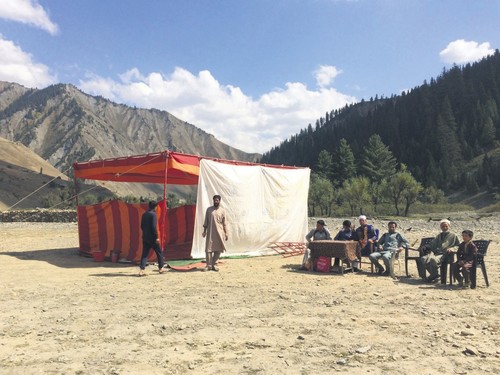 Guests at a wedding ceremony of a local school teacher sit outside a tent in Gurez Valley.
A decade later, according to local estimates, more than 100,000 army personnel and staff are currently protecting various strategically important locations and assets in Gurez. In fact, the soldier-civilian ratio in Gurez is the highest in the world.
At exactly 11:30 p.m., when the lights went out, I learned that Gurez is yet to get electricity formally. There are 20 diesel generators that light up homes and businesses in Gurez and the Tulail valley for just five hours a day, from 6:30 p.m. to 11:30 p.m. For the rest of the night, we assembled around a candle trying to imagine daily life without electricity.
Exploring the city during the day
The next morning, we set out to explore Gurez, first by visiting Chorwan, a small hamlet overlooking the last border posts near the LoC. To reach Chorwan, we crossed a bridge where two army men wrote down our details; we drove past a garrison, which housed a small local population inside its concertina wired belly; and then stopped for a quick photo-op with local farmers who were harvesting potatoes.
Once in Chorwan village, we stopped by a small grocery store, on whose edge sat a young man busy giving a 3-year-old child a haircut. When he saw us, he almost jumped out in excitement and said: "I am not a barber. I am just trimming his hair."
Behind the shops, we saw two women enter and exit a small alley in tandem, carrying wicker baskets over their heads. Curious, we edged closer and saw they were helping their male family members construct a new house.
As we inched closer, we saw a wooden frame being put in place for a single-bedroom house, right behind the grocery store.
The women were helping fill the base of the structure with the earth and rocks they were carrying in their wicker baskets.
On our way back, we saw small kids playing inside the garrison while their parents strolled behind the large rolls of concertina wires, which continued alongside the road until we were back to the bridge.
After we checked ourselves out at the army post, we crossed the Kishan Ganga River and took a left turn toward Tulail Valley.
The village isolated by mountains, snow
As we drove to a picturesque hamlet nestled inside a ravine home to around 120 families, we passed through two more gates, both manned by the army, and stopped right outside the colorful tent house.
Outside the tent, a few plastic chairs were placed behind a wooden table where the groom, Javed Ahmad Kaloo, 32, a local school teacher, sat in colorful attire surrounded by his friends and family. The person next to Kaloo had a register in his hand in which he noted details of gifts and money - traditional presents for marriage ceremonies - being presented to Kaloo.
While we were introducing ourselves, a small commotion outside the tent caught our attention. A young man holding a small handheld video-recorder walked local pro-India politician Fakir Mohammad toward the tent. Immediately, one of the chairs near the groom was vacated for him to sit.
As we began talking to locals hanging out around the tent, the groom's uncle came to us with an invitation for lunch.
In sync with Kashmiri culture, the food was served in tramies, large copper plates, but under the Indian army-provided tent.
"We both [army and locals] know survival without each other's help is impossible in this remote land," said Bilal Ahmad Lone, 28, a masters graduate from the English Department of the University of Kashmir, Srinagar.
"We are like two lost tribes stranded on a lonely planet with no communication with the real world."
Lone has a reason to feel alienated. He carries a smartphone but cannot make or receive calls as there is no cellphone service in Gurez Valley.
To make a phone call, Lone must visit nearby Barnoie village where a government provided Digital Satellite Phone Terminal (DSPT) is installed in a local grocery shop. "One DSPT serves every two villages," he said.
A DSPT runs on a battery, which needs electricity to recharge, making it highly unreliable in a place where electricity is generated by diesel generators.
"This cell phone is just a showpiece," said Lone, flashing his smartphone in front of his face. "I downloaded new songs and movies when I was in Kashmir Valley, which I watch in my free time."
For young, restless, educated but unemployed youngsters like Lone, life without the internet and phone is a forced norm.
In the last two decades, seeking better lives and opportunities, more than 15,000 people from Gurez have migrated to either the nearby town of Bandipora or to Srinagar.
"Nobody wants to stay here as life is very harsh, especially in winters when we get cut off for six months from the world," said Mohammad Hussain Dar who runs a computer center in Dawar and had come to wish the groom best of luck. He had his 4-year-old son, who only spoke Urdu, with him.
"This place is good for tourism and sightseeing but not for living."
Dar told me that hospitals in Gurez Valley lack specialized doctors, as even local doctors prefer to work in Srinagar.
Interestingly, the subdistrict hospital in Gurez has a well-equipped setup for dental treatment, but no dentist.
Like most of the affluent people here, Dar too owns a second house outside Gurez Valley where he stays with his family during the harsh winter months.
"With 20 feet snow between us and the other villages, we don't know anything about our neighboring villages," Ahmad said.
"We live and die within these snow-covered mountains with no link to the outside world," said Riyaz Ahmad Dar, 25, a laborer from Kaspot village.
Appreciating the divine beauty of nature
Once back, we went straight to the Peer Darvish shrine, located 3 kilometers outside Dawar. A small single-story structure shaded by mighty walnut trees, it is renovated over and again by serving Indian army commanding officers based in Gurez, who leave behind an epithet reminding visitors of their "contribution and devotion."
As we walked out of the shrine, we decided to explore a nearby village, which one could only reach by crossing a narrow bridge. The bridge was so narrow that it took me five minutes and lots of convincing from friends to finally cross. Once on the other side of the bridge, we saw a small hill with a road running over it through wild berries and shrubs. Immediately, we decided to spend some time at the pleasant spot since we had been on the go since we left Srinagar. The view from the top was breathtaking. The entire Gurez Valley unfolded in front of us like a canvas, full of colors. In the distance, we could see how modernization was slowly cementing the once-famed wooden structures of the valley. Almost everywhere we looked, we could see new concrete buildings.
The biggest and most ugly structures belonged to the Kashmir government or to the NHPC. The entire landscape was also dotted with garrisons, almost two dozen were visible from our peaceful hill. After about an hour, we finally headed back to Dawar.
As we left for our destination in Srinagar the next morning, we saw the sun rise behind the mountains, illuminating a large lake that was once home to a vibrant village called Budgom. Sadly, once the work for the NHPC's dam site started, the villagers were relocated and the rising water submerged 143 households. We stopped for a while to take pictures of the rising sun, the water, the mountains and the overall silence, all while avoiding the garrisons.
The silence was broken by the noise of two diesel engines powering two large trucks on their way to Gurez. As they crossed us, a trail of black smoke flew in the air, blinding our view of the lake for a while. But as the smoke settled, I could see what they were carrying: Cement blocks.
*A journalist based in Indian-administered Kashmir.