The lush verdant mountain sides of Bolu, nestled in the clouds, offer a pleasant summer time climate. In winter the heavy snow attracts skiers and snow boarders. The entire province is covered in green forests, ancient oaks, plane and pine trees. The forests are pristine, with paths running through them rare and few between.
The province of Bolu is a relatively short drive from Istanbul. Located only a three-hour drive from the metropolis, with a plethora of hot springs for year round tourism, and snowy mountains for winter tourism, this city has appeared in the feature pages of Daily Sabah a few times already.
The forests are interrupted by plateaus, in which villages nestle. The Turkish village, in every province, is a sudden eruption of houses. Although the nature and landscape around Bolu remind me of the American Midwest, the rolling hills of Wisconsin, the positioning of the houses is very different. In America, and in much of Europe, farmhouses are placed as far apart as possible. But in Turkey, the houses are all gathered together, cheek by jowl. This is how society works in Turkey. The English will say "My home is my castle" or "Good fences make good neighbors." The Turks say "choose your neighbor, not your house." There is a very clear emphasis on being part of a community, not on protecting yourself from that community.
On our last visit to Bolu one advantage of this close proximity was clearly demonstrated to us. Being tired of the rarefied atmosphere of the spa at which we were staying, having had our fill of hot spring water and cool swimming pools, we decided to explore outside the compounds of our sheltered and slightly surreal holiday village. Taking the first path we could find, we started to walk towards the forested hills. Suddenly a young dog appeared next to us. This dog was clearly of mixed breed, with one blue eye and one brown eye in the husky mode. She decided to accompany us on our stroll. We decided to accept the compliment; there was not much else we could have done otherwise.
We continued to walk up the wooded path. The shaded path was interrupted by small glades, where elderberries sprung up in purple glory. In the distance we could see a young woman standing on a ladder. Approaching, it became clear that she was picking golden plums from an overladen tree. She beckoned to us, leaned down and filled our hands with the fruit. "Take them," she insisted. "They are overripe and need to be eaten." We took a few handfuls, and bit into the delicious warm fruit. As she loaded up our handbags with ripe golden plums we made plans on cooking them for dessert that night.
"What happens if we follow this road?," we asked. The answer was direct and succinct. "You will come to the village."
Quickly it was decided that we simply must go to the village. The dog decided that she would show us the way. The village consisted of houses of varying sizes and condition. Some were prefabs, others were made of well-groomed lumber and others were barely standing. But every house had a garden bursting with flowers, apple and plum trees. Wild blackberries lined the road, and ducks and chickens wandered around, looking askance at this group of strangers who had wandered into their village.
An oversized poster of Erdoğan hung from one house. Other houses had hand written signs on them saying "Fresh milk, cream, butter, eggs..." We decided to buy some cream from a house which had attracted us due to a large flock of noisy ducks waddling outside. We asked the young man sitting on the porch if he had any cream to accompany our plums.
Hearing that we wanted to buy cream, the young man shouted inside for his mother. She came out, wiping her hands on her apron, smiling broadly. However, her smile fell when we said that we wanted cream. "Ah, if only you had been here half an hour ago!," she said. "I have just turned the cream into butter!"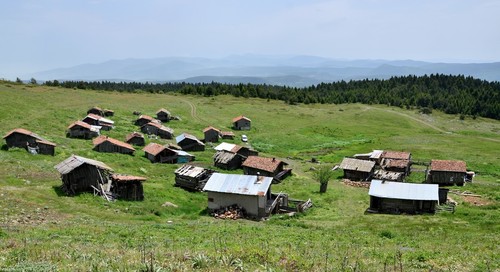 Houses on the highlands of Bolu.
Always the opportunist, I asked: "Can we buy the butter then?" I could not resist the idea of freshly churned butter, and the plums could be accompanied by ice cream. Scurrying into the house, the woman brought out the butter, still dripping whey from the edges. "Do you want any eggs?" she asked. There had been ducks outside... "Do you have duck eggs?" "Seven were laid this morning, will that do?" That would do nicely.
Our transactions done, we turned to set off back to the holiday village. "Come back tomorrow, we will have cream and milk" said the house owner. "We will!" "And we can have tea together!" she said, offering us the ultimate Turkish hospitality.
We took our duck eggs and butter home. The butter was fresh, lightly salted and the flavor of the milk sang through. The duck eggs were fresh, delicious and a great change from supermarket stale chicken eggs.
We returned home, with our dog companion accompanying us to the edge of the village.
The following day some other friends decided that they too wanted to visit the village. We went back up the shady path; the same dog appeared at the same spot. She led us to the village, making sure that we did not take a wrong turn.
Today we had a mission. We were going to buy cream and milk. The plan was to make rice pudding. As we walked into the village, we saw that the same golden plum tree was still sagging from the weight of the fruit. This time a man was backing his car out of the drive of the farm house. He stopped and rolled down his window. "Help yourself!" he said. The smallest member of our troupe, a three-year-old girl, held out her straw hat to be filled.
Determined to find butter, we knocked on the door of the duck-egg house. There was no answer. We looked in the cowshed, but no one was there. The barn was inhabited only by ducks. No one was home. Disappointed that we could not get our cream, we decided to continue through the village.
As we turned the corner, we saw an elderly man working in the yard of the next-door house. His wife sat on the balcony, watching. "Are you getting ready to go to market?," we asked. "No, just fighting off boredom by tinkering around," he replied.
We then asked if they knew where their neighbors were. We had wanted to purchase cream, we explained, but no one was home.
"Ah, well, today is market day. They will all be in town. It's a huge market, the entire village goes."
"No one is home?," we asked.
"Well, Merve, the daughter should be home."
And then the need for cheek-by-jowl houses became clear. The elderly woman on the balcony leaned forward in her chair and shouted in the neighbor's window "Merve! Merve! Where are you?"
No need for a phone, no need for a doorbell. No technology required at all. Instant communication.
Apparently Merve was not home. She had gone down to the barns, which were at the bottom of the village.
We continued on our way, our dog companion sticking with us. Suddenly she saw a cat and became all dog, hackles raised, teeth bared. The cat tried to jump up a wall, but lost her grip and fell. Now trapped, the dog stood her ground, the cat hers. I don't think our friend the dog really wanted to chase the cat, but she couldn't lose face in front of us, so she just stood there.
Suddenly, another elderly man - apparently those left in the village on market day were only over or under a certain age - came out and picked the cat up, cuddling her in his burly arms.
"Sweet cat, this one. Young, so has no sense. But wouldn't harm anyone. Do you want to hold her?"
Our young companions took the cat up with alacrity. The cat purred, they cooed. Then they handed her back to the man, who put her in his garden. "She will be safe there. The dog" - here he petted our companion - "wouldn't hurt her, but she might get hurt trying to run away."
This compassion towards animals is not something one often sees in the countryside. Animals work for their keep. Animals are meals, not pets. This was quickly demonstrated in the next farmyard. Swarming with young chickens - somewhere between chicks and full grown chickens - the young members of our troupe stopped and watched. A young lady came out and invited us in.
The children were fascinated by the chickens. One from our group asked if they wanted to hold one. The young lady jumped forward and said "If you like, I can wring its neck and you can have it for dinner." The chicken to her was a meal, not an animal. This is the more pragmatic attitude one expects from a farmer, making the compassion of the old man to the little cat even more striking.
Then we asked the young woman if she had any cream. She replied that she would have it by evening, and that she could give us milk in the evening, if we liked, as well. Having struck a deal, we set off on our way, the dog still sticking with us.
Leaving the village behind, we came to wheat fields that had been recently mowed. Flocks of whooping cranes stood in the fields. The dog decided that we really should see the cranes at their best and set off to chase them. The flocks took off, covering the sky with their white and black wings, soaring gracefully away to another field where there was no pesky dog waiting.
Bolu is a beautiful natural spot, offering almost anything a tourist wants. Historic sites, thermal springs, tons of snow and beautiful mountains. And, milk, cream, fruit and vegetables. It is famous for being home to great chefs. Any province with great produce is likely to foster great chefs.
But more than that, Bolu is nature; it is beautiful green surroundings, misty mornings, cool nights. Just a short drive from humid, bustling, overcrowded Istanbul, one can really immerse oneself in nature, in beautiful produce and relaxing scenery. The kindness of the land is reflected in the kindness of the people, like so many other areas of Anatolia.