When you see the intersection decorated with evil eye talismans on the 5-kilometer stretch from Kemalpaşa to Torbalı, you know you have almost arrived in Nazarköy. Formerly known as Kurudere and renowned for its bead workshops for over 75 years, the village's name was changed into Nazarköy - evil eye beads are called "nazar boncuğu" in Turkish - in 2009 to honor the evil eye bead production in the region.
Nestled in a pine forest, visitors are welcomed to Nazarköy by benches on both sides of the road decorated with hundreds of evil eyes.
The bead workshops sit just beyond the village's entrance accompanied by the sounds of hammers and iron working with molten glass heated in furnaces that reach 200 degrees Celsius. The rhythmic sounds emanating from the graceful hand movements of the masters working here and the beads created as glass and fire mingle are mesmerizing.
Mahmut Sür, 56, recognized as a UNESCO "Living Human Treasure," comes to the fore among the most important evil eye bead makers in Turkey. Sür, who started in the workshops in Nazarköy after finishing elementary school, continued his art for a while following his military service but later worked in a glass factory to improve himself. After acquiring a vast knowledge of glass art, Sür took over a position in the workshop when the factory closed.
Sür has been shaping molten glass with fire for about 43 years and is still called "Kıvırcık (Curly) Mahmut" because of his signature childhood hair.
After decades of perfecting his craft, Sür is still very much in love with his job and wakes up every day at 5 a.m. to open his workshop named Kıvırcık located 50 meters down the street from his home. Sür, taking a few minutes to dote on his dog "Çakıl," opens his shop, grabs a flashlight and proceeds to clean yesterday's ash out of the furnace.
Then the bead maker places the previous day's remaining wood back in the furnace and goes about organizing the sales counter where he displays his handmade products.
By this time, Sür's fellow artisans have arrived to help set up the workshop. Together, they clean the five work stations near the furnace. After the bead makers finish their predawn preparations, they have breakfast together.
Due to the high temperatures of the furnace, the masters keep bottles of water with them at all the times to avoid dehydration and switch on the ventilators in every corner of the room to counter the heat. Though the sounds of metal tools clinking on quickly hardening glass fills up the space, the often jovial conversations of the craftsman add an extra element of spiritual warmth to the productive space.
Glass is a passion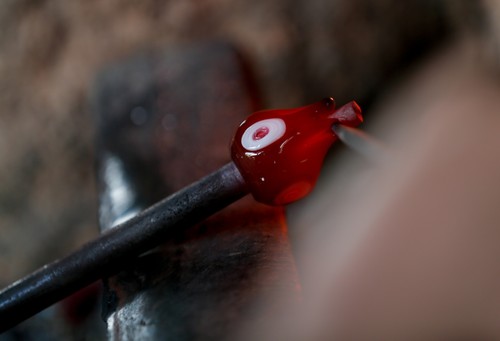 In a statement to Anadolu Agency (AA), Sür said there was an intense interest in the evil eye beads when he first opened his workshop, stressing that he raised the number of colors used in the bead from two to 12, even though people said it could not be done. He also said he perfected the frosting technique he learned in the glass factory in his own workshop.
Sür pointed out that thanks to this technique, the beads can be worn as jewelry, a product he won first prize for in a competition organized in his village.
The veteran bead maker also added that he loves glass and plans on training new evil eye bead makers in a new project he will soon launch.
"I have aged, but my heart still belongs to the evil eye beads. I will train 20 masters with the "One master trains 1,000 masters" project. Evil eye talismans are a tradition that dates back 3,000 years, and I am trying to keep it alive," Sür continued. "There is a hidden eye in the glass. If you love it, you look for that eye. The new generation does not like the challenge or the heat. When I did my my apprenticeship, around 10 to 15 people participated along with me, but now we can hardly find even a few who are interested in learning the craft. Turkey is rich in handicrafts. We need to keep this diversity alive."
Sür noted that they have recently had difficulty finding raw materials, adding while the factories used to sell broken glass to them, these products are being directly sent for recycling.
The bead maker highlighted that he saved some of the beads he used to make and that he wants these beads to be displayed in a museum to pass them on to the next generation.
The evil eye
The tradition of the evil eye dates back almost 3,000 years to Mesopotamia. It is one of the most symbolic images in the world. The symbol can be found in ancient religions as well as Islam, Christianity and Judaism. It is believed that wearing a talisman with evil eye beads protects against evil forces. In modern times, evil eye beads are mostly used as jewelry. It is also the most popular souvenir sold in Turkey.