Visiting Karaburun Peninsula, a key point in the entrance to the Gulf of İzmir, does not occur to most people maybe due to its narrow, meandering roads or a preference for other popular holiday resorts. However, it features amazing beauty, history, untouched bays and desolate nature. My friends and I are lucky to have toured this beauty. The history of the peninsula dates back to the fourth century B.C., but has changed hands many times, having been ruled by Hittites, Greeks, Persians, Romans Byzantines and Turks in 1086 under Tzachas, also known as Chaka Bey. However, the Byzantine Empire took it back after a while until Bayezid I regained it. The Karaburun Peninsula, which was occupied by Greeks during World War I, was added to Turkish lands, being returned on Sept. 17, 1922.
We left İzmir on a cool spring morning and had breakfast in a village coffeehouse in Balıklıova near the beginning of the peninsula. After breakfast, we went to Mordoğan, which is visited by many summer vacationers from İzmir.
Recently, it is has become popular for those who want to move to an Aegean town, running away from metropolitan life. To learn about the past in Mordoğan, a typical Aegean town, visit the Müyesser Aktaş History and Ethnography Museum. The old Mordoğan Village Primary School was turned into a museum with goods collected by Müyesser Aktaş, a local housewife, for 20 years. Opened six years ago, the museum features agricultural tools, household and kitchen goods, dowry and clothes that reflect that period. The museum's garden is very enjoyable, and when you go to the museum, you are welcomed by its founder, Müzeyyen Aktaş.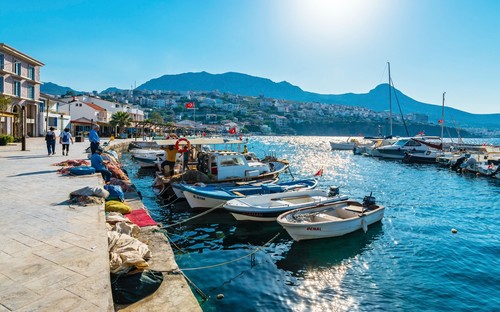 The Karaburun Peninsula was home to many families of Greek origin before the population exchange. Today, it is full of isolated and abandoned Greek villages.
Another point on our journey was Narcissus Spring. According to mythology, it is where Narcissus, who disdains girls who fall in love with him, was punished. Narcissus, who continuously hurts girls, is thirsty one day and drinks water from a spring. When he sees his reflection in the water, he falls in love with himself. He cannot see anything else and dies gazing at his own face. Narcissus plants, also known as daffodils,
grow where he died. It is not possible to see narcissus when you visit the place today. It is actually a small spring in an isolated place. However, Narcissus Spring, which is the home of narcissism - meaning admiring oneself - is a must-see destination for those who visit Karaburun.
Lonesome Sazak Village
The Karaburun Peninsula was home to many families of Greek origin before the population exchange and is full of isolated abandoned Greek villages. We took a break in Sazak, the biggest of these villages. Located beside an arid mountain full of wind turbines, the village overlooks the Aegean Sea and Chios Island. The fertile lands of the island where grapes and olives were grown once upon a time has turned into a ghost town with demolished stone houses today. We reached Sazak Village after a short walk, leaving our car on the roadside, and toured nearly 50 herb-strewn houses. The chapel in the village still stands. Abandoned stone houses with stoves and cisterns abound. It is very lonely. After Sazak, we traveled the winding mountain roads, as the sun started to go down. We reached our last stop, Sarpıncık Lighthouse, which was built in 1938, on a perfect Aegean Sea. The lighthouse is not preferred by most people because of its difficult road but presents a perfect view, welcoming ships coming to the Gulf of İzmir. While the sun was disappearing with a copper red color, the sea turned silver, and we witnessed the end of a day in the Aegean. Warning: If you want to visit the peninsula, jump in your car and fill it with gas, or else you might be stranded due to the lack of gas stations.
Turquoise bays
The bays of Karaburun, which are different sea from those of its neighbor Urla, have clear, turquoise waters. Dolungaz is one of the most popular bays. There is a camping area and jerrybuilt restaurant-cafe on the bay. Boyabağı Bay, located in Kösedere village, is one of the most beautiful bays in the region and surrounded by olive trees. Other beautiful bays in the area include Ayıbalığı, Bodrum, Kuyucak, İncirli, Badembükü, Kumbükü, Dikencik and Kocadere.