Entrepreneur Salih Kantarcı from Trabzon province offers tourists the opportunity to get in touch with nature in the camping area he established with 24 tents that reflect old Turkish nomadic culture on his land in Livera, 10 kilometers away from the Maçka district.
The district has become popular with its alternative tourism options thanks to its natural and historical beauty; hence, retired police officer Kantarcı established a camping area on his 15-decare plot of land at an altitude of 1,200 meters as a sustainable ecotourism area.
Designed with utmost consideration for the environment, the area is situated among tall pine trees and features an authentic design that allows its visitors to discover the beauty of the surrounding nature from every angle.
Along with local tastes, products such as homemade natural ayran, compotes and grapes are sold here. The names of 24 Oghuz tribes were given to the authentic tents, which were built with reeds and tarps.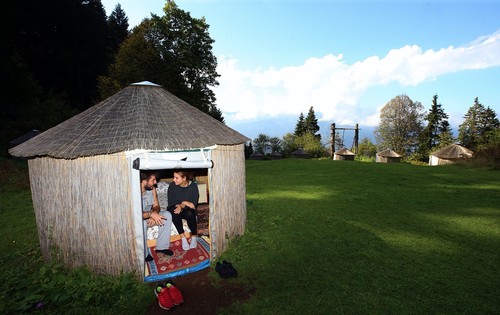 The lighting in the tents is provided by electricity produced by solar energy and carried by underground cables throughout the campsite, which was specifically built to protect the beauty of the nature around it.
The area, where there is little environmental pollution, is popular thanks to its proximity to the clouds and nature, and is attractive to tourists as it is on the route of the historical Anabasis road, a route known for the "March of the Ten Thousand."
The camping area also provides opportunities for trekking, mountain biking, paragliding, rafting and photo safaris for its guests.
Kantarcı told Anadolu Agency (AA) that every corner of the eastern Black Sea region is beautiful and that the Maçka district stands out with its historic and natural beauty.
Noting he established the camping area to share the natural beauty of the district with more people, Kantarcı said: "It was my dream to share the natural beauty of Maçka with people in ecology by protecting the environment. After my retirement, I realized my dream. I am trying to do it, protecting the environment and bringing our historical values into the forefront. My aim is to create an ecologic tourism corridor." He built 24 tents, reflecting Turkish Oba culture, in this context. "I did everything with my own hands. After three years of work, I finally realized my dream. We produce electricity for the tents from the sun through solar panels and store it in batteries. We tried to use the most state-of-the-art technology. I ran the cables underground to avoid a bad view and so that they would blend in with the ecology and the environment."
Stressing that the interior and exterior parts of the tents are made of reeds, Kantarcı stated: "Our tents are durable, high quality and moisture resistant. I wanted to sustain the past and create nostalgia, giving an authentic old-Turkish-nomad-group atmosphere to our camping area. I tried to make it in harmonious with nature and melded it with the architecture of the environment without harming it. I am really happy with people's interest. Therefore, I believe the area has been successful."
He named the tents after Oghuz tribes like the Chepni and Afshar. "I wanted to create an image, giving a nomadic atmosphere. I've included beds with bases or floor beds inside the tents. Those who come are really interested and leave here happy. This motivates me more. I witnessed the beauty of my job one more time."
They offer various activities such as paragliding, rafting in the stream of Sümela Monastery, trekking on the 2,500-kilometer historical road of Anabasis and a photo safari. Kantarcı added that they try to reflect local tastes in food, as well. Sitting at an altitude of nearly 2,000 meters, he explained that they make jams and beverages from fruit they pick locally, ayran from village yogurt and try to offer local products to their guests. Referring to European tourists showing interest along with local ones, Kantarcı reported that they believe interest will increase more.
Umut Göç, one of the campers, said he came after his friend recommended the spot. "One of my friends recommended this place. I saw that Salih Kantarcı had done this for a good cause, and I liked it a lot. I prefer to stay at places like this because I like sincere businesses. It is a beautiful place for those who want to experience amazing shades of green and being in harmony with nature," he explained. Maja Musialik, visiting from Poland, said this was her second trip to Trabzon. "This place is very beautiful; it has a perfect nature. We do not have such nature in Poland. It was a great experience for me. I recommend everyone see it."