The harvest rush starts at the crack of dawn in the olive groves of Çanakkale's Geyikli district. First olives are collected by hand with great care; then they are cleaned from their leaves and finally they are transported to factories to be converted into olive oil.
The olives brought to the factory undergo a washing and crushing process. After they are crushed into paste, the olives are pressed. After the pressing process, the next step is separating the oil from the vegetable oil and solids in order to obtain the olive oil.
Olives collected until mid-November are called the "early harvest." Although the amount of olive oil obtained from the products collected in this period is low in quantity, manufacturers adopt this method since it offers yields high in quality.
This feverish work in the olive groves that dates back to ancient times, as well as olive oil factories operating more intensely than ever, has excited olive producers and olive oil enthusiasts, and has recently revived the North Aegean region.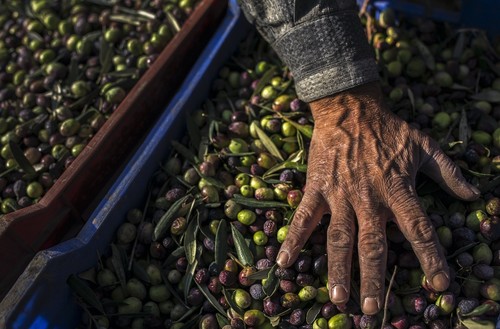 The color, odor and low acid content of olive oil is directly proportional to the geographic location and advantages of the soil, while the fertility of the soil, the windiness and the extent to which the rain feeds the soil are also important factors in this regard. Geyikli, which has the most fertile land in the North Aegean region with these properties, stands out as an important production center.
Inspired by Aristotle
Oya Zingal, the owner of Olivoyage Zeytnyağları, an olive oil producer in Geyikli, explained the magical journey of olive oil in a statement to Anadolu Agency (AA). Zingal said that olive oil production was a childhood dream of hers.
"Inspired by the renowned philosopher Aristotle, who described the cultivation of the olive tree in a broader context as a science, I first attended some courses and training in the Toscana Valley, Italy, one of the leading countries in this field, with the awareness that I should take a scientific approach to this issue," Zingal added.
Recalling that she examined many local and boutique businesses to produce olive oil, Zingal said she finally decided on Çanakkale's Geyikli district two years ago by acquiring a 200-acre olive grove in the region.
Zingal stated that they didn't get much yield when they first started production due to the olive grove being neglected over the years.
"However, the quality of the resulting product and the invaluable international and domestic compliments showed me that I could proceed in this business," she continued. "We protect our nature meticulously and look after our olive trees with great care. We only convert the olives collected from our own garden by our hands without waiting. We prefer the cold pressing method which is a natural and healthy process. And we bring this miraculous life potion to the consumer in the healthiest way without disturbing its nature."
Cold pressing the healthiest method
Oya Zingal said each of the olive trees is at least 80 years old and that each drop of olive oil, which will be produced next year, will be regarded as organic. Saying she collects the olives from the branch one by one with her own hands and takes care of the whole process personally throughout the entire harvest, Zingal suggested that if you want to achieve success in olive oil production, you should always be present. She added that she does not prefer working through distant observation, but rather she takes part in every stage of production.
Informing readers that the olives that are collected individually by hand undergo the cold pressing process in the factory, Zingal said they heat the olive paste up to 26 degrees Celsius in the cold pressing technique and that the resulting paste is squeezed by mechanical methods, thus producing less but healthier and higher quality olive oil.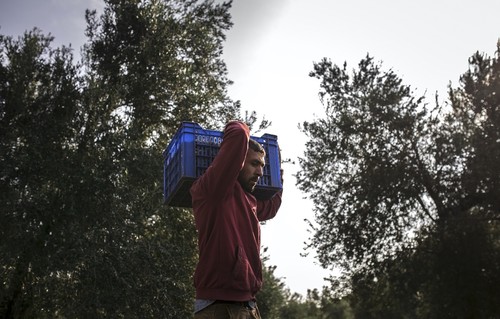 "Because the heating process destroys many vitamins and minerals in the oil, after cold processing, olives are kept in tanks under nitrogen. Every moment of production proceeds with a very careful and meticulous work," she noted. "In order to make this meticulous production in the best quality and professional way, I have seen the great benefits of the training I received in Italy. I observed how the Italians made the production and I started to apply this style to my own land. The difference was reflected in our olive oil in a very short time."
Zingal said that olive farming is an ancestral tradition and stressed that modern methods should be adopted in the production process.
"We have to adopt contemporary methods, look after our trees with great care and achieve the European level in this sense. Olive production and olive exports in Turkey are not at the desired levels. We are currently struggling between the year with yield and the year without, while we are able to triple our current capacity," she said.
Zingal stated that the product should be exposed to light and oxygen at a minimum level while obtaining olive oil.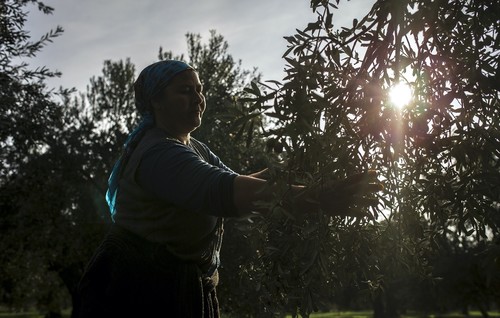 "In the stone pressing method, olives are processed by being exposed to air and light. It is authentic because it is a traditional method. But this is wrong," she said.
Touching on the importance of early harvesting to obtain a good olive oil, Zingal said olive oil obtained from the harvest until mid-November is richer in terms of useful components.
Zingal added that despite the general belief that olive trees require much less care than other fruit trees, she looks after them like they are her children.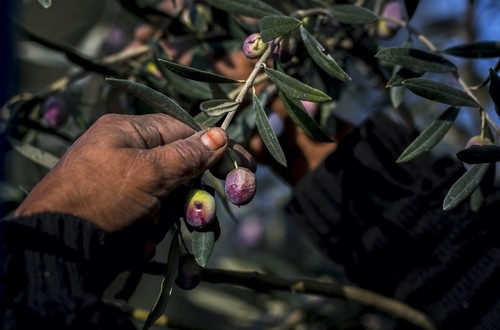 "In contrast to this argument, I approach each leaf of my trees with care, paying regard to the fertilization of trees, pruning, irrigation, fighting against diseases and pests, processing the soil and harvesting on time," she explained.
Zingal stated that indifference and neglect could destroy olive groves, underlining that olive groves are definitely a national treasure and should be treated as such.
"There are no olives in China today. We need to cherish this value at least as much as a gold mine. For this, each olive tree is of great importance. We are in search for new land in the same geography. In our investment planning, we want to contribute to the agriculture of our country with the expansion and conscious operation of our olive groves," she continued.
Forgotten tradition: Harvest prayer
Oya Zingal said they preserve very pleasant traditions in the harvest, which is the first stop of an olive's journey from the branch to the table.
"While starting the harvest, we say a prayer that goes, 'I wish a lifetime that is as long-lasting as an olive tree, as fertile as olives, and as a healthy as olive oil.' Thus, we ensure the continuation of a tradition and increase the fertility of the harvest," Zingal said.
Zingal pointed out that she would like to establish a pressing plant next year, followed by a tasting facility consisting of dishes with olive oil. She highlighted that in the following years, she aims to make this region one of the world's leading destinations in olives and olive oil with the facilities for agriculture and farm tourism and an olive cultivation academy.
Secrets of real olive oil
Oya Zingal explained that there are some methods for understanding the authenticity of olive oil that has numerous benefits from heart health to skin care.
According to Zingal, the most prominent feature of unrefined olive oil is freezing. When real olive oil sees a little bit of heat, it begins to melt. Real olive oil contains a small amount of acid. Stressing that when you taste the olive oil, it is authentic if it burns your nasal passages slightly, Zingal said although its reliability is not certain, mixing a tea cup of water with the same amount of olive oil is one of the methods you can try.
"Real olive oil will rise above the water and the impure olive oil will be mixed with water. Mix hydrochloric acid with your olive oil. If a pinkish or reddish color is formed, the olive oil is not authentic. One liter of olive oil is produced from five kilograms of olives. Do not rely on cheap olive oil," Zingal stressed.
Oya Zingal underlined that olive oil should be consumed within two years and preserved in a cool environment protected from sunlight in the meantime.
"If stored under these conditions, olive oil has a lifespan of two years. In a warm and light environment, olive oil is oxidized. When the olive oil is exposed to airflow and sunlight, its taste becomes bitter and distorted. Olive oil can attract odors very quickly," she said, urging that consumers close the oil bottle or can properly after use.