Ramadan, a unique symbol of hospitality, peace and contemplation for Muslim communities around the world, started last Thursday. While Muslims observe a month of fasting, they recall the significance of generosity and goodwill not only for their families, but neighbors and other vulnerable people around them. As Ramadan arrived during the hot days of June this year, healthy fasting takes a huge part, as it requires balanced eating habits. Considering the long fasting period from sahur – the meal eaten before fasting – until iftar – the evening meal when the fast is broken – refreshing and light meals would be ideal choices.
Whether you are fasting or just want to know more about refreshing Turkish deserts, we have rounded up five appetizing deserts for our readers including "güllaç" – rice wafers stuffed with nuts, "ayva tatlısı" – quince desert – "irmik tatlısı" – semolina pudding – "frambuazlı keşkül" – milk pudding with raspberry – "zerde" – rice dessert with saffron and "lemon parfait." While güllaç was first introduced to the Ottoman palace in the 15th century, zerde is a popular traditional food commonly eaten in Turkey's western Edirne and Tekirdağ provinces along with southeastern cities Gaziantep and Şanlıurfa.
Ayva tatlısı, irmik tatlısı and keşkül are the next delicious deserts, which go down well after meals. You can either prepare them at home or indulge yourself at one Istanbul's many restaurants, most of which are waiting for their customers with their special and opulent Ramadan menus. Bon Appetite.
GÜLLAÇ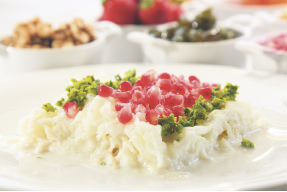 Ingredients

Serves 8 to 10
5 cups milk
8 güllaç wafers (available at supermarkets)
1.5 cups sugar
5 tablespoons rose water
3/4 cup chopped walnuts and pomegranate seeds for garnish
Procedure
Put the milk and sugar in a large saucepan and bring the mixture to a boil. Remove it from the cooker and wait until the milk gets warm. Arrange the wafers on a tray and ladle the mixture onto each of the four güllaç wafers and then sprinkle with walnuts. Repeat the same procedure with the remaining wafers. Add the rosewater. Leave out until the wafers absorb the milk. Cool for a few hours in the refrigerator. Garnish with pomegranate seeds and walnuts before serving.
QUINCE DESERT WITH ICE CREAM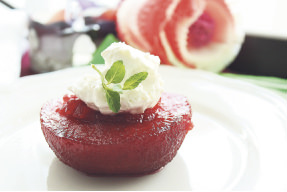 Ingredients

Serves 4
2 medium size quinces
6 cloves
¾ cup sugar
2 cups water
2 tablespoons lemon juice
Crushed walnuts or pistachios for garnish
Maraş ice cream or "kaymak" (clotted cream)
Procedure

Wash, peel and halve the quinces from top to bottom. Carve out the core with the seeds. Pay attention to leave a small hollow for keeping liquid later. Place the halves on a pan and add water, lemon juice and sugar. You can also add quince seeds and the peels to the mixture. Bring the mixture to a boil and then reduce the heat. Simmer for about 45 minutes and flip the halves at certain times. The quinces will have a rosy color. Remove them from the heat and let them cool in the pan. The syrup will thicken. Place the quince halves on a plate with a dollop of ice cream or clotted cream. Sprinkle some pistachios or walnuts and serve.
MILK PUDDING WITH RASPBERRY

Ingredients

Serves 4 to 6
1 liter milk
1.5 cup sugar
1 tablespoon coconut granule
1 egg yolk
3 tablespoons of farina
1 cup frozen raspberries
Procedure

Mix milk, egg yolk and coconut granule and cook until the mixture boils. While it is cooking, put farina into a teacup of water and let it dissolve. Pour the water with farina into the mixture, mix it with a wire whisk and when it thickens like a pudding, add frozen raspberries and turn off the heat. Divide the pudding into cups and let them cool of before serving.
ZERDE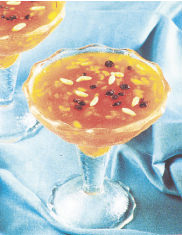 Ingredients

Serves 4 to 6
Half cup rice
3 tea glasses sugar
6 cups water
A pinch of saffron
1 tablespoons farina
1 tablespoon curcuma
1 tablespoons black currant
1 tablespoons pine nuts
Procedure

First, wash the rice and cook with water and sugar until boiling. Add saffron and curcuma into two small cups of hot water separately and let them dissolve before adding to the boiling mixture of rice water and sugar. When the rice softens, add blackcurrants and pine nuts. Continue to heat the mixture for 35 minutes until it thickens. Divide the desert into cups and cool in the refrigerator for at least an hour before serving.
LEMON PARFAIT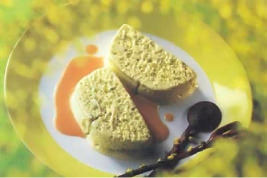 Ingredients

Serves 4
2 packs whipped cream
1 cup milk
2 eggs
1 cup sugar
3 lemons
1 pack of biscuits
50 grams melted butter
Procedure

Crush the biscuits with the help of a mixer and mix it with the melted butter. Lay the mixture over the base of the bowl that you will serve the parfait in and place it in the refrigerator while preparing the parfait. Whisk the whipped cream and milk in one bowl and eggs and sugar in another. Combine the two mixtures and add the juice of three lemons. Pour the parfait over the base of biscuits and place it in the freezer. Do not forget to take the dessert out of the freezer 20 minutes before serving it.
SEMOLINA PUDDING

Ingredients

Serves 4 to 6
4 cups milk
10 tablespoons semolina
10 tablespoons sugar
1 package vanilla
Procedure

Combine milk, semolina, sugar and vanilla in a deep saucepan and cook the mixture until boiling. When it thickens like a pudding, turn off the heat. Pour the already-cooked pudding into a wet Pyrex. Place it into the refrigerator for three or four hours before serving to your guests. Note: You can also put pieces of cake over your semolina pudding after it is cooked to add a different flavor to your recipe.