Among the things that Turks know well is a hearty breakfast - "kahvaltı" in Turkish, which literally means "under coffee." For Turks, a breakfast does not mean a quick start to the day, you cannot skip the best meal of the day just with a coffee and a croissant. With long tables and many dishes that include a different array of cheeses, olives, omelets, "menemen" - scrambled eggs cooked with tomatoes, green pepper and spices - honey with heavenly clotted cream, homemade jams, fresh cucumber and tomatoes and many other delectable foods, breakfast is not only meant to please the stomach in Turkish culture, it is also the best time of the day to engage in long conversations over freshly-brewed tea. Many people from the west to the east of Turkey gather at long breakfast tables to socialize with family and friends, especially on weekends. Each breakfast in Turkey has an order that starts with meals on the table along with tea, and end with a Turkish coffee.
Compared to previous years, current breakfast culture in Turkey, especially on weekends, has resulted in many cafes and restaurants serving huge breakfast plates and even traditional breakfast tables, called "serpme kahvaltı," which is why on weekends all cafes are filled with Turks socializing in a cozy ambiance with a hearty breakfast with friends and loved ones. Due to the newly developing weekend breakfast culture, it is becoming harder to find a suitable and serene place to have breakfast in metropolises, especially Istanbul.
To balance the increasing demand, many breakfast cafes have opened around the city that serve breakfast all day. According to ones tastes and preferences, one can visit cafes serving Turkish village breakfast, breakfast from the eastern city of Van or little cafes serving Western breakfast staples. Here are some of the best breakfast cafes in Istanbul.
Emirgan Sütiş on the Emirgan Coast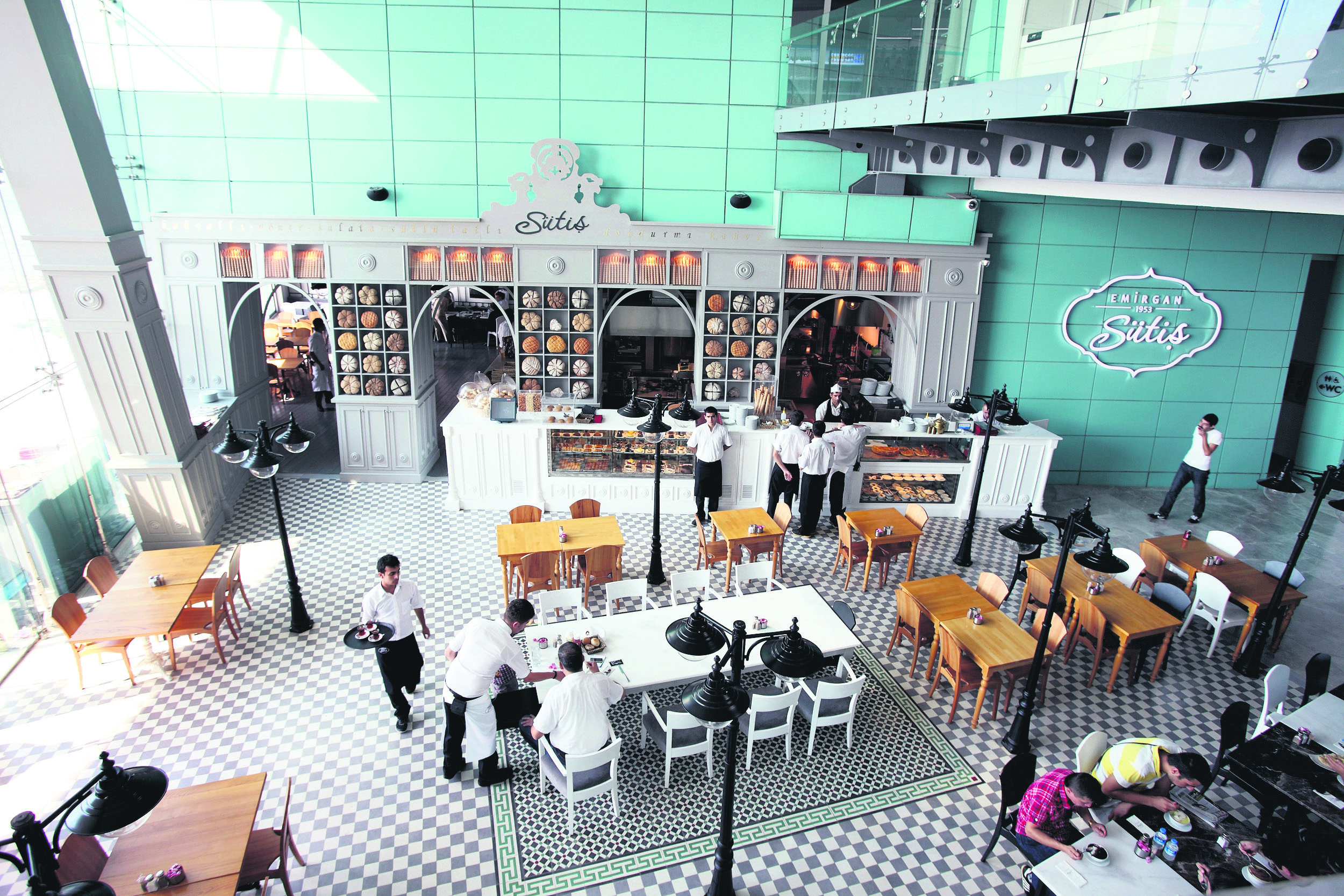 Located on one of the most popular seaside of Istanbul, Sütiş on the Emirgan Coast is a preferred breakfast destination both for Istanbulites and tourists. With fresh sea air and the coast only meters from the cafe, on weekends Sütiş is filled with people having long, leisurely breakfasts. Despite the classy and expensive look from the outside, breakfast at Sütiş is not significantly more expensive than other breakfast cafes in Istanbul. Each meal on the table is organic and served in the most hygienic way. Just in front of the cafe there is a valet parking, which is very useful for fully packed Saturdays and Sundays. You can also park your car in a free spot on the surrounding streets if you do not want valet parking.
Address: Emirgan Mh., Sakıp Sabancı Caddesi No:1/3, Emirgan/ Istanbul
Peynir Ekmek Cafe & Breakfast in Beşİktaş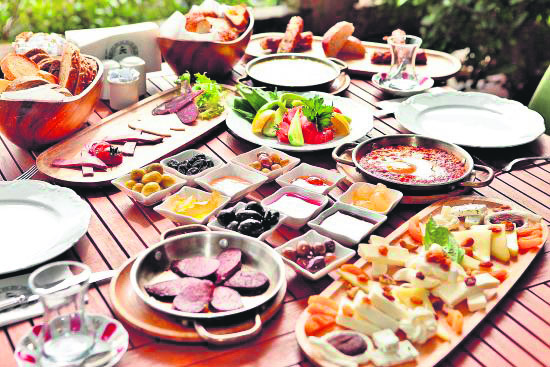 In Beşiktaş, a large easily accessible district on Istanbul's European side, there is an inexpensive, local breakfast haven tucked away in Beşiktaş's narrow alleyways - Breakfast Street. On this street, there are nearly 20 breakfast cafes. These continue to grow thanks to the huge demand and economical prices. On weekends it is almost impossible to find a cafe with an empty table, so you should either leave your cozy bed earlier or wait until after 2:00 p.m. One of the best cafes on the street is Peynir Ekmek Cafe & Breakfast with a cozy atmosphere and friendly servers. Nearly all of the cafes on Beşiktaş's Breakfast Street have similar breakfast fare, but Peynir Ekmek draws attention with some additions to their menu such as Black Sea Coast breakfast, and pastry breakfast options. It is nearly packed every day of the week, and not only is it one of the cheapest cafes on the street, but also one of the most delicious. The price is around TL 15 to TL 20 ($6.70 to $8.93) per person. Another famous breakfast food on this street is "pişi," a type of fried dough with similar varieties found in the cuisines of Central Asia and the Balkans. Even though it is not a light breakfast, it is delicious. Peynir Ekmek is one of the best cafes to get pişis on the street.
Address: Sinanpaşa Mahallesi, Çelebioğlu Sokak, No 14-16/1, Beşiktaş/ İstanbul
Historic Çınaraltı Teahouse in Çengelköy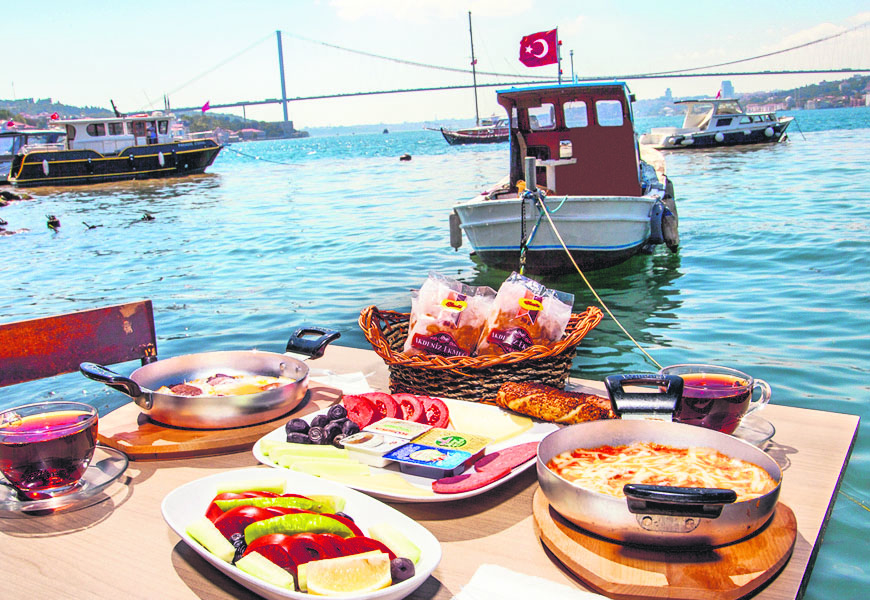 Different than other breakfast cafes in Istanbul, the Historic Çınaraltı Teahouse in the Asian district of Çengelköy is just next to the Bosporus with an amazing view of the Bosporus Bridge. What makes it different is that you can choose to bring your own breakfast or you can order from the teahouse. The only thing that the teahouse expects is that you order your beverage there and not bring it from outside. On weekends it is nearly impossible to find a seat next to the Bosporus in Çınaraltı. You should either go too early or around 2:00 p.m. to find a seat. If you would like to get away from the traffic on the European side, Çengelköy Çınaraltı is a perfect place to have breakfast with its tranquil atmosphere with fresh Bosporus air.
Address: Çınarlı Cami Sk., 34680, Çengelköy / Istanbul
Munchies Crepe and Pancakes in Moda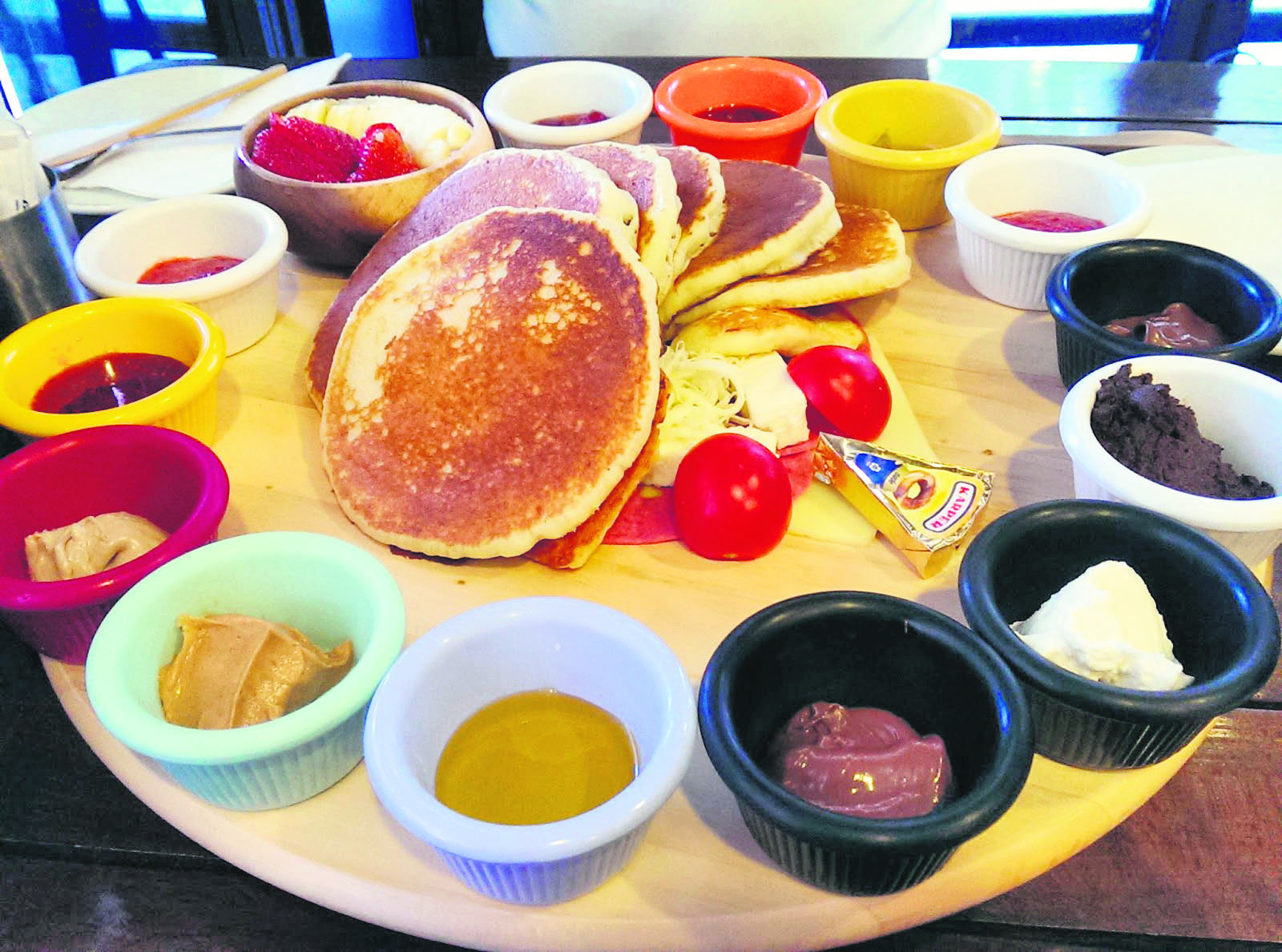 Munchies is a boutique cafe serving the best variety of pancakes on the Asian side of Istanbul. Located in Moda in Kadıköy, Munchies is a small pancake house, so you have to wait for a table in order to taste their delicious crepes and pancakes. There are savory dishes and sweet dishes in this small cafe as well. Even though selections are very similar, the selection of savory dishes includes items such as cheeses and salami. With the sweet plate selection, numerous homemade jams are served. You can also mix items from each of the plates together to create a sweet and savory breakfast. Munchies is a unique way to mix American and Turkish culture and if you are an expat in Turkey looking for some breakfast options different from the familiar Turkish plates, Munchies is the perfect alternative.
Address: Caferağa Mahallesi, Dr. Esat Işık Caddesi, 62/A, Kadıköy, Istanbul
Van Breakfast House in Cihangir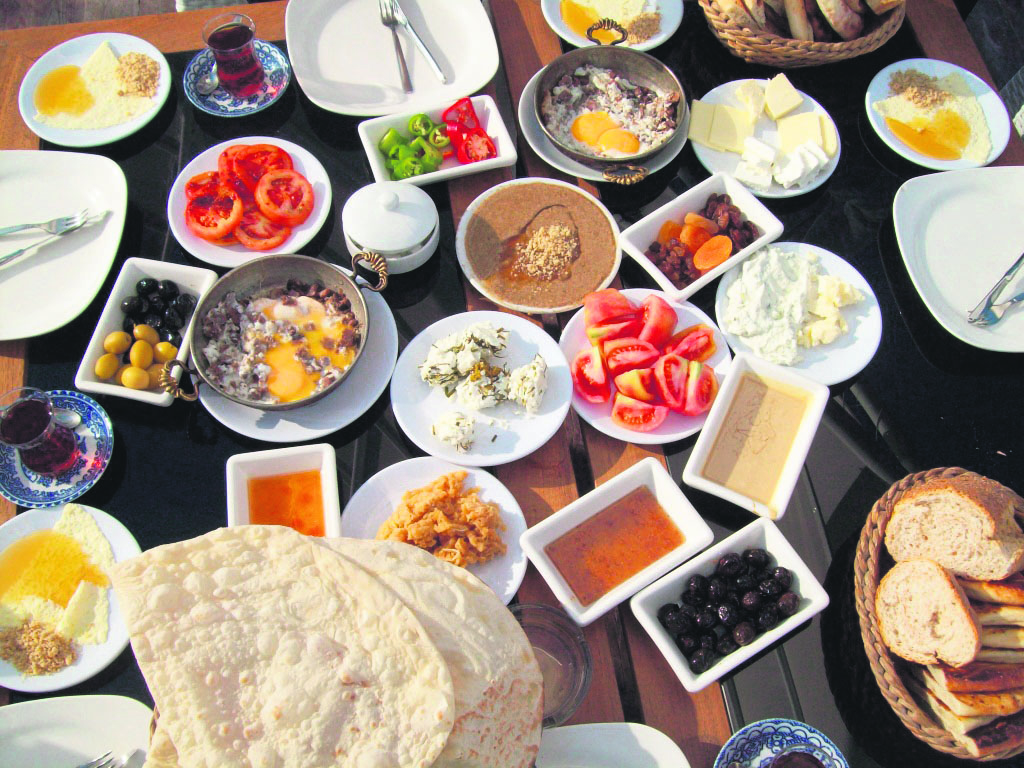 Located near the most popular center of Istanbul, Taksim Square, Van Breakfast House in Cihangir is one of the most frequented breakfast destinations in the city, with its eastern Turkish-style breakfast services and Kurdish breakfast culture. A Van breakfast starts with traditional Turkish breakfast items such as tomatoes, menemen and cucumber and then a different array of Van cheeses, herbs, as well as Van's famous honey and pekmez - a molasses made from grapes. Like all other renowned breakfast destinations in Istanbu,l however, this one may also be packed when you visit. So wake up early to experience Turkey's eastern breakfast culture.
Address: Kılıçali Paşa Mahallesi, Defterdar Yokuşu, No 52, Beyoğlu/ Istanbul