When it comes to Indian cuisine, it is not hard to miss, as the pungent scent of strong spices penetrates every inch of restaurants where this ancient cuisine is served. Greatly influenced by Hindu and Jain cultural and religious rituals, Indian culinary delicacies are the direct result of religious and cultural choices rooted in both Islamic and Persian tradition, offering a vibrant spread of regional dishes in which herbs or "masala" (spice mix) plays a vital role.
In Istanbul, the Consulate General of India endeavors to reach a broader audience by introducing Indian culture and food to the public. Last week at the Hilton Bosporus, the consulate general marked the Republic Day of India with a special menu featuring Indian flavors with an event overseen by Consul General of India Azar Khan.
The menu featured classic Indian dishes like "jeera rice," a flavored rice that is the favorite at Indian restaurants and "rogan josh kashmiri," an Indian lamb curry and "korma gravy," another curry recipe. Among the types of bread offered, "naan," an oven-baked Indian flatbread, was the tastiest one, bearing a similar taste with Turkish "katmer."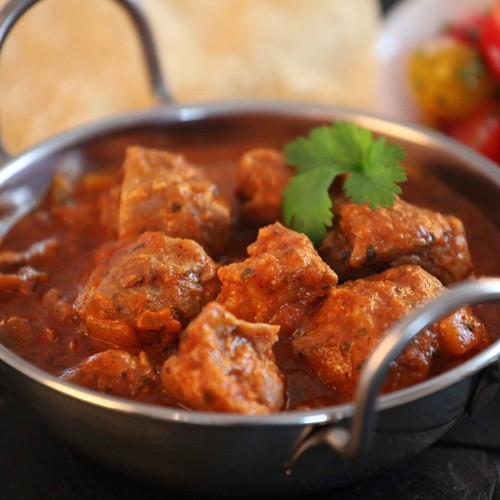 Lamb rogan josh
For Indian tastes in Istanbul and Ankara, here are some options to choose from
:
Indian culinary week in Ankara
There is still time to savor the taste of classic Indian dishes and unravel an endless array of flavors at the ongoing Indian culinary week in the Turkish capital, Ankara. Until Saturday, Chef Rakesh Singh, based at the Ankara HiltonSA Hotel's Greenhouse Restaurant, will be cooking Indian delicacies flavored with spices, which are the heartbeat of Indian cuisine.
The chef's menu brings local Indian tastes, ranging from Tandoori prawn to the meticulously prepared family favorite Chicken Biryani and Gajar Ka Halwa, a very sweet dessert pudding that originated in North India and Pakistan, accompanied by exquisitely crafted drinks. Early booking is recommended to enjoy this exotic, visual feast with your family, supported by the Embassy of India in Turkey and Qatar Airways.
COOKING WORKSHOP
On Feb. 18, Soffa at the Istanbul WOW Hotel offers a culinary tour, a journey through the world of Indian culture. During the one-day workshop, chefs and trainees will cook buttered chicken, Dosa (a very popular South Indian wafer-like crepe), Chili Chutney (a kind of spicy meze) and Biryani Masala (a blend of whole spices lightly roasted and powdered). The entrance fee for the workshop is TL 140.
Where to taste Indian food
Dubb Hilton Bosphorus
With a panoramic Istanbul view from Hilton Istanbul Bosphorus in Şişli's Harbiye district, Dubb Indian offers traditional Indian delicacies and al fresco dining in the garden during the summer months. In a casual atmosphere with delicious Indian cuisine, vegetarians can treat themselves to a rich selection of vegetarian dishes.
The specialty dish here is the "Chicken Tikka," consisting of cubed boneless chicken marinated with yogurt and spice, "samosa," a kind of Indian snack prepared with potato and peas stuffed in wafer, and "murg makhan," a non-vegetarian curry made from boneless grilled chicken cooked in makhani sauce with Indian herbs.
Musafir Restaurant
Located right in the heart of Taksim, Musafir is one of the earliest Indian restaurants in Istanbul, operating since 2004. Owned by Iram Rana, the son of an Indian father and a Pakistani mother, the casual dining restaurant serves a tasty array of spicy and exotic dishes both vegetarian and non-vegetarian. If you happen to visit Musafir, make sure to taste the Chicken Tikka, "chicken tikka masala," which is roasted chunks of chicken in a spicy sauce, and "saffron biryani rice," rice flavored with keoda or rose water.
Swaad Restaurant
In Istanbul's historic Çemberlitaş quarter, Swaad Restaurant has been serving local Indian tastes for the last six years. The restaurant's menu is very rich, bringing a variety of food choices, including "Malai Tikka," grilled chicken covered in yogurt, coriander and chili, "Tandoori Aloo," fried potatoes stuffed with Indian spices, and "Lassi," a popular traditional yogurt-based drink.