Turkish tea has been introduced in Kazan, the capital city of the Russian region of Tatarstan, in an event organized at the Kazan People's Assembly.
During the occasion, titled ''Samovar: Tea culture among Turks, Tatars, and Russians,'' hosts were served Turkish pastries along with Turkish tea in traditional glasses.
The event was organized by the Turkish consulate general of Kazan, and jointly supported by the Yunus Emre Institute, the Turkish Airlines' Kazan office, and Beta Tea company.
Consulate General Turhan Dilmaç, members of the Tatarstan parliament and the Russian State Duma, journalists, workers and representatives of various associations operating in Kazan attended the event.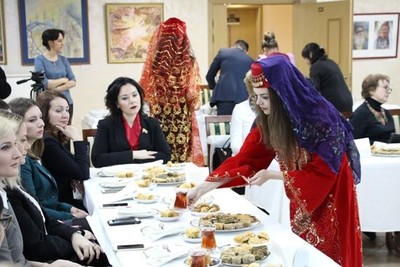 Prof. Dr. Kemalettin Kuzucu from the Marmara University, and Tatar writer Ruslan Bishkov gave presentations regarding the tea culture, and the history of tea production.
Dilmaç noted that the event aimed to promote and introduce Turkish tea and culture to Tatars.