A senior gastronomy student at Çanakkale Onsekiz Mart University's Gökçeada Academy of Applied Sciences, Meryem Yavuz, took the gold medal home at the "1st Pizza Championship," which was organized by Turkey's Union of Pizza Masters and Chefs.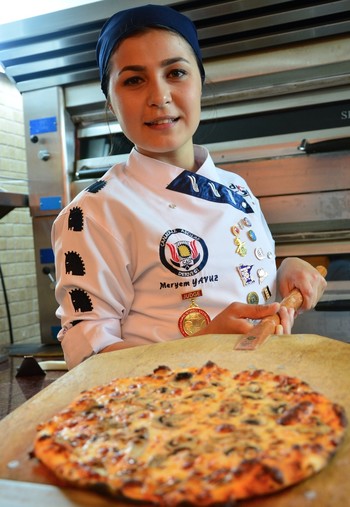 Speaking to Anadolu Agency, the young pizza champion, Meryem, stated that she has been taking culinary classes since high school and she loves different cuisine and cooking. The young culinary genius expressed that she likes surprising people with the extraordinary recipes that she developed.
Meryem believes that the formula lying behind her success was using Gökçeada's local tastes, thyme, honey and coffee, which she developed in several recipes including spaghetti, pizza, meat dishes and foreign cuisines.
She competed in Turkey's 1st Pizza Championship with her recipe containing Gökçeada's thyme, honey, Dibek coffee (a kind of Turkish coffee) and morel mushroom.
"I love making extraordinary tastes and here, I wanted to make a pizza out of standards and stereotypes. We all know standard pizzas and fondly consume them. Okay, but why all these pizzas are the same? The same sausage, same mushrooms and nearly the same taste… I wanted to make something different. People really got surprised. I came in first thanks to Gökçeada tastes," she said.
'Dibek coffee with cardamom seeds enrich the taste'
Meryem stressed that her pizza is really special in terms of ingredients.
"I preferred using local ingredients rather than the standard ones in my recipe. Firstly, I prepared a sherbet with the poppies I picked from Gökçeada to serve it with my special pizza. For my pizza dough, I used special spices and yellow lentil flour. And, the thyme honey of Gökçeada was my number one aroma agent. Dibek coffee with cardamom seeds also enriched my recipe. And lastly for the sausage, I used Gökçeada thyme, which I picked up from its highlands. On my pizza, I used Ezine cheese and Ezine cheddar instead of standard Mozzarella," she explained. Meanwhile, the young chef explained how she received negative responses when she revealed that she would use coffee and honey in her recipe before the championship started. "At first, people may get surprised or conflicted in some way as it is an extraordinary taste combining sugar, salt and many specific tastes. They may even found it strange. However, in the result the recipe ranked first thanks to the local tastes. Tasters stated that my pizza flour is really extraordinary." Lastly, Meryem stated that after graduating from university she wants to take part in various ventures and realize extraordinary projects.