Turkey is literally a fish heaven. The most delicious fish of the region are found in the Black Sea, Marmara Sea, the Aegean and the Mediterranean. As winter approaches, fish season has started to get lively. Fish restaurants in Istanbul are swarming. Famous chefs are creating wonders on new fish menus. Here are some suggestions for you this week.
My first suggestion is Yüksel Balık. The restaurant, located in Yeşilköy for 20 years, opened a branch in Tarabya. Well-known in its field in Yeşilköy, it has been chosen as the best fish restaurant in Europe in the past. With this new venture, Yüksel Balık has now moved to the Bosporus. Its owner, Mr. Yüksel, is doing his job meticulously. He is devoted and very attentive to all his customers. That is why although it opened three weeks ago, the place is crowded.
Located on the Tarabya shore, it has modern decoration. Brass lampshades, modern chandeliers, walls with mirrors and fresh orchids on the tables are very impressive. I especially loved the big stairs at the entrance and the ropes on the walls. The fish bar at the door is pretty impressive. All the fish are very fresh. Aside from the main dishes, my suggestion is you first taste the appetizers. Atom, made of yogurt, butter and hot pepper, is especially outstanding. Likewise, the shrimp and calamari casserole is splendid. As a main dish, I suggest turbot. From the top floor of the restaurant, the Bosporus view is dominating and even more impressive. Afterward, the pumpkin desert is marvelous.
Another suggestion is a place that has modernized fish and some other Mediterranean food items: L'assiette. The establishment, closing its summer place in Les Ottoman Hotel, has now opened in the Hyatt Hotel in Levent. It has a magnificent atmosphere with its reddish decor, white leather chairs and the city view. Its owners, Alp Franko and Julien Martin, have worked wonders again. I have no doubt this duo will continue the success they had in Le Baron, The Sands and the summer location of L'asiette in this place as well.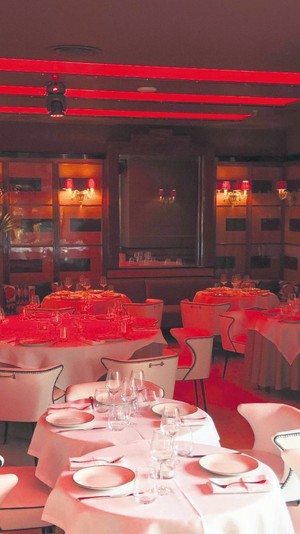 L'assiette, the most recent restaurant of Group Ekler, presents scrumptious lunches, wonderful moments at the bar and memorable elegant dinners with a unique entertainment concept seven days a week. When it comes to meals, the fish options have been selected with great care. They have been created through fusion cuisine. A menu in a sharing concepthas been created. Lakerda, served with edible soil is spectacular. Golden strawberry, capers are served with lemon and smoked walnut. Tuna Madam, salmon tartar with humus and avocado and Belgium style mussels are musts. Calamari with teriyaki sauce and shrimp fajitas were other dishes that caught my attention. Visit L'assiette at its new location at your first chance. It is an aspiring place where elegance meets flavor. I congratulate Franko and Martin.
While talking about fish, I have good news about a social responsibility project. Metro Market materialized a project to protect the sustainable future of fish. After receiving support from chefs, famous restaurant owner Ayşe Kucuroğlu, also gave her support for the Leave Today's Fish For Tomorrow project. Many members of society and the entertainment and business world came together during a dinner hosted by Kucuroğlu at Happily Ever After in Bebek. There was exquisite catering during the evening. I loved the corn bread and fried anchovies. Likewise, bluefish grilled on coal was wonderful.
Information about the project where work on sustainable monitoring of fish is done was explained to the guests. Metro Market collaborated with 573 cooperatives affiliated under the Aqua Cultural Resources Cooperatives Central Association and thousands of fishermen for the project. By recording the whole procurement process for fish from net to fork, Metro Market ensured complete monitoring of fish via the QR code labeling system. Thus, while investing in the future of fish, it is also looking after traditional fishery. I congratulate Metro Market for its sensitivity and Kucuroğlu for supporting such a project.
Tips of the week
Top Restaurants of the Week
- Happily Ever After / Bebek
- L'assiette / Levent
- Yüksel Balık / Tarabya
Top Hotels of the Week
- Musem / Cappadocia
- Casa Lavanda / Şile
- Bebek Hotel / Bebek

Top 3 People to Follow
- Berkcan Okar / Designer
- Murat Erdemsel / Dancer
- Mustafa Yıldız / Painter