Hopefully, 2018 is going to be a year as full of new flavors as it is of surprises. Cafes opening all over the town and restaurants renewing their menus will be frequent stops in the new year. Flavors, which will warm us up during winter, will be waiting for us. Here are some of them.
TOI Istanbul is offering totally new flavors that will not be forgotten to its guests with its renewed winter flavors. The place, blending its own flavors with world flavors, is waiting for you in the Kuruçeşme area with its modern decoration and high-quality music performances. I especially liked the turquoise chairs, lighting, and the olive tree at the venue. TOI Istanbul, whose name is reaching the masses for its unique "Chef's Table," is offering a real flavor experience to its guests. The restaurant's founder and chef, İsmet Saz, is making an ostentatious entrance to the season with his new menu, which is a candidate to be the new trend of the winter months.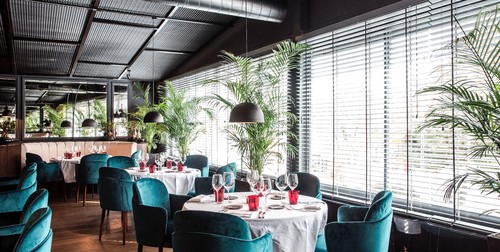 TOI Istanbul offers totally new flavors to its guests with its renewed winter menu.
TOI Istanbul is determined to surprise food lovers with its renewed "Casual Dining" menu. There are appetizing flavors, from delicious starters like "Celery Root Soup" and "Local Blue Crab Cake" to fresh, handmade "Tagliatelle Shell Lobster" in the meticulously prepared menu. Additionally, special flavors like "Slowly Cooked Beef Tail" are among the new dishes adding pleasure to TOI Istanbul's evenings. Chef İsmet Saz's specialties "Dana Wellington," "Grilled Aegean Octopus Salad," and "Duck Prosciutto" are still noticed among the ones attracting the most attention. They also serve shredded truffle mushrooms at the table with certain dishes, which is an elegant touch. For dessert, you should definitely try the white chocolate mousse with blackberries. Total work of art! Cocktails like "One More Please" and "Toa" are also getting a lot of attention at TOI, which has a rich cellar. Chef Saz, paying attention to the freshness of the products he uses, is preparing his dishes with micro spices he grows personally and organic flour that he brings from Italy.
There is Melisa Karakurt's special jazz performance every Friday evening and DJ Mehmet Karaca's special performance every Saturday. In short, there is both flavor and a music feast at TOI. Experience it at your first chance.
Our second stop for the best winter menus in the city is Swissotel the Bosphorus. The new attraction center of the hotel, the Gabbro Resto-Bar, opened its doors last month.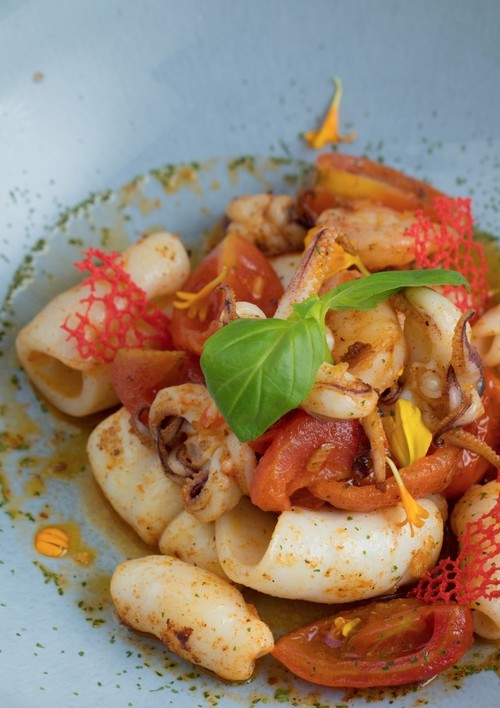 A chic plate of calamari at Gabbro Resto-Bar.

Gabbro, with its intimate and chic atmosphere and unique examples of world cuisine, is the new meeting spot for both flavor and music lovers. Retro New York style decoration, framed old photographs and whisky barrels at the entrance reminded me of old-time Big Apple restaurants. The venue's menu is as attractive as its decorations. Shell seafood and meat choices like the rib steak can be served at different weights. The Tomahawk for two is the most assertive food item on the menu. The snacks are also pretty unique with, accompanying the signature cocktails of Kevin Patnode, who was chosen to be Turkey's best and the world's seventh best barman.
Nilüfer Verdi, one of the most important pianists in Turkey, is among the most striking names in Gabbro's program, which includes very special live music performances as well from Tuesdays to Saturdays. Also, performers like Ayşe Gencer, Sibel Köse, Evrim Özşuca, who is one of the prominent artists in the jazz and R&B genre, and Talinn Jazz Festival third place award-winner İpek Dinç Yüce all have performances. Gabbro is serving as a restobar from 5 p.m. to 2 a.m. every day except Sundays. You will really enjoy it with its magnificent view. You will feel like you are in New York with the jazz music and gourmet flavors.
Our last stop is a fairy-tale-like restaurant. Warm flavors of Swiss cuisine and the matchless atmosphere of the Alps come together at the Chalet. You will feel like you are in Switzerland here, in the garden of the Swissotel The Bosphorus Istanbul. The venue, a 100-year-old wooden chalet, brought from the Swiss Alps, lets you have a mountain vacation in the center of the city with its cozy atmosphere and authentic decor. The regulars of the restaurant, which is becoming a classic each year, are increasing. At the Chalet, you can have enjoyable times in the wood dominated atmosphere of a real chalet, which is enriched with warm colors and a fireplace. The local outfits of the waiters, paintings on the walls, and other details are all meticulously thought out.
The menu, on the other hand, is very local. There are original recipes like raclette, meat and cheese especially brought from Switzerland, as well as fondue varieties that are prepared with chocolate. You are going to love the flavors you experience accompanied by traditional music. The "Cheese Fondue," prepared with Appenzeller, Swiss cheese, Vacherin Fribourgeois cheeses and meat fondue "Fondue Chinoise," served with different cold sauces, and the chocolate fondue are among the most liked signature flavors. Visit Chalet, which is ideal for your family, romantic dinners, and special organizations, at your first chance. But don't forget to make a reservation.
Tips of the week

TOP 3 RESTAURANTS OF THE WEEK
- TOI / Kuruçeşme
- Gabbro / Beşiktaş
- L'assiette / Levent
TOP 3 HOTELS OF THE WEEK
- NG Sapanca / Sapanca
- Museum / Cappadocia
- Kaya Palazzo / Kartalkaya
TOP 3 PEOPLE TO FOLLOW THIS WEEK
- Seçkin Cebeci / Photographer
- Giray Altınok / Scriptwriter
- Gizem Kurbanoğlu / Lawyer