Without a doubt, Istanbul is a fish paradise. Fish caught daily in the Marmara Sea as well as fish from the Black Sea and the Mediterranean turn the city into gastronomic heaven. A wide variety of fresh fish is used in traditional dishes as well as in Far East cuisine. The first of the fish restaurants I want to suggest is Sur Balık. With four branches, Sur Balık is one of the most iconic fish restaurants in the city. It also has branches in Ankara and Nevşehir. My favorite in Istanbul is the one in Arnavutköy. I am very impressed by what I learned from Leyla Sağlıkova, the corporate communication manager of Dorak Holding, which owns Sur Balık brand. Sur Balık has its own code of ethics. It was great to hear that they are conscientious about seasonal fishing, a point made even clearer with their motto "Respect for Fish Species." Thanks to their efforts, their establishment plays a part in preventing over fishing. Another of their mottos is "Unconditional and Uninterrupted Customer Satisfaction." All of this sensitivity is reflected in the decoration and service quality of the place, as well.
As for the food served in Sur Balık, their appetizers and salads are great starters. After the starters, shrimp with avocado, baked chard wrapped with fish and fried calamari are great options. For the main dish, I recommend Black Sea bass. All Sur restaurants are ideal for a romantic night out as well as for family dinners. You can also count on Sur Balık for important business meals. By the way, Cihangir Meyhanesi by the brand of Sur Balık offers a different concept for fish lovers. This place is the favorite of younger crowds with its more casual atmosphere compared to other Sur Fish branches. It offers live Turkish classical music and set menus. Reservations are a must here as it is for all of Sur Fish's other branches.
Another great restaurant is Seaspice located in Water Garden in Ataşehir on the Anatolian side of Istanbul. Water Garden is a gastronomic paradise. With a giant fountain in the middle, many shops specializing in food and rich variety of restaurants, Water Garden attracts food lovers' attention, and Seaspice the most scenic restaurant there. Its green ceramics, marble tiles, brass lamps, palms and designer chairs fascinated me. It goes beyond a classic fish restaurant, becoming more of a modern brasserie. I congratulate the crew from 1217 Design for the interior masterpiece.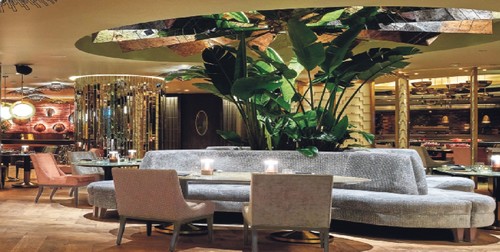 Isokyo, which is a combination of the words Istanbul and Tokyo, offers Far East fish dishes and will make you feel like you are in Asia.
The flavors are as creative as the design. Chef Melda Farimas is a gourmet who lived in the U.S. for many years. Special dishes prepared by her, such as grilled walnut calamari, paella, grilled turbot and fish pastrami, should be tried. The nostalgic Turkish songs as well as the meals in the room create a pleasant atmosphere. Ajda Pekkan, Sezen Aksu and Müzeyyen Senar's songs accompany glasses raised for toasts. Apart from the evening meals, Seaspice is also ideal for lunch. I suggest you try it as soon as you get a chance.
Our last trip to the world of fish cuisine is Isokyo in Raffles Hotel located in Istanbul Zorlu Center. The restaurant offers Far East fish delights and will make you feel like you are in Asia. Isokyo, which is a combination of the words Istanbul and Tokyo, is a Turkish brand, though it sounds quite foreign. The venue is stylish and minimalist. The objects on the walls, the chairs and the chandeliers are impressive. A particularly unique feature was the private room separated by screens where you dine with guests.
On the menu, you will find examples of Western tastes synthesized with Far East cuisines, such as Chinese, Japanese, Taiwanese, Vietnamese and Korean. I particularly loved the presentation and the cod fish. Sea bass boiled in soy and ginger sauce is also a must try. Apart from the fish, there are fusion meat dishes, for example duck wrapped in leaves. Meat lovers should go for lamb shank served with Asian mushrooms. The green tea tiramisu is a feast of flavors. I generally do not like green tea in food, but this tiramisu was really a different experience. I congratulate New Zealand Executive Chief Clinton Cooper and his team.

Tips of the week

TOP 3 RESTAURANTS OF THE WEEK
- Isokyo / Zorlu Center
- Ahali / Nişantaşı
- Serafina / Vadi İstanbul
TOP 3 HOTELS OF THE WEEK
- The St. Regis Istanbul / Nişantaşı
- Argos / Cappadocia
- Casa Lavanda / Şile
TOP 3 PEOPLE TO FOLLOW
- Gökçe Atuk / Businessman
- İsmail Acar / Artist
- Yağız İzgül / Chef