The cuisine chefs of luxurious hotels in Antalya where millions of tourists stay every year make their visitors leave satisfied with the delicious tastes they prepare, blending world cuisine with Turkish flavors.
These chefs from Antalya, who have prepared food for many world-famous leaders such as Russian President Vladimir Putin, German Chancellor Angela Merkel, former U.S. President Barack Obama and Saudi Arabia King Salman bin Abdulaziz al-Saud, impress tourists with their unique tastes.
Satisfying tourists with their food even if their roots and personal tastes are different, they are taste hunters who combine Turkish and world cuisine. The food that is prepared in their kitchens where there is a specific hierarchy is presented after going through tasting and visual quality evaluations of six different chefs.
They prepared delicious meals at the G20 Leaders' Summit that was held in Antalya this year and have continued their studious works for tourists recently. Food prepared in their kitchens allure people with their smells spreading around.
Levent Bıyık, the chef de cuisine at The Land of Legends Hotel in Belek, Antalya, told Anadolu Agency (AA) that he has been working in the gastronomy sector for 20 years and preparing menus according to the taste of his guests.
Good food, good holiday in Antalya
Explaining they internalized the concept of "good food, good holiday," Bıyık said that they prepare various tastes, blending Turkish tastes and preferring natural products. He said he has prepared food for many foreign celebrities, from model Adriana Lima to singer Nikolay Baskov.
Regnum Carya Golf and Spa Resorts chef Şevket Gökçen indicated that they go to the markets for natural and fresh products and to fishermen for fresh fish in the early hours of the morning, that is, they try to be taste hunters.
Radiation tests with dogs and detectors
Explaining that celebrities and politicians come to the hotels for holidays and programs, Gökçen reported, "We have prepared delicious tastes for Putin, Obama, Merkel and Salman at the G20 Leaders' Summit. The Arabic leader does not want food made with onion and garlic. Obama has his own cook and food is presented to him after radiation tests. It was a great experience for me to prepare food for the world leaders. We have prepared menus from Turkish cuisine for them, as well. There were serious safety measures and searches were made with mine dogs and detectors."Rixos Premium Belek Hotel's chef Ümit Çelikkaya mentioned that he has been working in this sector for 21 years and preparing tastes for holidaymakers from more than 70 different nations in every tourism season. Implying that they make food after discovering world tastes, Çelikkaya highlighted that they also add regionally grown products to their menus.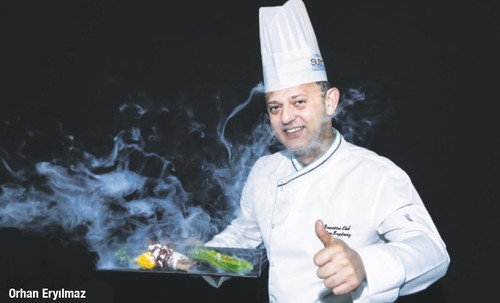 Susesi Luxury Resort Cuisine chef Orhan Eryılmaz explained that the tastes of countries differ, saying that Russians prefer seafood while Germans like eating sausages and potatoes. "We reflect the tastes of all countries, visiting them and seeing their food. At the end of each season, we attend many international competitions and receive awards."
Remarking they always try to improve themselves with new tastes and describe themselves as "chef of tastes," Eryılmaz said they prepare 500 different food for only breakfast and work professionally together with a huge team.
Calista Luxury Resort Cuisine chef Sercan Erdoğan said that being a cook is a difficult profession and people need to improve themselves and reveal their artistic spirit in this job. Mentioning their efforts to satisfy people, he added that Turkish cuisine comes first before everything.
Being a chef means creativity
Kaya Plaza Golf Resort Hotel Cuisine chef Seçgin Demir said he has worked in Ukraine, Kazakhstan, Azerbaijan and Switzerland and served presidents of many countries before.


Explaining that they prepare food for nearly 2,000 guests every day, Demir continued: "We describe ourselves as taste hunters as the gastronomy world develop and change every day. We discover new tastes."Maritim Pine Beach Resort & Club Hotel's chef Serdal Arıbeyi remarked he continuously improves himself since he appeals to the tastes of people with his profession.
Maxx Royal Belek Golf Resort chef Sami Kahraman expressed that he has been a cook for 38 years. "Our profession is creativity. We try to find common food, discovering world tastes."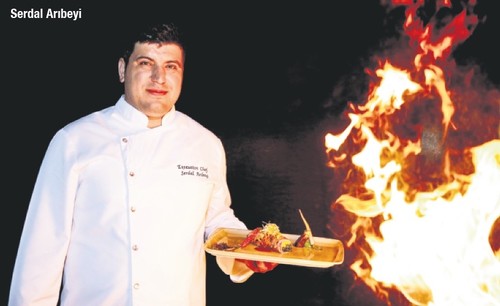 Robinson Club Nobilis chef Cemil Karaburçak said innovations are necessary for taste hunting.
Mediterranean Touristic Hoteliers Association (AKTOB) President Erkan Yağcı said that cuisine culture is really important in the all-inclusive system.
"Our chefs are experts on Turkish cuisine and promote Turkish flavors and cuisine culture to the world. The development of gastronomy brings the development of the tourism industry."