The holy month of Ramadan started with all its spirituality. People are fasting, praying, and preparing iftars all around the Islamic world. For Muslims, it is the month of purification. And, without any doubt, the flavors and the pleasure of food eaten this month is also quite unique.
For delicious iftar dinners in Istanbul, my first suggestion is a restaurant on the European side of the city. Develi is located in Istanbul's historic district of Samatya.
It was established in southeastern Turkey's Gaziantep in 1912 by the restaurant's current chairman Arif Develi's grandfather.
Develi came to Istanbul in 1966 and opened the first Develi restaurant in Samatya. With decades of hard work, Develi's eponyms restaurant has become a legend.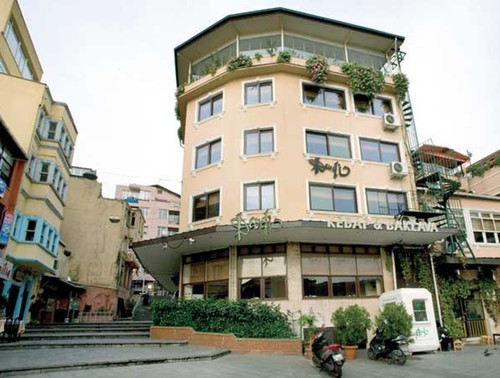 Today, Develi reflects the uniqueness of Turkish cuisine at its best. Besides Gaziantep cuisine, it also serves different flavors from the Mediterranean and Central Anatolia regions.
Arif Develi two sons, Nuri and Ali Develi are carrying the family heritage to the future professionally. The experts and service teams, brought up by Arif Develi himself, have been under the Develi roof for many years. Now they are also coming forth as the other owners of this heritage. Likewise, people who know Develi's flavor and quality have important roles in sustaining this heritage. Adding color to Gaziantep cuisine's flavors with his own expertise, the special flavors Arif Develi added to this famous kitchen created the Develi legend. For instance, the restaurant's famous pistachio kebab is a flavor invented by Arif Develi himself.
The brand has now branched out in Kalamış, Etiler, Ataşehir, Florya and Eminönü, Nişantaşı, Viaport Marina and Viaport Marina Corner. Their latest branch was opened at the Kaya Palazzo Hotel in Cyprus.
When it comes to Develi's iftar specialties, the Ramadan menu is filling and delicious. Date and cream are quite fresh. I suggest you to especially try the pistachio kebab. My other favorite is the rib. Among the desserts, on the other hand, you must try the walnut baklava.
It was an enjoyable experience to taste the Ramadan menu with Nuri Develi, one of the brand's new generation representatives. Nuri, besides having a visionary character, is a son who adores his father and a good boss. I am sure Develi's branding abroad will grow soon with Nuri Develi's vision.
Feriye restaurant in Ortaköy is another one of the most enjoyable places by the Bosporus on the European side. It draws attention to its history as much as its flavors.
In a way, being the last part of the Çırağan Palace, which spans between Beşiktaş and Ortaköy, the old Feriye Police Station is one of the unique examples of Ottoman Architecture. After being restored in 1995 by the Kabataş Boys High School Education Fund, today the Feriye Restaurant forms the meeting point of the past and the future. Although it is a historical place, modern decoration of the interior makes you feel like you are in a fine dining restaurant.
Its Ramadan menu is quite rich. Its lentil soup or soup with fresh herbs could be a good start. Likewise, the starters of the place are also quite ostentatious. Among the warm starters, mantı (a kind of Turkish ravioli) is my favorite. Among the main dishes, on the other hand, chicken breast with cream or lamb in tandoori should be tasted. For fish lovers, on the other hand, seabass in grape leaves is a wonderful option. Desserts are served in an open buffet. Fig dessert with apricots and baklava options are wonderful.
On the Anatolian side of Istanbul, Lacivert is known for its high-quality service consciousness. Its iftar menu for the month of Ramadan is also very rich. There are exclusive flavors from many regions of Anatolia prepared by Lacivert's expert chef Hüseyin Ceylan and his team. Their iftar starters include Mengen village cheese, smoked Circassian cheese, çeçil cheese, Ezine white cheese, smoked beef rib, Kayseri pastırma, buffalo cream, Sivas Eğriçimen honey, olive varieties and Aegean stuffed zucchini.
Among the main dishes, meat casserole or grilled corb fish catches the eye. For warm starters, I would suggest cracked wheat soup with vegetables and chicken, stuffed garden orach, and herb pie.
On the other hand, meat casserole with unripe pilaf prepared with summer vegetables or grilled corb fish served with potatoes with vegetables and milk must be tasted.
Its desserts menu includes Ramadan specialty güllaç, curd cheese dessert, mastic pudding and Hatay pumpkin dessert with tahini. Besides Demirhindi sherbet, which reflects the Ramadan spirit, homemade lemonade also adds pleasure to iftar get-togethers at Lacivert.
Guests can reach the place without getting into the Istanbul traffic with a four-minute ride on Lacivert's boat that sails from Rumelihisarı free of charge.

Tips of the week

TOP 3 RESTAURANTS OF THE WEEK
- Develi / Samatya
- Lacivert / Beykoz
- Feriye / Ortaköy
TOP 3 HOTELS OF THE WEEK
- Simurg Inn / Ayvacık
- Bizim Ev / Datça
- Casa Lavanda / Şile
TOP 3 PEOPLE OF THE WEEK
- Serdar Gülgün / Artist
- Serra Türker / Designer
- Narin Akçelik / Businesswoman