New restaurants open every day all over Turkey. The growing number of tourists, the reviving economy and the magnificent summer season are exciting for the entrepreneurs in the gastronomic world. Many new local and foreign brands are offered to food lovers. Here are my suggestions this week from Bodrum and Istanbul.
The first suggestion is for Peruvian cuisine lovers. I suggest you to try the Brava restaurant at the Edition Hotel which opened recently in Bodrum, Tilkicik Bay. Managed by Michelin star chef Diego Munoz, Brava is absolutely one of the best ethnic restaurants of Bodrum. Munoz says he was inspired by different cultures in Lisbon, Seoul, Dubai and created a gastronomic harmony with different cooking techniques. I think this is the secret of extraordinary food experience that he offers to its guests. Although I call Brava a Peruvian restaurant you can taste unique samples of Middle Eastern cuisine in the menu as well. So, it means, buckle up for a feast!
When it comes to the venue, the sea view, wooden decoration and detail oriented service match with unique taste of Brava's menu. Peugeot salt and paper shakers, Playground branded plates and many other high segment brands are successfully integrated into this unique restaurant. You can take a sip and try one of the signature cocktails of the venue and enjoy the sunset before you start the feast. Brava serves two different menus for its guests during dinners and lunches. In their lunch menu the quinoa burgers they prepare for vegetarians are wonderful. It feels like meat. The way Diego Munoz cooks quinoa gives you the both pleasure of eating meat and the healthy feeling of vegetable. Also shredded melon with almond is one of the mouth-watering options among many others. When it comes to the dinner menu French oysters with caviar and prawn ceviche with creamy avocado can be excellent starters. As a main course, spaghetti with clams and sea bass with dry yogurt were wonderful. Portions are super big at Brava. So, if you are four people I guarantee you that you can be more than happy with ordering two main courses and only a couple of appetizers. As dessert the pistachio cassonade and churros with chocolate dip were just perfect!
Since we have started talking about Bodrum, I should tell you about our second taste stop. Kuum Hotel in Türbükü offers many different flavor alternatives. The Kuum Beach Club, managed by Ersin Süzer is awe-aspiring. I especially loved the linguine with lobster. Likewise salmon ceviche and popcorn shrimp were great. Pizza and burger options should be tried as well. Panna Cotta is pretty light as a dessert alternative. This summer, the detail that I liked most in the Kuum Beach's interior were the ropes hanging from the ceilings. This detail that we have seen in Mykanos island looks very good at Kuum Beach. As usual the bar area in the middle is the favorite place for all the guests to gather around and chat. Ersin Süzer said there will not be DJ performances and live music shows this season. It has become an alternative place for those who want a quiet environment, delicious food and quality conversation. Everywhere in Bodrum is loud enough. I think the decision of not having DJ performances and live music is right. The cabins on the beach are very stylish. When you try the cocktail menu you can enjoy the sun and the sea. Inside the Kuum Hotel, the venue People, managed by Tayfun Topal also opened this season. I have not tried its menu yet. But I liked the decoration very much. I suggest you visit Kuum Hotel and the new venues inside, as soon as possible.
Another suggestion is Naavah. West Hollywood's famous Middle East cuisine is now in Istanbul. The restaurant opened in Los Angeles in 2016 and opened its second branch at Soho House in Chicago.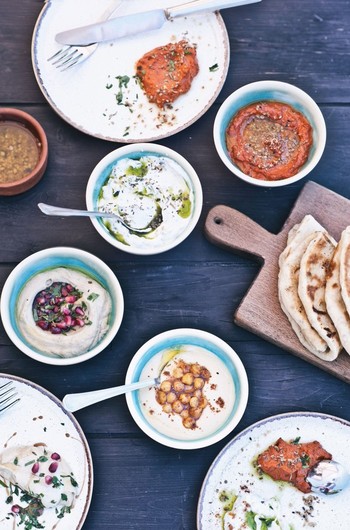 The third stop is Istanbul, which I think hosts the most beautiful Soho House in the world. The venue, located on the terrace of the club, is very popular this summer. Outdoor place welcomes you with summer breeze and amazing the view of the Golden Horn. Watching the sunset from this location is a privilege. The place that mainly offers Lebanese food is outdoors. Comfy sofas with nice cushions, lights on the top and plants have created a relaxing atmosphere. One passes the open kitchen and arrives at the restaurant. It is also possible to see the stone oven from the dining area. Everything is prepared in front of you. Naavah's delicacies are mainly shared dishes. Cauliflower salad with almonds, celery and pomegranate is great. The grilled eggplant with tahini is surely my favorite. You need to be a member of Soho House or a guest of a member to go to Naavah. Who knows, maybe Naavah can be a delicious excuse for you to become a member of Istanbul Soho House, which has probably been on your mind for some time.

Tips of the week

TOP 3 RESTAURANTS OF THE WEEK
- Brava / Bodrum
- Develi / Cyprus
- Naavah / Beyoğlu
TOP 3 HOTELS OF THE WEEK
- Edition / Bodrum
- Alavya / Çeşme
- St Regis / Nişantaşı
TOP 3 PEOPLE TO FOLLOW
- Emir Yeşil / Singer
- Eylül Savaş / Marketing Expert
- Züleyha Kuru / Fashion Designer