In Istanbul, it is possible to find cuisine from all over the world. Foreign restaurant chains continue to invest in the city. We can find anything we want –Indian, Japanese, French and even Mongolian. Here are my suggestions for international tastes around Istanbul.
My first suggestion is the restaurant Spago, founded by master chef Wolfgang Puck. With another location in the heart of Beverly Hills, Spago, a favorite with many Hollywood stars, has prepared a brand new menu.
Offering the same menu at its Turkish branch on the terrace of St. Regis Hotel, Istanbul, the restaurant is sure to be the talk of the town. The tastes prepared by famous Los Angeles-based chef Tetsu Yahagi, with his "from farm to table" philosophy must be tried. The dishes on the menu, for which the chef has used local materials in a modern way, will be presented in Istanbul Spago until Dec. 10.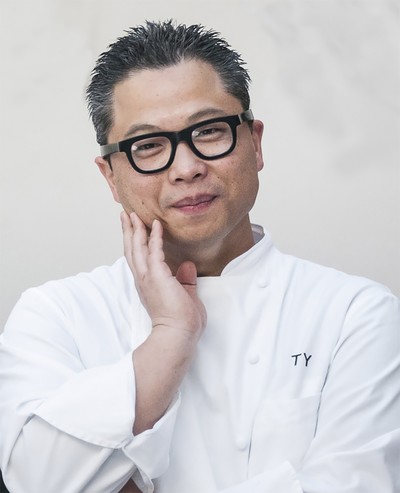 The tastes prepared by chef Tetsu Yahagi must be tried at the restaurant Spago.
The menu, hosted by Spago Istanbul's General Manager Deniz Zengin, also includes a carefully selected wine and drink pairing by Spago Istanbul's award-winning chef Sommelier Mustafa Zorluoğlu. The menu offers tastes that chef Tetsu Yahagi has prepared with his unique techniques using local products. Special flavors such as Bosporus bonito tartar, blue fishpond crab, macaroons with maple syrup, octopus "a la plancha" and black mussels in butter, stand out.
In addition, guests can enjoy the special white chocolate dessert made with goat milk while enjoying the Bosporus view. Wolfgang Puck Fine Dining Group Senior Operations Partner Alex Resnik, who just came from San Francisco for the first presentation of the menu on Nov. 14, said the group is planning to open a Chinese restaurant in Istanbul soon.
In the meantime, for those who want to make Christmas plans, after the fireworks show at Spago Istanbul on Dec. 31 famous DJ Doğuş Çabakçor will be on stage. Those who do not want to finish early on New Year's Eve can continue after 2:30 a.m. with the after party.
Another venue I would recommend this week is Inari Omakase in Kuruçeşme. It is easily the best sushi restaurant in Istanbul. Inari is the name of the legendary white fox that protects rice warehouses in Japanese culture. That's why there's a fox in the venue's logo. Legend has it that this fox was sometimes seen as a female silhouette. That's why there is a woman's silhouette just behind the chef table at the entrance. The flower-shaped lamps on the dining tables and the low Japanese dining tables give the venue an authentic feel. The lighting shaped like the Japanese umbrellas in the ceiling are very stylish. I congratulate the manager Hakan Aydın.
The sushi in the venue is quite appealing. There is fusion sushi that you can't taste anywhere else. I especially loved the foie gras sushi with caramel. The mango sushi should also be tried. The presentation of every sushi is like a piece of art. Apart from the sushi, there are many flavors of Asian cuisine. Congratulations to 35-year-old chef Barlas Günebak, who is a real sushi artist.
Günebak started presenting her sushi in 2003 at Çırağan Palace Benihana. She continued her career at Itsumi and Ioki. Since 2012, she has been offering her guests unique and creative dishes in Inari Omakase. Meanwhile, Inari's branch opened in Vadistanbul shopping mall. I suggest you visit as soon as you get the chance.
My last suggestion is Gabbro at Swissotel Istanbul. It offers a high-quality ambiance with its wood decorations, a vintage bar and Bosporus view. In addition to original tastes, Gabbro offers unique stage performances Thursday to Saturday.
On Thursday evenings, Dutch-Moroccan Singer Teema is one of my favorites. For jazz lovers, Ipek Dinc Yüce performs special songs in her repertoire on Friday nights.
The venues dishes include authentic European cuisine. In the menu, you will find quince jam, pineapple risotto with forest mushroom and foie gras sealed goose liver with pecans, baked organic chicken and beef ribs slowly cooked.
There are many more options like seafood platter, potato mousse with truffles and spinach served with salmon. On top of these, a rich selection of wines, a whiskey collection and signature cocktails by Kevin Patnode, one of the best barmen in Turkey, accompany the snacks. Pay a visit the first chance you get, but don't forget to make a reservation.