MITROVICA, Kosovo
— Turkey's national football team on Wednesday defeated Kosovo 6-1 in a friendly game that marked the fledgling team's second internationally-recognized football match.
The game at Olympic Stadium Adem Jashari in the Kosovar city of Mitrovica was also renowned Turkish manager Fatih Terim's 100th game on international level.
Turkey's goals were scored by Karabukspor midfielder Ahmet İlhan Ozek, Akhisar Belediyespor playmaker Bilal Kisa, Besiktas attacking midfielder Olcay Sahan, Besiktas striker Mustafa Pektemek (twice) and Fenerbahce's young midfielder Alper Potuk.
Kosovo's only goal - and first-ever in an official game - came from Albert Bunjaku.
Kosovo's first match approved by the international governing body FIFA was against Haiti in a 0-0 home friendly on March 5, 2014.
A minute's silence preceded Wednesday's game to commemorate the victims of Soma mining disaster in Turkey, which claimed 301 lives, making it the deadliest mining tragedy in Turkish history.
Turkish players wore black shirts in a sign of mourning.
Turkey will play with the Republic of Ireland in a friendly game in Dublin on May 25. On the same day, Kosovo will go against Senegal in a friendly in the Swiss city of Geneva.
> Our match with Kosovo an impoartant message, says Terim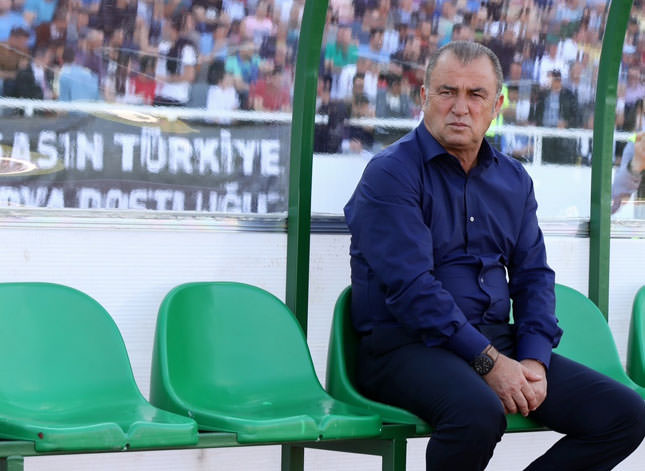 Kosovo is recognized by more than 100 countries, but it is not a U.N. member and is thus still unable to become a full FIFA and UEFA member, meaning that it is still ineligible to play competitive matches at the club and at an international level. Almost six years since Pristina declared independence, Serbia is still blocking Kosovo's membership in many international organizations. However, Kosovo is allowed to play friendly matches against FIFA member-states at the club and international level with some limitations. Clubs and representative teams of the (Football Federation of Kosovo) cannot display national symbols (flags, emblems, et cetera) or play national anthems. One correspondent asked Fatih Terim about Turkey's role in Kosovo's membership in the UEFA and the FIFA. "Our match gave an important message to FIFA and UEFA that Kosovo should take part in the football world," he said. Terim considers the match against Kosovo a brotherly one in which the outcome is not really significant. Meanwhile, Terim pointed that whatever the name of the tournament, the Turkish national team is always willing to participate. "I sincerely believe that Turkey will take part in the European Championship in France. The Turkish people and the national team have created an admirable relationship. The conditions are not easy, but our team is capable of overcoming it," he said. The friendly match between Turkey and Kosovo was not officially included in the program, yet arranged upon request. "Our long-time friend and sister country Kosovo requested Turkey's help to play a match. Our team did not think twice. Ever yone supports us arranging future matches with Kosovo," he added.

It is also Fatih Terim's 100th match with the Turkish national team. "There are few national team coaches that reached this number. I hope Kosovo will be officially recognized when we play our next match and sing our national anthems," he stated. Terim expressed his happiness in playing a match in a country where he feels at home. Many athletes from Kosovo have chosen to move abroad and compete for their adopted countries in order to take part in major sporting events, which are still out of reach for Kosovo given that it has yet to become a member of the United Nations. The country, with more than 90 percent Albanian population, got the go-ahead after a series of meetings with the leadership of the Serbian Football Association and FIFA President Sepp Blatter. The Turkish national team is going to play with certain important countries such as Ireland, Honduras and the U.S. as a part of the European and the U.S. football camps. Terim highlighted that they will determine the deficiencies of the Turkish national team during the matches.

Kosovo made their debut on the world soccer stage in March when they played with Haiti in the ethnically-divided town town of Mitrovica, an encounter loaded with symbolism for the young Balkan country's quest for international acceptance. The prospect has had soccer fans in Kosovo compiling their own 'dream team' of European stars who trace their origins to this small corner of Europe, a landlocked and impoverished country of 1.7 million people. Mitrovica has been a frequent flashpoint since the 1998-99 conflict, when NATO intervened with 78 days of air strikes to drive out Serbian forces behind the killing and expulsion of ethnic Albanian civilians during a counter-insurgency war. The town remains the focus of a NATO peacekeeping force that now numbers some 5,000 soldiers. The stadium, named after revered Kosovo Albanian guerrilla fighter Adem Jashari, is situated on the south side, a short distance from the river and within sight of Serb homes in the north. Kosovo's sporting infrastructure has largely fallen into disrepair, the result of isolation, war and political limbo during the region's decades-long fight for freedom from B elgrade. As Daily Sabah went to press, the match had not finished.