Ferhat Kaplan, the goalkeeper for Ankara side Gençlerbirliği, is under fire for allegedly letting in a decisive goal by Galatasaray's Wesley Sneijder in a league game this weekend.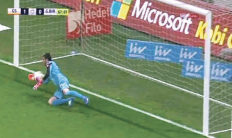 Images of Kaplan, purportedly pulling his hand away as the ball flies past him in the 66th minute, sparked outrage on social media, with many claiming the goal was fixed, so that Galatasaray, currently at the top of the league, three points ahead of Fenerbahçe, can secure the title with two matches remaining. The match was near a 0-0 draw before Sneijder scored the only goal. Galatasaray could have a six-point lead, if Fenerbahçe had not closed the gap to three points by beating Mersin İdmanyurdu on Sunday.
The criticism was mostly from fans of Fenerbahçe, a club that was barred by UEFA from European tournaments after a match-fixing scandal erupted in 2011 that led to the imprisonment of club's president Aziz Yıldırım and senior officials. The legal process is still continuing though Yıldırım and others were released. Yıldırım has consistently claimed that the match-fixing allegations were false.
Kaplan denied the allegation and said in an interview on Turkish TV that he would "not stain his career" with match-fixing. He insisted he saw the ball coming to his direction at the last moment and his hand was away "after the ball passed."
Gençlerbirliği President İlhan Cavcav had said earlier that Kaplan could have reached out better but he acknowledged in a statement to a Turkish newspaper that Kaplan was an honest goalkeeper with character.
İsfendiyar Zülfikari, a board member of Fenerbahçe, was among the critics of Kaplan. "Most Valuable Player of the Week: The goalkeeper with a suddenly shortened arm," he tweeted. A former Fenerbahçe player also tweeted that he was embarrassed to play football in Turkey after he watched the game. Bilal Niyaz said the match-fixing was obvious.